WOMEN
The Central Role of Women in the New World of Peace

Reverend Moon stands out in the Orient, where women traditionally do not take upfront leadership roles, as a leader who believes in women leadership. He has often commented that the ideal national congress or parliament should have 50% men and 50% women. He welcomes the trend in women as heads of state and predicts that this trend will only increase. Within the Unification movement, women leaders are elevated in almost every area.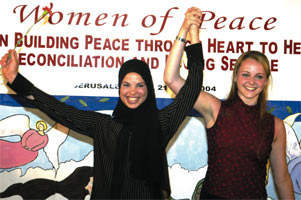 At the center of the women leaders in the Unification organization is Mrs.Hak Ja Han Moon, the wife of Reverend Moon. She has emerged as one of the world's top women leaders and probably the most traveled. Since 1992, she has visited more than a hundred nations, speaking in hundreds of cities advocating for the peaceful resolution of conflict, the strengthening of the family and a life of living for others. She has spoken in the US Congress, the Great Hall of China and the Japanese Diet, She has been received by numerous heads of state including the presidents of India, Uruguay, Nepal and the Dominican Republic.




Women's Federation for World Peace (WFWP)

Founded in 1992, with Mrs. Hak Jan Han as leader, the Women's Federation for World Peace has branches in 185 nations. It is an NGO with General Consultative Status with the UN's Economic and Social Council and a strong voice for women in international forums. WFWP seeks to empower women in the crucial role they play in the formation of strong, loving families and as leaders in a healthy society.

Inaugurating WFWP, Mrs. Hak Ja Han Moon spoke in 64 nations beginning at the United Nations. In l995, Mrs. Moon was accompanied by President George W. Bush and his wife Barbara in a September 1995 address before an audience of 50,000 in Tokyo, Japan.
www.wfwp.us
www.wfwp.org



WFWP Sisterhood Ceremonies for World Peace


A signature activity of WFWP are its international sisterhood ceremonies joining women from nations and races where there is a history of conflict. This activity started in 1993 in Korea, which has been at enmity with Japan for centuries. More than 160,000 Japanese women visited Korea and were matched to a Korean sister. Since then, sisterhood ceremonies have been held in dozens of nations joining women from warring factions, religions and races, In the United States, hundreds of sisterhood ceremonies have been held involving white, black and Latina women. In 1998, the President's Commission on Race recognized it as one of America's Promising Practices. These Sisterhood Ceremonies have solidified peace through effectively using women's strong spirit of unconditional love and forgiveness.



WFWP International Social Service Activities
The women of WFWP are involved in countless social projects bettering the life of women, children and families in activities range from educational forums, choirs, art clubs, telephone counseling, scholarship funds, anti-pornography and violence monitoring and abstinence education. For example, WFWP in Japan conducted a signature drive in 3300 districts to improve juvenile protection laws; 450 local assemblies responded passed a proposal to go to the National Diet.



WFWP Worldwide Charitable Activities
WFWP chapters worldwide have raised funds for the special needs of developing countries including orphanages, schools, scholarships, special needs children, sewing machines, clothes and drinking water.