A NEW VISION FOR EDUCATION: MAJOR EDUCATIONAL INSTITUTIONS AND PROJECTS FOUNDED BY REVEREND MOON
Sun Moon University, Korea

Sun Moon University Campus

Founded in 1989, Sun Moon University is a chartered university with 38 major fields of undergraduate study and 6 graduate schools with more than 450 faculty members and 8000 students. It is sits on 485 acres in Chonan and Asan, an hour's train ride from Seoul. The university motto given by Reverend Moon is "Love God, Love Humankind and Love Your Country."


alice.sunmoon.ac.kr/english/main.asp
University of Bridgeport, (UB) Bridgeport, Connecticut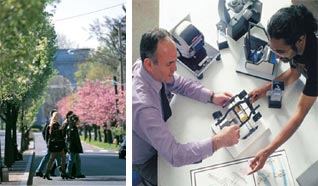 Founded in 1927 on Long Island Sound just one hour from New York City, UB is a private, non-sectarian, doctoral intensive institution offering a variety of undergraduate and graduate In 1992, UB accepted a partnership with the Professors World Peace Academy. UB has a student body of nearly 4100 students from 90 countries. US News and World Report recognized UB as having one of the largest percentages of international students amongst all colleges and universities in the United States. Its International College prepares its students for careers in international service through its programs in World Religions, Martial Arts Studies, Mass Communication and International Political Economy & Diplomacy. UB offers doctoral programs in Naturopathic Medicine (D.N.) and Chiropractic (D.C.) as well as Masters degrees in Nutrition, Dental Hygiene and Acupuncture, making it a trend-setting center for complementary medicine. Its Health Center treats more than 15,000 patients annually. Post-graduate programs include engineering, computer science, design, education and business. Students in the University's Design program have regularly received top awards in national design competitions. UB students intern in international organizations, in state and federal government, and in Fortune 500 companies. Recent graduates of the University have gone on for graduate study to Harvard, Yale, the University of London, Columbia, and Johns Hopkins.www.bridgeport.edu

Unification Theological Seminary, New York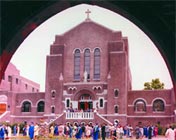 Founded in 1975, the Unification Theological Seminary is a fully accredited graduate school offering graduate degrees in religious education and divinity. The seminary is 90 miles north of New York City on 250 acres of scenic land overlooking the Hudson River and has an Extension Center in Manhattan. Interreligious and ecumenical dialogue is a central component of the seminary's history and vision. UTS was founded as an ecumenical seminary in that the faculty members have belonged to a broad range of religious denominations. Rather than concentrating solely on Unification theology, students learn philosophy, psychology, world religions and homiletics as well as the histories as well as the histories, theologies, and scriptures of Judaism, Christianity and other world religions. UTS offers a three-year Master of Divinity program and a two-year Master of Religious Education program. Harvey Cox, Richard Rubenstein, Herbert Richardson, Richard Quebedeaux, M. Darroll Bryant, Ninian Smart and Frederick Sontag are some of the well-known theologians and philosophers who have taught courses or have spoken at UTS seminars and inter-religious forums.
www.uts.edu

Unification Thought Institute
Founded in 1972, the Unification Thought Institute is an seminal ideological think-tank dedicated to researching the philosophical and theoretical foundations for the new culture of peace. Developed by Dr. Sang Hun Lee, Unification Thought systematizes Reverend Moon's teachings in the form of traditional philosophy and uses the insights to make breakthough observations on major philosophical and ideological traditions. The institute has published groundbreaking and important works: Essentials of Unification Thought and The End of Communism. The End of Communism was one of the most important intellectual works that brought about the peaceful downfall of communism. The institute holds international symposiums and lecture series to bring unity and productive discussion to the realm of philosophy and ideology.

In His Words: "Unification Thought presents a new view of life, a new view of the world, a new view of the universe and a new view of God's work in history. It is also a principle of integration that can bring different religious doctrines and philosophies into unity, while preserving their unique characteristics."

Cheonshim Graduate School of Theology (CGST), Cheong Pyeong, Korea
Founded in 2004, CGST boasts a diverse student body from all the continents of the world and a spectacular location and state-of-the-art facilities in the mountainous region of Cheong Pyeong. The seminary offers master's and doctorate degrees in theology, church administration and leadership.
www.cheongshim.ac.kr

Korean Language Institute, Korea
Founded in 1988 and now on the campus of Sun Moon University, the Korean Language Institute offers more than 1600 foreign students from 82 countries classes in Korean and Korean culture. Many students go on to successfully study at Korean universities.

Sun Hwa Arts School and Sun Hwa High School, Seoul, Korea (The Little Angels School)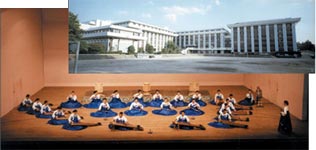 Sunhwa Arts High School Campus (Above), adjacent to

The Little Angels Performing Arts Center

Founded in 1974 and 1979 respectively, these are Korea's premier arts schools and sometimes called the "Juillards of Korea." The schools are some of the most exclusive and demanding in Korea with admission by merit only. Students specialize in one art form, from painting and sculpture to musical instruments to classical ballet and traditional Korean folk dance. The school complex includes the Little Angels Performing Arts Center, home to the world-famous Little Angels dance troupe, founded in 1962 by Rev. Moon to bring good will to South Korea at the height of the Cold War.
Kyungbok Elementary School, Seoul, Korea
A school for gifted children, 90% of whom go on to the most prestigious middle schools in Korea.
Sunjung Girls' Middle School, Sunjung High School and Sunjung Girls' Vocational High School, Korea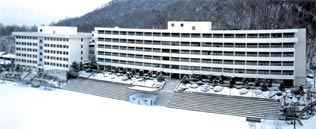 The Sunjung Schools campus in winter

The Sunjung schools are highly-rated private schools whose graduates go on to prestigious universities.

Bridgeport International Academy, Bridgeport, Connecticut

Principled Academy, San Leandro, California
New Hope Academy, Landover Hills, Maryland
Accredited secondary and primary schools in the United States
The Kirov Academy of Ballet
Founded in 1990 in Washington, DC, the Kirov Academy quickly became one of the nation's top ballet academies. A distinguished international faculty trains aspiring young dancers in the Vaganova ballet style. Academy students consistently win top prizes in international competitions and are accepted upon graduation to dance with the best ballet companies in the world.

Dance Magazine:
"All the dancers were spectacular, the costumes dazzling and colorful, and the program covering so many great ballet works was a dance lover's delight."
www.kirovacademydc.org
International Educational Foundation (IEF)

(left) Tony Devine, Vice President of the Internaitonal Educational Foundation, lecturing at the
Women's Workers Union Marriage and Family Conference, Zhengzhou, May 16-17, 1998;
(middle) Seminar for health care professionals, "Educating Today's Youth for
Tomorrow's World," at Dali Medical College, Dali City, Yunnan Province, March 7-9, 1998;
(right)Youth Purity Pledge by 1,000 Shanghai middle school students, October 17, 1999

Founded in 1990, IEF develops curriculums and programs to teach character and values education. IEF began in the countries of the former Soviet Union and is now active worldwide, providing critically acclaimed character education, marriage and family education, and abstinence and drug prevention for youth. The foundation has conducted more than 100 conferences and workshops in China, including education for textbook writers of the Ministry of Education. Its programs programs identify universal values honored in every culture that include the best of spiritual and material values, traditional and contemporary values and Eastern and Western values.
www.internationalcharacter.org