| | |
| --- | --- |
| | The Words of the Korthuis Family |
Restoration of our house on Courtney still goes on
Jack and Gladys Korthuis
August 10, 1971
Los Angeles, California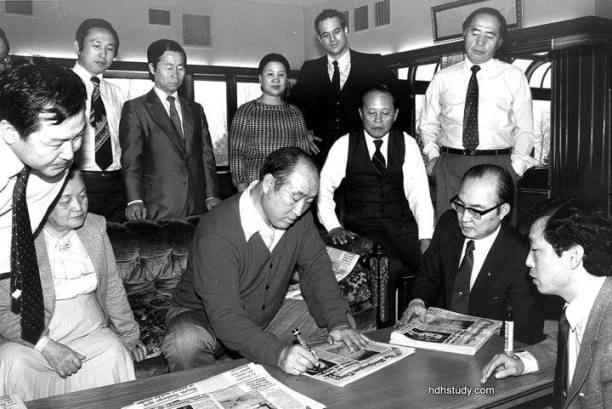 Greetings to our True Parents and all our brothers and sisters throughout the world. The month of June was filled with new activity, begun by the final consolidation of the Las Vegas and Los Angeles families. Visitors from the Las Vegas area included John Loney, John Shelton, Joanne Craft, their friend Gay Nell, and Beatrice Benson. Bea Benson, John Shelton and Jonne Craft will be here permanently when their personal affairs are settled.
The past four Saturdays have been spent sorting out the furniture and belongings of the two centers.
Restoration of our house still goes on. The neighbors were very negative about us, have mostly been won over by our work on the house and yard. Many have been very helpful and supportive in advising us about planting, pruning etc. of flowers and trees.
The witnessing program has been intensified. The entire Family who is not witnessing on Tuesday, Wednesday and Thursday nights goes witnessing after dinner. The results are beginning to show in the form of increasing numbers of people coming for teaching.
Another important aspect of our work is building strong relationship in various Christian Churches in our area by serving them in various ways.
The National Director's Conference in Washington that is taking place at the time of the writing of this report should bring with it new impetus for this nation to take the next step in growth toward Father. We are eagerly awaiting the results and praying for great success.
As a condition for Center growth and the success of the Washington Conference, we pray as a Family at 6:30 AM and 10:30 p.m. There is a condition of silence after the 10:30 prayer.
Our brother from the St. Louis Family, Bill Petersen joined us June 29. He is a drummer and should be a tremendous asset to Father's Family as well as "The New Tomorrow" singing group.
We pray for the well-being of the whole of God's new Family and eagerly look forward to the visit of Father and Mother in the near future.
In the Name of our True Parents,
Los Angeles Family