| | |
| --- | --- |
| | The Words of the Weber Family |
40 Years And Counting - The December 10 Banquet Honoring Those Who Have Been With The Church 40 Years Or More
Ken Weber
December 13, 2010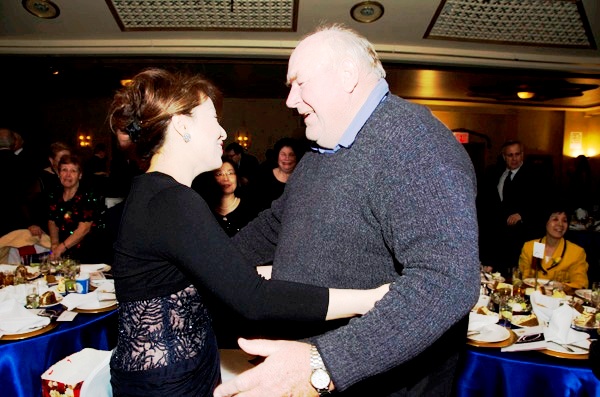 On the evening of December 10, 2010, an event was held in the Manhattan Center in New York City honoring those who have been with the Unification Church 40 years or more. As two of the honorees, my wife and I went up from Fairfax, Virginia to the event.
It is hard to believe that I have been with the church for 40 years to the month this month. (More than half my life now.) My wife, Diana, joined earlier, just before the first God's Day.
The event was beautiful. Various people spoke, and the Lovin' Life band played music. But the highlight of the evening was when Rev. In Jin Moon spoke. She gave a very heartfelt speech thanking all of the 40 year honorees. More than once she said that the honorees work had kept True Parents alive. (Jesus had no one to keep him alive, and so he had been crucified.)
Pictures were taken with In Jin Nim on stage of people from the various blessings. The group got larger and larger for each picture as more honorees from more blessings joined In Jin Nim on the stage until the group on stage was absolutely massive.
During the banquet and after, we all connected to people we hadn't seen in years. I got to see my spiritual parent, Joy Pople, and her sister, Louise. Joy had taught me the Divine Principle and had raised me up. This changed my life in one way. But she later changed my life in another way when she was the editor of the "Way of the World Magazine." Here she published my first story, "Rediscovery of Life," which led to my becoming a children's story author, and that led me to become a Sunday School teacher which I have been doing since 1979.
We all met and interacted with people who had meant a lot to us throughout the years. My wife talked at length with a spiritual daughter.
During this time, In Jin Nim walked around shaking hands with everyone. I was so surprised that I just shook her hand and thanked her. I realized after she had left that I hadn't introduced myself. So, I wrote an e-mail to her when I got home thanking her for the event and telling her that it has been an honor being in the Unification Church all of these years, and it was an honor for us to be matched and blessed by Father in the 1800 Blessing.
Many stayed for an event at Belvedere the next day and also the Lovin' Life service on Sunday, but Diana and I had to get back to Virginia. But all in all, it was an absolutely wonderful event. They said that each year they will honor more members as they reach the 40 year mark.
My thanks go out to True Parents for giving us this life. And thank you to all of the True Family. And thank you In Jin Nim for the event and all that you are doing in America. God Bless All Of You