| | | | |
| --- | --- | --- | --- |
| | The Words of the Stovall Family | | |

The Founding Of A "Community Of Peace": Salt Lake County, Utah Leads by Example
Wendy Stovall
October 19, 2006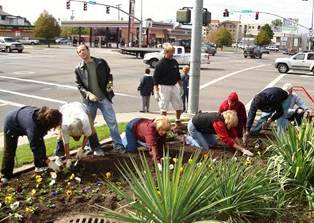 Earlier this year Salt Lake County Mayor, Peter Corroon established Salt Lake County as a "Community of Peace." One of its projects was to create a Peace Garden on the street corner next to the Salt Lake County Governmental building.
On Thursday, October 19th, Community of Peace volunteers gathered outside the county building to plant the Peace Garden. A small planting area and many pansies were provided. With guidance from the County Master Gardener and the Community of Peace Organizers, Noor Ul Hasan and Connie Stock, we began to plant the pansies.
Once we had planted all the pansies, a Native American holy man performed a blessing on the area and all those who volunteered. Following the blessing, Salt Lake County Deputy Mayor, Karen Suzuki-Okabe, placed a Peace Garden sign in the center of the garden and then spoke briefly on behalf of Mayor Corroon, who was unable to attend.
Wendy Stovall, Ambassador for Peace Coordinator for Utah, and her husband Michael Stovall, an Ambassador for Peace to Japan, were among the Community of Peace volunteers. Mrs. Noor Ul-Hasanís husband is also an Ambassador for Peace. The culture of Peace is growing!


Download entire page and pages related to it in ZIP format


Table of Contents


Information


Tparents Home