| | |
| --- | --- |
| | The Words of the Santillan Family |
Santillan Tribal Messiahship Focuses on Educational Projects in Bantayan, Cebu
John and Masayo Santillan
June 27, 2007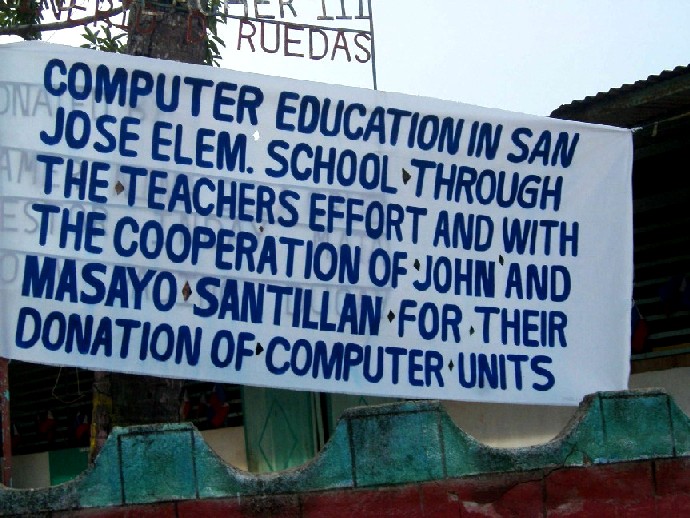 Projects in Bantayan, Cebu
Cebu - Bantayan Island is situated on the northwestern part of the Province of Cebu. The island has three municipalities namely, Sta. Fe, Bantayan and Madredijios. Around seven kilometers away from the municipality of Bantayan going to the north is Barangay Patao, the birthplace of Juan Santillan.
To recall, the barangay of Patao has the San Jose Elementary School where Juan and Masayo Santillan sponsored and donated an amount to help construct the kindergarten classroom in that school way back January 2006. That classroom now accommodates at least 200 pupils thru a class- shifting system. Since that time on the mentors of the school particularly its principal, Mrs. Anabelle S. Alob has been so close to the Santillan couple, extending their profound thanks for such a noble act.
But then, as they often said enough is never enough. The teachers themselves were getting so open-hearted to them with no reservation. They even suggest to the couple if they can possibly adopt the San Jose Elementary School, an enormous responsibility ever offered to a simple citizen and nobody from that island.
The Santillan just told them that they will just help so long as they can afford, and told the teachers not to worry but just feel free to approach them anytime if there is an immediate need. Who knows if their resources can meet needs of the school.
A Dream Come True
In this IT era the teachers and the pupils in the elementary schools nationwide were not spared from the necessity in computer literacy.
In San Jose Elementary School the teachers have to travel 7 kilometers to the town just to avail the services of the computer sets of the national high school so that at least they could see and use a real and substantial computer. They have to do this so that they could also impart what they had learned to their pupils as part of the latest Dept. Ed direction and as mandated in the new curriculum.
Because of the lack of a computer set the teachers of San Jose Elementary School particularly Principal Alob sent a message to the Santillan in Japan requesting the couple to help find a sponsor who can possibly donate a computer set even just a second hand one. They even told Mr. Santillan that if they can only create a computer out of cupboard then they should have already made it just to provide the pupils something which they could orient themselves even just the imaginary keyboards.
Upon hearing this lamentation Juan Santillan felt how desperate they are to acquire such a learning equipment but the big question is to whom will he approach to donate a computer set.
At any rate, Mr. Santillan just replied to the principal that he will try his best to find a sponsor.
Mr. Santilan shared this matter with his wife, Masayo and she also was touched by the words of the teachers from the school in where Mr. Santillan learned his first A-B-C. His wife told him that actually they don't have such amount. But she asked her husband how much will a PC set cost. In the Philippines, you can buy assembled computers at a lesser price most likely at 70,000 Japanese Yen. Mrs. Santillan nodded. Mrs. Santillan from that time made a piggy bank in which she drops her extra 500 yen coin intended for the purchase of such a computer set.
Finally, last June 4, 2007 the new computer set for the teachers and pupils of San Jose Elementary School became a reality.
During the opening of the school's enrolment the teachers of San Jose Elementary School opened the boxes containing the computer set with its accessories, tested it after connecting it. For the whole educational district of the Municipality of Bantayan, so far San Jose Elementary School of Barangay Patao is the third school to have a computer set of her own.
The teachers were so happy. They made a huge streamer coining their own words expressing their joy to have their dream realized, for the computer literacy not only for them but for the children, the pupils, the hope of the fatherland. They need not to spend money for fare and their extra time for computer rental. They can now print their papers and reports anytime they like.
As usual, Mr. Santillan did not go home to personally give the amount to the school. Mr. Santillan just instructed his nephew Reynaldo Santillan to facilitate the purchase of the pc unit.
Reynaldo was a former full time member of UM Cebu but now he is a home member finishing his degree in BSEED. However, he is actively participating to the various church activities in Cebu City.
Even if the Santillan can only see the photos, the faces of the teachers and pupils therein, they feel the real vibration of their spirit that at least once a dream, always a dream, but now come this simple and unknown couple who could possibly make their dreams come true. For this with great humility and gratefulness Mr. and Mrs. Juan and Masayo Santillan bowed down to God and True Parents for if without Them never they could not achieve those things. To have the greatest is to give joy to others through unselfish and endless giving.
Below is a letter of gratitude send by the school principal to the donor:
Dearest John and Masayo,
With thanksgiving in our hearts, we want you to feel how we really appreciate your efforts in helping in our school.
There are affluent families here in the barrio, but in my two - year stay here, I didn't receive donation from them.
Thank you for the whole-hearted support you are giving. You are the kind of person we can rely on. I am just hoping for your infinite helps not necessarily from your pockets but through your convincing power. Share our school problems to your friends there. Hopefully they will share their graces on us.
Thank you so much John and Masayo. Regards to you and your kids.
Sincerely yours,
Annabelle S. Alob