| | |
| --- | --- |
| | The Words of the Suzuki Family |
True Parents' Choice for Me
Hana Suzuki
January 2013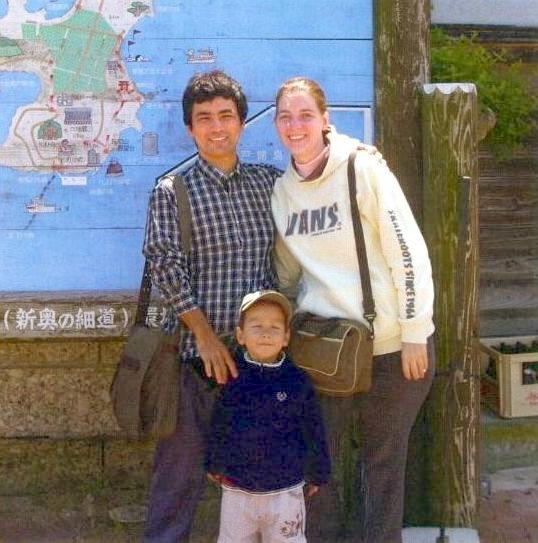 Nana and Takayuki today with their son Taiyo
I am a Jacob's child and throughout my childhood I saw the struggles of my single mother. When I was younger I longed for a father, but as I got older I began to worry that I might also have the same struggles as my mother did in finding a man that would be a good husband for me and a good father to my future children.
I felt deep in my heart that if I did my best and if it was God's will, I would surely be matched to the right person before the next blessing. If it wasn't God's will, I would just have to keep trying. I decided to join Special Task Force (STF), even though most people said I was too young. I was single- minded about preparing myself for the blessing and felt I needed to get out of my old routine at home. The next blessing was coming up very soon, and I was determined to get ready to be matched. STF proved to be a good choice for me because it took my mind off of my worries, at least until just a few days -before the Blessing Ceremony.
I remember the struggle in my mind that day as I was praying. I thought that surely all matching must already have been done by then, but I didn't want to give up hope and lose my faith as I had done before, I determined to keep up my condition no matter what.
Suddenly I was contacted by Mrs. Erikawa from the matching office in New York City. She said that there were three possible matches for me, but because of my young-age she would have to take our pictures to True Parents and ask for their approval. I couldn't believe it! I was so overjoyed to even have the chance. I excitedly wrote a fax to Mrs. Erikawa that said, "I'll accept anyone if True Parents choose a match for me!" Soon after that, I was told that I was matched to a Japanese brother named Takayuki and received his photo. However, he was out on a boat fishing so I had to wait for him to call to tell me if he would accept. When he called that night, we each asked each other one question and instantly knew we would accept. My question was, if we get blessed, is it okay to have at least seven children? He said yes. His question was, do you like to go fishing? I said, "Yes, I love fishing!"
He asked me to meet him in New York the next day. I was so overjoyed, but it was then that I realized that I didn't have a wedding dress. However, God and my mother were a step ahead of me. A box arrived with my mother's-beautiful white Korean-style dress in it and some of my sister's formal clothes. I called my mom to ask how she knew and how the package had gotten to me-so quickly. She said she had sent it a week before, just in case. I was shocked and overjoyed. I really felt God had been hearing my prayers and that He planned this special surprise for me. The next day I was in New York with a print-out of Takayuki's photo. He had mine.
I walked into the room where we planned to meet. We saw each other and both of us had the same thought, "Hmm... No that must not be the right person, looks nothing like this picture."
I walked right past him and he didn't try to stop me. However, another brother who was helping me went up to him and asked him if his name was Takayuki and if he was the guy in my picture. When he said yes, it was a love-at-first-sight moment for both of us. We felt so natural with each other.
I felt total joy. What he looked like didn't matter to me. I was happy to meet the man True Parents had matched me to. I was ready to go straight to the Blessing Ceremony, no questions asked.
However, the Blessing Ceremony was the next day, so the brother who was helping me suggested that we go out for coffee and talk to each other to make sure. So off we went, down the street and found a coffee shop. We sat down with our coffee and shared some basic information that we thought was important for the other to know before getting blessed. To be honest, I can't remember much of the conversation because I was so excited; but I remember showing him a small family photo album. I learned he was an Ocean missionary.
Suddenly we realized it was almost time to go. He grabbed my hand, looked into my eves very seriously and said, "Do you want to marry me?
I said yes.
Are you sure?"
I asked, "Do you? Are you sure?"
He said, "Come on!" We both got up and started running down the street. He made sure not to lose me in the crowd. We made it back just in time. The next day was September 14, 2002. I remember coming out of the ladies dressing room still trying to make sure the bow on my dress was tied properly. I was about to ask Takayuki where we should sit when someone came up to us and directed us to the front row. We had just been informed that we had been chosen to be one of the representative couples to join True Parents onstage! We were both completely overwhelmed. Throughout the Blessing Ceremony we held hands tightly with tears of joy and thankfulness streaming down our faces, knowing that we were soul mates and that it was truly God and True Parents that had brought us together.
It was a beautiful experience to go onstage and receive the blessing and our rings directly from True Parents. I felt that God had heard my prayers and was answering them in a way far beyond my most precious dreams. It couldn't have been more unexpected, but it didn't end there. God had more surprises.
The next day, we all went to East Garden for Hoon Dok Hae with True Parents. I was so worried about my clothes. I was asking myself, do I look okay in my sister's blouse and skirt?
They suit her because she is much more feminine than I am... I was shocked when I walked in and Mrs. Erikawa said, "You look beautiful! You and your husband should offer the flowers to True Parents."
She made my husband borrow a tie from another brother and hurried us off to prepare. I couldn't believe it. This was a chance to personally thank True Parents for the wonderful blessing they had just given us. It was truly amazing.
However, the most personal moment for me came soon after in Washington, DC, at one of True Mother's speaking events. All of the second-generation members and SIT members were called to True Mother's room. I was very surprised when True Mother recognized me. She asked me how old I was and I told her that it was still a month before my eighteenth birthday. I looked into True Mother's eyes and I felt a true mother -- daughter moment. She looked so loving but also very concerned about me. She told me not to rush to start a family. I felt that she could see my heart and knew I wasn't ready yet. In my heart, I thanked her and she smiled at me.
I'll never forget that special moment I had with True Mother. I am also very happy to say that both my mother and my sister are now also happily blessed and my husband and I have been blessed for ten years and have a wonderful seven- year old son named Taiyo. I am thankful with all my heart to Heavenly Father and True Parents.