| | |
| --- | --- |
| | The Words of the Pople Family |
A Tapestry of Heroes -- The Greatest International Blessing
Joy Pople
November 1982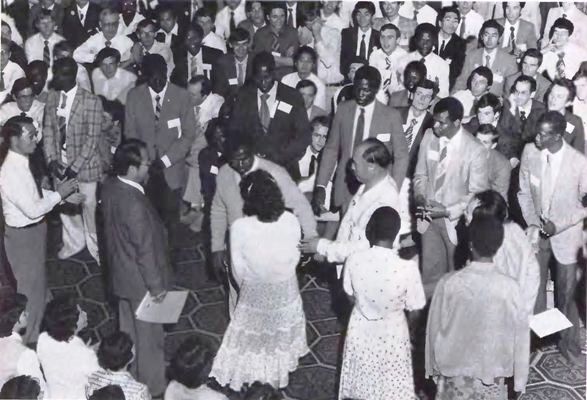 Within the labyrinths of the World Mission Center one could trace many tales of the new Acts of the Apostles. Pre-eminent among those I have discovered is a slim file folder of telex sheets in the Field Operations Office -- a daily and sometimes hourly account of the tests of faith and endurance our Zairean family underwent in order to be able to board a plane for Korea and the Blessing.
It begins October 2, although the efforts to raise transportation expenses and obtain passports must have begun much earlier.
In a style reminiscent of the ancient tapestry of Greek heroic legends interwoven, our brothers and sisters faced each challenge. One strand picks up with a brother returning to Zaire, suffering under tremendous spiritual attacks. His older brother, not a member of our church, somehow becomes convinced of a bizarre theory that church leaders had drugged this member in order to drive him crazy and steal an imaginary large sum of money he was supposedly carrying. (In this spiritual condition, the member had been saying many strange things.) This older brother accuses Gregory Novalis [National Leader of Zaire] of sending money to his (non-existent!) Swiss bank account and threatens to have all the members arrested, interrogated and tortured. His job with the security department places him in a position to make some serious threats. In the meanwhile, this member is in a hospital, undergoing examination. (The doctor who examined him reported there was no evidence of drugging.)
"WHAT A LIFE!" Gregory typed on the telex. "WHY DID IT HAVE TO BE ME WHO WAS SENT HERE! MAYBE I HAVE TERRIBLE ANCESTORS OR SOMETHING?"
"MY GOODNESS, GREGORY," responded Gertrud Sauer's telex from Field Operations Office. "I THINK IT IS THE OPPOSITE."
"SOMETIMES I WONDER, GERTRUD. ANYWAY, MARCHING ON, AS REV. VINCENZ SAYS."
Another strand: because of the extreme cost of round-trip plane fares between Zaire and Korea, donations were being solicited from members in other countries. Gary Fleischman, two continents away, called Zaire on October 2, saying he could not sleep after he heard that many Zairean members would be unable to go to Korea to receive the Blessing because of lack of funds. He offered to support two more members.
A later telex reported that four members were arrested that day and held for questioning. The Zairean family has begun a special condition, and all the members have been formed into prayer trinities. The following day, a Sunday, Museji and other Zairean members reported seeing True Father while Gregory was preaching at Sunday service. Only one member had been able to obtain a passport by Sunday, and her journey to the homeland began. More telexes discussed details of arranging connections for international flights.
The same day, three more members were arrested, and on Monday, one member was badly beaten by security guards. The apparent motivation for this harassment was to obtain the mythical sum of money our member's brother thought he was carrying. An attempt was made to arrest Gregory, but the members were united to protect him.
"I THINK ALL THIS TROUBLE IS TO SEE IF THE ZAIREAN FAMILY IS STRONG ENOUGH TO RECEIVE TRUE PARENTS," Gregory tapped out on the telex. "I BELIEVE THE ANSWER IS YES, THEY WILL PASS THE TEST. MEMBERS ARE BEHAVING SPLENDIDLY IN THIS CRISIS. I HAVE BEEN SO MOVED BY THEIR LOVE FOR KATHY AND ME, AND BY THEIR COURAGE. THAT IS WHY I KNOW GOD WILL SUPPORT US AND WE WILL WIN."
Two sisters were released on October 4. Members planning to go to Korea for the Blessing expressed their desire for Gregory to accompany them, but there was not enough money even for those who were preparing for the journey. Somehow, passports were obtained and donations for more plane tickets reached our family.
"ONE THING EVERYONE HAS LEARNED FROM THIS NIGHTMARE IS THE VALUE OF THE BLESSING, SINCE SATAN WAS SO DETERMINED TO RUIN EVERYTHING." Kathy Novalis typed, when her husband was away from the telex.
On October 5, the member's brother came to the airport, accompanied by soldiers, and tried to prevent the members from boarding the plane. "IT WAS REALLY A FIGHT TO THE FINISH," Gregory reported. "ONE BROTHER, KAYEMBE, WAS SO NOBLE. HE TOLD THE SOLDIERS, `I WILL STAY BACK, STAY BACK VOLUNTARILY, BUT LET MY BROTHERS AND SISTERS GO.' BUT FINALLY HE COULD GO TOO. THE MEMBERS ARE IN YOUR HANDS NOW"
There was a long space on the telex paper.
"GERTRUD, ARE YOU THERE?"
"I'M CRYING TEARS OF JOY THAT THEY WERE SO BRAVE AND ARE ON THE PLANE NOW" Members of the Belgian and French families helped them make their transfers in Europe. Kayembe fully expected not to be able to go, so he wore no shoes to the airport -- only plastic sandals.
"THEY ARE A REAL LITTLE BAND OF HEROES," the international telex testified.
The eight arrived in Korea. As soon as they were on the plane, the persecution ceased. Six accepted international matching and were blessed.
News of the Blessing was carried twice on Zairean television and was treated as big news. One commentary said that maybe Rev. Moon has the solution for the problems of immorality among the youth of Africa and suggested that more of our young people participate in these Blessings.