| | |
| --- | --- |
| | The Words of the Pople Family |
Sixty Attend International Workshop
Joy Pople
November 1980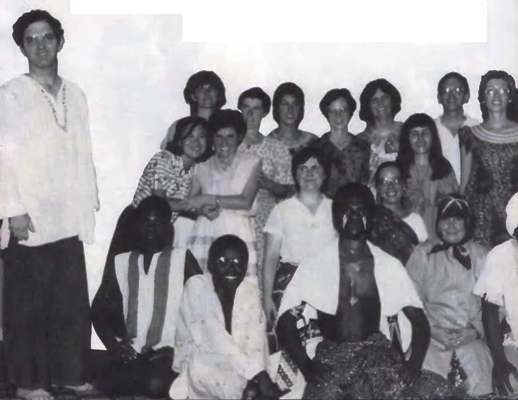 The seventh International 40-Day Workshop concluded on August 23 with a prayer vigil under a full moon at Belvedere's holy rock. The 60 participants included 21 missionaries, in addition to international members from 28 countries. Rev. David Hose directed the workshop, assisted by Mary Cordill, Grant Bracefield, Jacques Marion, Kim Pickard, Joelle Bliksas and Lori Ragusa.
A unique practical experience in this workshop was several days of boat construction in the East Sun Building. Members helped assemble, sand and paint the prototype of a new line of fiberglass fishing boats designed by Father. The first boat, "One Hope I," was scheduled to be launched in the World Tuna Tournament, so members worked in alternate day and night shifts to complete the boat. One member, Ubiritan Periera de Moraes, from Brazil, set a record of working 96 hours straight, with only 15 minutes of sleep, building the boat.
Another special part of the workshop was a three-day leadership conference to discuss the challenges missionaries face: living in a strange country, problems of growth, faith and unity, and one's relationship with the True Parents.
Two Korean members also attended the training session; they are directors of activities of the Korean Evangelical Association in Washington, D.C., and Detroit, Michigan. Also, Mr. Shigeru Oyama, first disciple of famous karate instructor Mas Oyama, participated in the workshop and led early morning martial arts practice. Some sisters who found martial arts too demanding preferred to learn modern dance under the direction of Mardi Esselstyn, a Los Angeles member who also attended the workshop.
The next international 40-day workshop is scheduled to begin on November 1. Rev. Hose and staff look forward to a large workshop group.