| | |
| --- | --- |
| | The Words of the Pople Family |
Building Momentum for Nations of Peace
Joy Pople
August 24, 2013
UPF International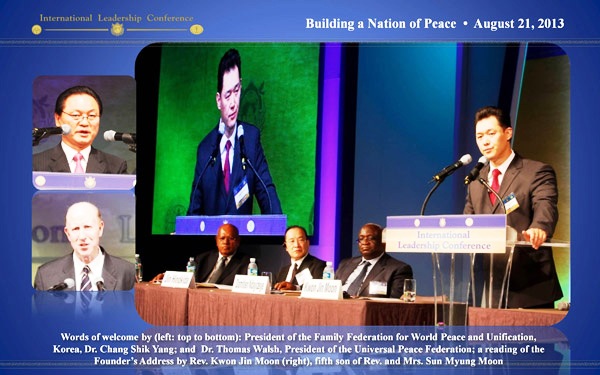 Seoul, Korea -- "The greatest tribute we can offer to Rev. Sun Myung Moon is to carry on the great work for peace to which he dedicated his entire life," said Hon. Jose de Venecia, founding chairman of the International Conference of Asian Political Parties. "Rev. Moon will be immortal, for there are millions of us who carry his memory in our hearts."
He was one of the 300 people who came to Korea from 80 nations for the International Leadership Conference August 20-24, convened on the occasion of one-year anniversary celebration of Rev. Moon's passing. The conference was sponsored by UPF, in cooperation with the Family Federation for World Peace and Unification and the Women's Federation for World Peace, all organizations founded by the Rev. and Mrs. Moon.
The Founder's Address was presented by Rev. Kwon Jin Moon, who delivered the address on behalf of his mother and Rev. Moon's wife of more than 50 years, Dr. Hak Ja Han Moon. She stated that "Lasting peace requires harmony and cooperation among religions. Believers of all faith traditions should work together in love and respect, for the sake of fulfilling the Will of our God, our Heavenly Parent."
Dr. Chang Shik Yang, Chair of the Conference's organizing committee and President of the Family Federation for World Peace in Korea, said people had been telling him: "Father Moon was such a dynamic and strong leader; there may be no one who can fill his shoes." He replies that Mother Moon had been at her husband's side for more than five decades of their marriage. No matter what challenge they faced, she was always there. His "better half" is with us, he affirms, and "she leads us with great wisdom and strength."
Many of the conference participants came from the 43 nations chosen by Mother Moon for a seven-year Vision 2020 campaign promoting nations of peace. Speakers from many cultures and diverse walks of life offered thoughtful and sometimes riveting reflections about the life, teachings, and legacy of the son of Korean farmers who as a war refugee began preaching in a cardboard shack and whose passing to the spirit world at age 92 was covered in 3,000 news reports.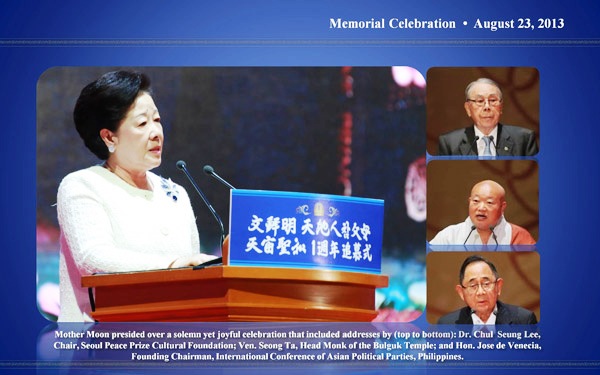 "Prior to my encounter with Rev. Moon, my aspiration, as a physician and politician, was to contribute to peace," said Hon. Jin Hinokida, a former member of the Japanese Diet. "It was partly because I was born and raised in Hiroshima, which had been devastated by the atomic bomb." He is a member of the International Physicians Council for Nuclear War Prevention.
"Having been engaged in peace activism, when I met Rev. Moon for the first time, I was profoundly shocked not only by his ideology for peace but by the fact that he had put it all into practice in his real life." He was also impressed that Rev. Moon, a religious leader, was concerned not only about the invisible realm but also the visible world.
Dr. Thomas Walsh, President of the Universal Peace Federation, gave an overview of the core principles guiding all the enterprises founded by Father and Mother Moon:
We are one human family created by God.
The highest qualities of the human being are spiritual and moral.
The family is the "school of love and peace."
Living for the sake of others.
Peace comes through cooperation beyond the boundaries of ethnicity, religion, and nationality.
What was distinctive about his teachings? "God's original ideal of creation, how that ideal became corrupted, and how God has worked throughout history to establish his ideal," according to Mr. Mark Brann, Secretary General of UPF-Europe, who gave an overview of his teachings. "The realization that God is our heavenly Parent. He loves us, and grieves for us, as any parent does," according to Dr. Michael Balcomb, President of the Family Federation for World Peace in the US, who narrated a pictorial overview of his life course.
Hon. Gina de Venecia, a Member of the House of Representatives of Philippines, described the devastating loss of their daughter, who died in a fire that gutted their home. "Father Moon and Mother Moon would change my life forever because after listening to their judicious counsel, it became clear to me that while death ends a life, it doesn't end the loving relationship."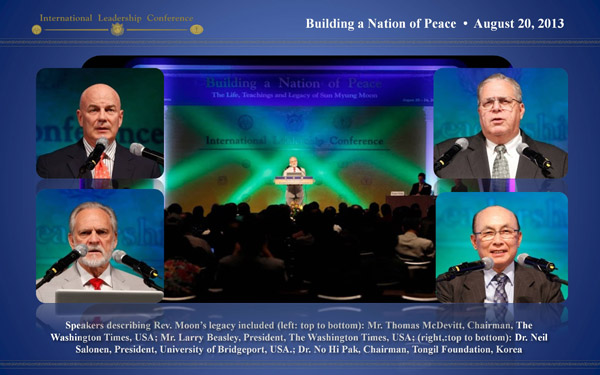 His legacy
Speakers ranged from a representative of the world's largest democracy to an emerging Pacific island nation. Ms. Sharmistha Mukherjee, daughter of H.E. Pranab Kumar Mukherjee, President of India, paid tribute to Father Moon for "creating a bridge of love and peace between nations, showing people a path and a practical creed on how to live life in peace and harmony." Hon. John Momis, president of the Autonomous Bougainville Government, said: "We are in the process of building up and developing our nation and we are particularly interested to learn of things that can be of value in this important undertaking." He was impressed by Father Moon's teaching that strong, loving families are the binding force of peaceful nations.
"We all long for the same brighter future, but we are all haunted by the same ghosts of past sins," said H.E. Ndayizeye Domitien, President of Burundi from 2003 to 2005, describing his quest to restore his nation after the mass killings of Hutus and Tutsi. The African statesman called on participants to "create a collective legacy that our children's children will remember only with pride." The conference program included updates on some of the regional peace initiatives close to the hearts of Father and Mother Moon: reunification of the Korean peninsula, reconciling the divided family of Abraham in Israel and Palestinian Territories, and stabilizing the transition to democracy in Nepal.
Father Moon called the 21st century the "era of women" and envisioned men and women working hand in hand for peace, just as he and his wife had done. Women's Federation for World Peace president Dr. Lan Young Moon described the women's educational and humanitarian work inspired by Father and Mother Moon, especially with North Korean women. "When I look back on the years, following in the footsteps of Father Moon, I have nothing but gratitude and deep love," she said.
Leaders of other enterprises that Father Moon had founded and long guided expressed their commitment to carry on his legacy. Dr. No Hi Pak, Chairman of the Tongil Foundation in Korea, talked about developing ginseng products, ocean resources, machine-tool technology, and resorts. The Washington Times Chairman, Mr. Thomas McDevitt, described the US newspaper's three-decade commitment to faith, family, and freedom -- core values advocated by Father Moon.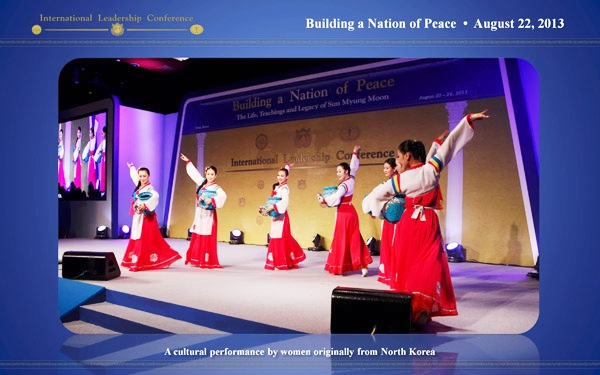 How to honor him
"He lived a very full and successful life," Dr. Balcomb said. "I invite you to consider whether there is a part of that work that you feel called to join. Build on what he has accomplished. Practice the principle of true love that he taught us so many times."
"After True Father passed away, I had opportunities to be with our True Mother," said Prof. Yeon Ah Moon, Vice President of the Women's Federation for World Peace and a daughter-in-law of Father and Mother Moon. "I witnessed an intense sorrow and grief because of her loss, and also I felt her deep concerns for peace and happiness of humanity."
"The prototype of peace has already been founded by Rev. and Mrs. Moon themselves," concluded Hon. Hinokida. "What is left is for us to become the second prototypes of peace." At the festive memorial celebration at the World Peace Center in Chung Pyung east of Seoul on August 23, some 30,000 more prototypes of peace filled the stadium for a solemn yet joyful celebration presided over by Mother Moon.