| | |
| --- | --- |
| | The Words of the Perrin Family |
Experiences in Japan
June [Darby] Perrin
October 31 -- November 2, 1970
Second European Conference
Essen, West Germany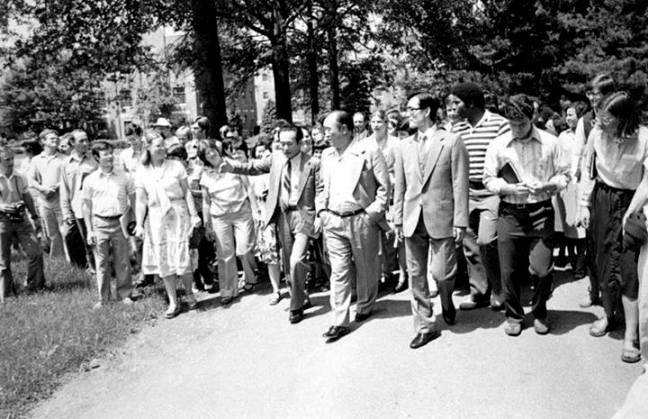 We all saw the success of the Japanese Movement. I wondered why they were so successful, and as we worked with them preaching anti-communism from the micro-buses and Japan from center to center I realized that one great factor that made them successful was their total obedience to their leaders, and also their great respect for their leaders. No matter what they were asked to do even if it was something against their natural personal talents, they still did it very gratefully for Father and with complete joy in their hearts -- This was very clear right from the bottom, not only center leaders but for people put in authority over just a few.
So they were always very respectful toward that person and always observed the strict hierarchy of their church. They knew Mr. Kuroki was absolutely obedient to our Master. So whatever the Master asked Mr. Kuroki to do, he knew the Japanese Family would succeed. So Mr. Kuroki in turn had absolute confidence in his regional and district leaders. In the West many times when people are given difficult responsibilities they do them for a short while and then they give up. But not the Japanese, they persist for three years with difficult tasks.
They are also very disciplined individually and in a group, and when they are told to do anything they never take individual action. They place the value of the country above their own personal value, whenever they are asked to do something. For example if they are told to be somewhere at nine a.m., they are there before. With that co-operation they can easily direct their energies to Father's Work.
When in one sector the director talked to us and said that he is very hard and strict with his people but when the people are told about something then are so humble and obedient and want to change for Father that they change immediately. So they never waste time with personal problems because of the members changing immediately when they are told. Thus the leader can forget the problem. Also in the Japanese Family members have great love for each other.
They are really concerned for each other, not in a personal sense but for the Father, and always I found they were talking about Father or Mother, they keep thinking they must do something for Father and Mother. They spoke from heart, never words that were unnecessary. These are just a few points I noticed about all the Japanese Centers. Everyone could see how much the Master loved the Japanese brothers and sisters-because they are absolutely obedient to him and sacrificial.