| | |
| --- | --- |
| | The Words of the Orme Family |
We had the first radio broadcast featuring The Unified Family singers
Dennis and Doris Orme
December 1, 1971
Dorney, UK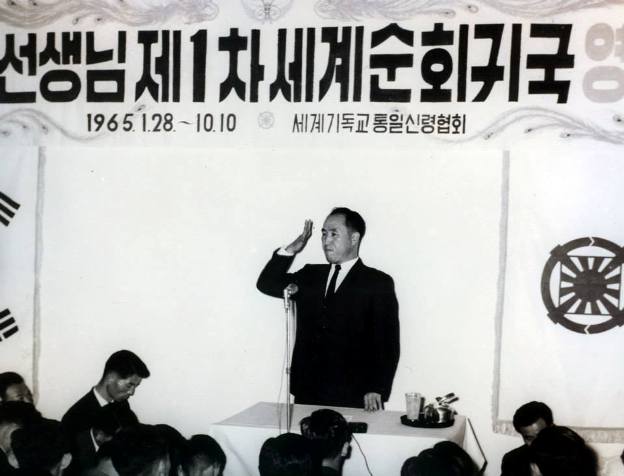 Dear Mr. [Young Hwi] Kim,
The month began with Dennis and Doris Orme giving a series of lectures at Edinburgh University to students.
Children's Day was celebrated quietly on Wednesday 10th November with a short service, singing and delicious cakes. Our full family celebration occurred ten days later at the weekend when members from the south-Bournemouth, and the north- Edinburgh were able to join us at Dovedale. Here in the heart of England beside the River Dove we gathered for a picnic and open air service. Crossing the river of stepping stones we rejoiced in the beauty of the Father's magnificent creation. Whilst we were singing amidst the Limestone crags, three herons flew past (a stork-like bird) leisurely looking for their favorite trout in the stream below. As we left this sparking valley snow began to fall and the hills returned to the cold of winter having echoed to the singing and happy shouts of God's children. On the following day -- Sunday -- a further service was held at the Farmhouse at Rowlane together with singing and other competitions.
After this Dennis Perrin left to join June in Scotland as district leader.
This month saw two firsts for the Family here in the United Kingdom. The Little Angels appeared at the Royal Variety Performance and this was subsequently televised. Secondly we had the first radio broadcast featuring the Unified Family singers, who had two half hour programs on Radio Oxford on 21st and 25th of this month. These were accompanied by a campaign in Oxford and an advertisement in the local paper. We pray that we may battle harder for God next year and that we may have many more surprises.
In our True Parents' Name
Dennis and Doris Orme