| | |
| --- | --- |
| | The Words of the Orme Family |
The Unified Family Singers were recorded for BBC Oxford
Dennis and Doris Orme
November 19, 1971
Reading, UK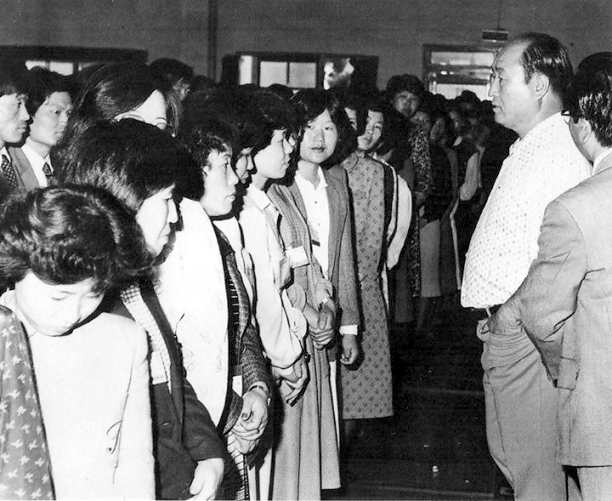 Dear Mr. [Young Hwi] Kim,
As always it is a joy to write to you. Please convey our love to Father and Mother and all our brothers and sisters in Korea.
This month saw the Bournemouth center established in a house at 42 Horsa Road, Tuckton, Bournemouth. Visits were made to Ireland and Scotland two workshops were held at Rowlane Farmhouse. In addition the Unified Family Singers led by Doris put on a show locally at Slough at the Community Center which was well received, over two hundred people came to the show including the Mayor of Slough.
Other activities of the Family Members included lectures given to Young Conservative groups on Victory Over Communism. October the 22nd saw the first radio recording for BBC Oxford by the Unified Family Singers who later will appear on a half hour show.
Several new members moved into the family and the work of the Family continues to expend. I have enclosed some press cuttings taken from our show, and the local newspaper in Reading. As always newspaper reports are somewhat unpredictable and we thank the Father for well-made press cuttings!
On the home front the widespread work of Marxists is now being recognized publicly and the murder of policemen and civilians in Belfast has encouraged the Protestants and Catholics to unite together and we pray that we may stand firm in this country. Family members led a campaign down to Brighton in support of greater protection for the police at the Conservative Party Conference. This was a success and there was overwhelming for the government to take the strongest action possible in supporting the police.
As always the family have been engaged in preparing next month's activities we pray that we may fight even harder in the months ahead to build a True Kingdom of heaven on Earth.
In our True Parents' Name,
Dennis and Doris Orme