| | |
| --- | --- |
| | The Words of the Orme Family |
The Scottish Mission was established
Dennis and Doris Orme
May 1, 1971
Reading, Great Britain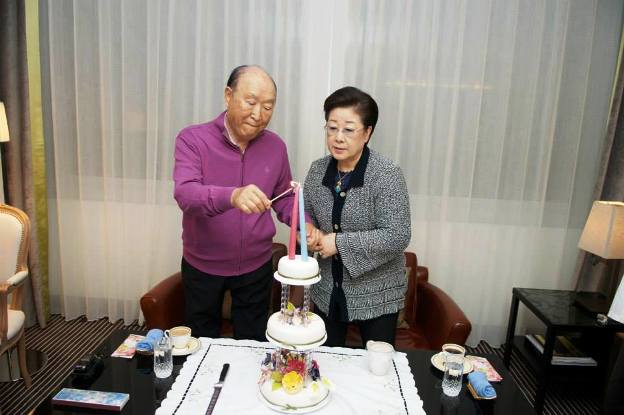 Dear President [Young Hwi] Kim,
Rowlane Farmhouse -- our headquarters -- is gradually coming into full operation. The printing machine has been installed together with a dark room for processing photographs and we now have the luxury of an office. The main rooms have been redecorated and our first visitors Teddy and Pauline from Holland arrived for the weekend. It was a joy to have them with us, their first visit to the United Kingdom for two years.
Final preparations for our service at Trafalgar Square have occupied much of our time. Boards have been painted, letters distributed and written inviting the various denominations to pray, loudspeakers hired and we are all set for Sunday May 2nd. Trafalgar Square the home of so many left wing demonstrations this weekend will be the venue for a service to comfort the Heavenly Father. John Bunyan and others who led the revival in the middle ages spoke on market squares and held services in the open air. We may well be nick-named the open air church. This week it snowed so we think Satan must be angry that we have opened our summer activity. We shall send a special report concerning this service.
The Scottish Mission was established on 7th April with the arrival of June Perrin and Patricia Hardman in Edinburgh. They now have a flat near the center of Edinburgh. We have long wanted to open this mission and pray that they will emulate John Knox. It was John Knox who turned Scotland protestant in a fortnight on his return from Switzerland.
At Easter the Unified Family Singers sang in the local Parish Church at Dorney the anthem "This is the Day" which was much appreciated in the church.
We continued with our normal witnessing and teaching programs. Our Hyde Park stand glistering in its new coat of deep blue paint. With several other projects under way we hope to have a fruitful summer.
In Our True Parents' Name,
Dennis and Doris Orme