| | |
| --- | --- |
| | The Words of the Orme Family |
Opening Address Second Annual European Conference
Doris B. Orme
October 31, 1970
President of Conference
Essen, West Germany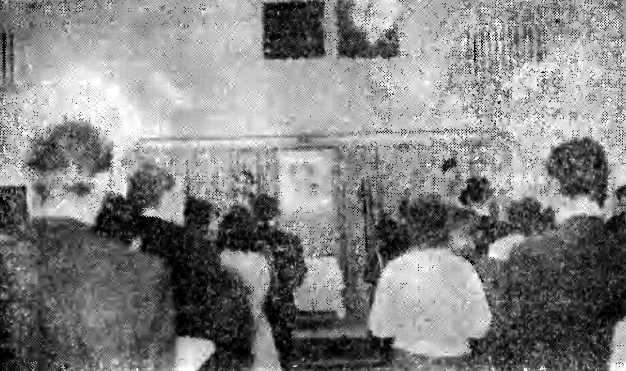 Singing Doris Orme (President of Conference on Stage)
First of all welcome brothers and sisters to Our Father's Second Annual European Conference.
Our Father has waited 6,000 years to see this blessed day, when nations would come together in His Name, to restore the world which was taken by Satan.
Our Father's heart has cried many tears over the separation of Europe, and each event such as wars and the like, that have made the gap wider, have torn his heart even more.
We all then by coming together here in Essen are fulfilling for Him His heart's desire. The world wedding that has just taken place in our Homeland has brought great joy to Him, and my only prayer is that His Heart will really rejoice with all of us during these next few days and the years ahead will give him even more and more joy.
In my prayers I have felt very much the Father's heart. The thoughts that came to me were as follows:
PLEASE TELL ALL OF MY CHILDREN HOW MUCH I NEED THEM AND HOW MUCH I LOVE THEM, AND HOW LONELY I HAVE BEEN WITHOUT THEM.
TELL THEM THAT MY HEART IS RUNNING OVER WITH LOVE, AND LONGING TO GIVE EVEN MORE OF MYSELF TO THEM.
TELL THEM OF THE THOUSANDS OF YEARS I HAVE WALKED ALONE WITH NO ONE REALLY CARING.
TELL THEM I AM COUNTING ON EACH OF THEM TO SUPPORT MY SON ONE HUNDRED PER CENT, AND TO BE TOTALLY OBEDIENT TO HIM IN ALL WAYS, AND HELP HIM CONSTRUCT A NEW SPIRITUAL AND PHYSICAL WORLD.
To reiterate further on this giving spiritually and physically, I would like to open this conference with a short talk. The topic of my speech is-
LET US GIVE ALL TO THE MASTER!
We must withheld nothing back from the Master, but give ourselves completely in spirit and in physical. We must shed tears, sweat and blood which are motivated by our hearts, but must be exerted in physical activity and responsibility. If we lack in giving physically, by walking the streets and working our fingers raw, helping Our Father One Hundred Per Cent, we can never expect our spirits to grow in perfection. If we possess and hold back anything, be it mind, soul or body, we are still in Satan's realm.
We must be aware that it has been Satan who has ruled the world, and we must be truthful and admit that we all have been held in a wrong way spiritually and physically.
The parable of the rich man, whom Jesus bluntly asked to give all his riches not just half, holds true for us all, not just spiritually but also in physical.
This day Our Father, through His Sun Myung Moon is bringing about physical restoration. Our Father wanted to do this at the time Jesus was here 2,000 years ago.
Think for a moment on this matter! The reason Jesus failed his mission was because he failed to get the cooperation he needed both spiritually and physically from his disciples, as the Pharisees and Sadducees and John the Baptist, and other so-called wise men of his day when all failed him.
I often think of the three wise men-kings of the orient- who came thousands of miles following a star to see the baby Jesus. Surely on their arrival they must have noticed the dire poverty of his birth place. They laid their little gifts at his feet, a little h old, frankincense and myrrh, and then promptly for their own countries and we never hear of them again.
How useless their journey was. Why didn't they give all to Jesus?
Their spiritual knowledge and their wealth could have been a real source of help for him to accomplish both the spiritual and physical restoration later in His life.
Then let us examine the Pharisees and Sadducees. They were the ones that Jesus approached initially. They were educated. They must have possessed spiritual gifts, plus being the most wealthy segment of the Jewish Population. However as we know not a single one of them supported Jesus.
Look at the Essenes, (John the Baptist and his followers. They were thought spiritualists and healers of that day).
Through their testimony from the spirit world they could have convinced many of His mission, but we see that John's gift of seeing the spirit in world was not of use to Jesus, but rather placed John in a position I feel to be a victim of spirits. This is rather obvious when we see the ridiculous way he acted concerning Jesus. His lack of humility must have laid a base for evil spirits to convince him that Jesus actions were not in line with the past behavior of the Prophets and his own moral conduct.
This is illustrated most acutely in his rash behavior in the royal court, when he announced that Herod was living in adultery, which was directly against what Jesus had done regarding the saving of Mary Magdalene- the prostitute.
The logic of Satan is- so logical- and causes us to often justify our actions which are based on previously conceived Satanic ideas. Consequently Jesus turned to fishermen. tax collectors and others who were not at all spiritual, they were intelligent and lacked the means to support his mission physically.
They were complete novices concerning the spiritual world and had very little discipline in their lives, which is shown numerous times, when they fell asleep during important moments when Jesus needed their support and even begged them to stay awake and watch with him awhile.
They were certainly a poor base for Jesus to accomplish this great mission he had undertaken from the Father.
Isn't it a sad thing to realistically see that poor Jesus was even denied a bit of oil before his burial. His disciples never sought to give him a beautiful robe to wear in his lifetime and even accused him of using a little oil before his death. It is ironic that the Romans who gave him a purple robe of expensive material.
We here in Europe must not fail Our Master as the people of Jesus's day did. We must fight as we have never fought before, and unite as a true family in spirit and physical. If we fail to do this our judgment is far more severe than any people of the past.
As Our Leader has most beautifully and forcefully expressed in the past, that we should leave this world without any regret, for as much as we regret we are in hell. Our life is but one spark of a dream and it will end someday. Let us make that day one of victory and not regret.
Our Father is totally dependent on us and I know we all will not fail him. Let us all truly open our hearts and join together as one family and make this conference a success for Our Father.
When we leave this conference let us determine in the days ahead to take the best fruits away from Satan's world -- Men and Women who will give all to the Master.