| | |
| --- | --- |
| | The Words of the Marshall Family |
Faith, Love and Good Spirits
Elizabeth Marshall
October 2011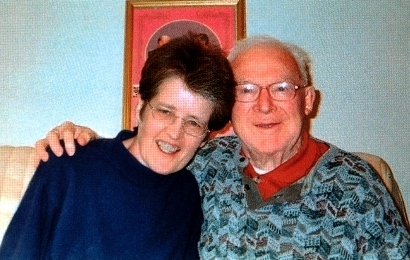 Scottish couple: Jimmy and Elizabeth Marshall
My husband was born on September 7, 1919. He is almost the same age as our True Father, and like our True Father he loved everyone absolutely unconditionally. He volunteered for hostilities only in the Royal Navy in World War II. He was an able seaman and his job was mine sweeping.
I was brought up in a hospital for nine years because I had polio when I was two, and both my parents were unwell. They regularly came to visit and I went home for weekends. Thereafter I was brought up at a Catholic convent for six years where I fervently prayed to Jesus to help me to be a good person. I was to receive an answer to this prayer.
I was very reserved, so my nature was the opposite of my husband's. We met when I was only twenty years old and he was forty-seven. His mother and wife had just recently died. He was a wonderful person.
We met the church together just before the birth of our second son and subsequently attended the Blessing Ceremony of 360,000 couples in Scotland, thanks to the help of our spiritual mother, our church leader and my own family. We went to Divine Principle lectures together and attended Sunday service regularly. We even had Sunday service in our house for six months at one point. We attended the twenty-one-day blessed wives' workshop and ten-day blessed husbands' work- shops in Poland. Because of my husband's age, we could stay together through both workshops. We grew much closer together during their course.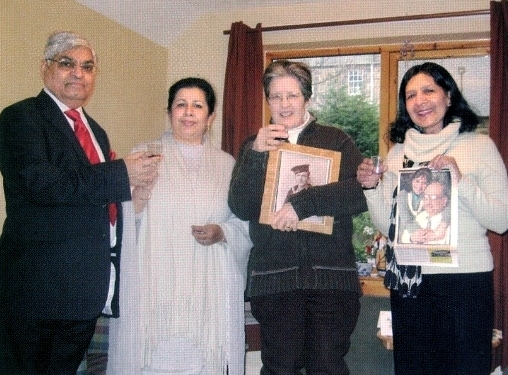 Elizabeth hosts a holy wine ceremony for local contacts
He passed into the spirit world three years ago at the age of eighty-nine but is still working to help our beloved True Parents.
My husband and I regularly went to interfaith events together and also to mosques, Sikh temples and Hindu temples, getting to know the local religious leaders. He was well liked as he regularly declared, "I love yis all." I put this on his gravestone as his epitaph. I learned from his happy nature how to take care of people.
I cannot do anything without constant prayer conditions, communicating with God every day, just like I have done since I was eleven years old. I wondered how I would manage without him as his love for people far exceeded mine but I needn't have worried. Recently in Edinburgh I attended the city's international Festival of Spirituality and Peace, which runs for about three weeks. I took True Father's autobiography to all the speakers.
I felt my husband's presence and his loving heart reaching out to them all as I was speaking to them.
We have regular prayer meetings in our house. Recently we started reading Divine Principle together. Last week there were eight of us present, and after I had been reading the Divine Principle aloud, my grandfather appeared to me in the evening and was very pleased. Twenty-five years ago when I was reading Divine Principle, my grandmother appeared to me and we were talking about God, although she can't speak English and I can't speak German. In the spirit world you speak with your mind.
In the run up to February 13, 2013, the spirit world is very active as True Parents are desperately trying to guide and save all of humankind. God bless you all.