| | |
| --- | --- |
| | The Words of the Marshall Family |
Bridge of Peace in Scotland
Elizabeth Marshall
March 10, 2011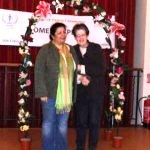 On Saturday February 26th, the Bridge of Peace Ceremony was held with the support of Middle Eastern Spirituality and Peace Festival at St. Cuthbert's Church in Edinburgh.
The Ceremony was a very moving experience for all. 30 people gathered. The majority of the guests were new and came reading the description of the MESP brochures.
Chantal Robertson opened the proceedings with a brief introduction on WFWP. Tamara Mhura and Rose Kumbanga, both from Malawi sang beautiful African songs. After the harmonious African songs, a Japanese lady Mio Shapely, who is a professional harpist played her original piece and Japanese songs with Scottish flavor. These music performances and the words from the performers opened the hearts of the participants and brought then closer to each other. Another Mongolian opera singer scheduled to sing couldn't perform because of her baby daughter's illness. Chantal consequently invited anyone in the audience to sing and some spontaneously volunteered. This made the atmosphere very at homely. Everyone relaxed and felt really part of it.
Tamara also spoke of the problems facing her impoverished nation of Malawi and how she has been organizing projects to help there. It was very informative and poignant. After the event, some guests approached her and donated to her project.
Harumi Currie gave a power point presentation about the Bridge of Peace ceremony saying that it was a way to forgive all past ill-feelings between people and nations and to embrace and love one another. Then the participants were invited to come to the stage. They walked under the delicately-prepared flower arch and embraced each other. It was a special moment for all.
Afterwards, food from the soon-to-be-launched recipe book was served. It was very varied and delicious. Pre-copies of the recipes were displayed explaining each dish The publishing of an international recipe book is one of the main projects of the WFWP-Scotland this year.
Some comments from the participants;
'Excellent. Uplifting ceremony'
'Inspirational!'
'I go to several events of the MESP every year. I have to say this is my most favorite event. I'm pleased to attend this.'