3. Contacts with Communist Leaders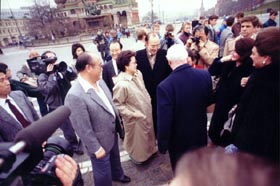 Reverend Moon in Moscow

Rev. Moon's anticommunism activities also included a mediating dimension, which initially he most visibly pursued through the previously mentioned WMA (World Media Association). In 1982, Rev. Moon asked WMA to organize fact-finding tours which would bring Western journalists to the Soviet Union. Between 1982 and 1989, WMA brought hundreds of American and foreign journalists to Russia and many of the other Soviet republics. As early as 1983 these journalists dialogued with leaders of TASS, Pravda, Izvestia, and Novosti News Agency. Early WMA participants were subjected to verbal sparring matches with Soviet specialists in disinformation; however, relations had improved by the 1988 fact-finding tour, when WMA received permission for the first time for a journalist exchange program with the U.S.S.R.54 The following year, WMA hosted Soviet journalists on a tour of the United States. The Soviet delegation included Albert Vlasov, Chairman of the Board for Novosti News Agency. That tour opened the way to a working relationship between the WMA and the Soviet media, including Izvestia, Novosti, and The Moscow News.55

Reverend Moon sponsored Soviet leaders to American Leadership Conference seminars in the United States.

On April 11, 1990, Rev. Moon met in Moscow with USSR President Mikhail Gorbachev. An aftermath of the meeting was the decision by the U.S.S.R. to allow its leadership to attend American Leadership Conferences. In December of 1990 and February of 1991, the ALC sponsored seminars for 80 deputies of the Supreme Soviet (federal, republic and city levels), as well as delegations of some 60 cabinet ministers and members of parliament from Bulgaria, Czechoslovakia, Germany, Hungary, Poland, Romania, and Yugoslavia. Attendees included Sergei Lushchikov, then the Soviet Minister of Justice, and General Oleg Kalugin, former director of KGB operations in the United States. Participants received lectures on VOC theory as well as briefings on the underpinnings of Western democracy. From April 30-May 7, 1991, the World Leadership Conference, affiliated with ALC, sponsored an unprecedented seminar and fact-finding tour in Washington, D.C. for approximately 200 high-ranking Soviet officials and political leaders, comprised of official delegations from all 15 republics of the U.S.S.R. This was the only time during these final years of the Soviet Union that any person, government or private organization brought together representatives from all of the 15 Soviet republics. In attendance were 26 deputies of the USSR Supreme Soviet and some 75 deputies of the Supreme Soviet of the various republics, as well as Republic vice-presidents, cabinet ministers and ambassadors. While in the United States, the delegation met with federal officials in Washington, D.C. and with city and state officials and business representatives in the New York City area.56


a. Rev. Moon and North Korea
Rev. Moon's Cold War efforts also extended to isolated and potentially volatile North Korea. Because of his outspoken views against communism, Rev. Moon was long viewed with hostility in North Korea. As late as 1987 the FBI arrested a reputed member of the Japanese Red Army, an organization with established ties to North Korea, for his involvement in an assassination plot which targeted Rev. Moon.

Rev. Moon nonetheless secured an invitation in November, 1991 to meet with DPRK President Kim Il Sung. The meeting led to some tangible results. A few months after this visit, President Kim Il Sung gave his first interview to the Western Press in 20 years, via The Washington Times. In the interview Kim Il Sung expressed his desire to improve U.S.-DPRK relations. The meeting also led to an opportunity to concretely improve such relations via the aforementioned American Freedom Coalition (AFC).

During May and June of 1992, the AFC conducted a peacemaking mission to Pyongyang after consultation with the Bush White House. The 40-person delegation, headed by former Congressman Richard Ichord, included numerous former Congressmen and federal officials, including former CIA Deputy Director Max Hugel and Amb. Douglas MacArthur II, nephew and namesake of Gen. MacArthur, the Supreme Commander of UN troops who had repulsed the 1950 attack on the South. The AFC delegation targeted the cooling of abusive language (toward the US and South Korea) by DPRK officials as the principal goal of their visit. The delegation addressed this and other topics with high-ranking Party officials, including Kim Young Sun, architect of Pyongyang's foreign policy, and with President Kim Il Sung himself, who hosted the delegation for lunch and spent more than three hours responding to their questions.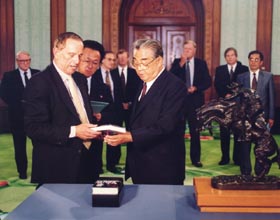 Meeting between President Kim Il Sung and the American Freedom Coalition delegation in Pyongyang, Korea.
In a subsequent June 23, 1992 meeting in New York, a North Korean Ambassador to the United Nations relayed to Congressman Ichord and several other members of the AFC delegation to Pyongyang that the DPRK, as a consequence of the recent AFC visit, had made a unilateral decision to cancel its annual anti-American demonstrations.57 Such demonstrations had taken place every June 25th to July 27th since the end of the Korean conflict.58 On the request of the DPRK official, Congressman Ichord conveyed this decision to the Bush administration, which he did on June 24, 1992. The anti-American demonstrations have remain suspended since that time.

b. Theological Paradigm
It is useful to reflect upon the paradigm or prism through which Rev. Moon apparently approached these meetings with Presidents Gorbachev and Kim. The Divine Principle, the religious teaching of Rev. Moon, posits the biblical struggle between Cain and Abel as the underlying dynamic of all historical development. Cain and Abel were brothers; instead of murder they should have reconciled with each other peacefully. Such a peaceful reconciliation between hostile brothers was realized by Jacob and Esau. Their struggle, again between a younger brother and an elder brother, is seen as a continuation of the original Cain-Abel rivalry. Jacob finally won the respect of Esau, and thus resolved the Cain-Abel problem in his family. He could achieve this result by preparing well for his encounter with Esau, having acquired a certain level of spiritual and material strength. In accord with this view, all struggling individuals, nations and blocs can be analyzed as taking the positions of Cain and Abel, Jacob and Esau.

For Rev. Moon, the Cold War represented a different level and expression of the same Cain-Abel/Jacob-Esau struggle. Like Jacob, Rev. Moon returned to his homeland to meet Esau (Kim Il Sung) only once he could be recognized as a man of accomplishment. Having become a leading anti-communist, Rev. Moon's meeting with President Kim, the most hardline of communists, took on a wider significance. The peaceful reunion and reconciliation of these two leaders represented the resolution of the East-West struggle at the place where the the outbreak of first violent East-West conflict had occurred following World War II.

Rev. Moon's role in the struggle against communism did not end with his encounter with Kim Il Sung. According to his teachings, communism emerged because of real social injustices and is the consequence of deep-seated human resentment which can only be healed through service and love. Based on this understanding, Rev. Moon has continued to work in places such as North Korea and the People's Republic of China, with the expressed goal of resolving the problem at the very root. It is anticipated that his involvement will thus continue.
---