Museum of True Love
Debby Gullery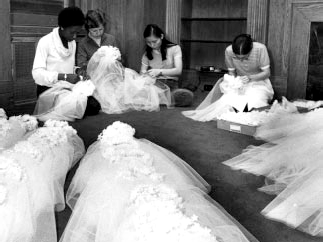 Working on the veils for the 1982 Blessing at Madison Square Garden, Headquarters Building, New York City
Well, clearly marriage is the hot topic. As the providence goes, so goes the rest of the world -- or at least NY! Case in point, the Museum of the City of New York decided to do an exhibition chronicling the history of marriage in New York City. And what would a display on marriage in New York be without a little something on one of the most exciting marriages ever to take place -- ours! -- at Madison Square Garden in 1982.
The curator of the museumís costume collection, Phyliss Magidson, contacted headquarters in early spring, looking for a couple who would donate their wedding dress to the museumís permanent collection. Peter Ross, then director of Public Affairs, asked us whether we would consider this. At first we were a little reluctant, having some vague idea that we would leave the dress to our children. We remembered, however, how Father had often talked about our things being in museums and we realized what a great honor it was. "The legacy of your family should be museum pieces for the world. The world in which you live centering upon yourself is not your treasure. Your treasure is only what you received in the public dimension."
Taking the dress out of its humble cardboard box in the back of the storage closet was a lot of fun -- our daughter tried it on of course, and the boys enjoyed goofing around as we went through all the keepsakes we had stored from the Blessing. It was a wonderful opportunity to share our experiences and stories with our children. Phyliss was fascinated with our blessing. At first we thought her interest was in just acquiring the dress, but as the months passed between our donation and the installation and opening of the exhibition itself, we struck up quite a friendship. She really wanted to know about our matching, our feelings during the blessing itself, and our thoughts about family life. Everything struck her as being so sensible! I had expected that her approach to us would have been much more academic.
At some point I mentioned that we had a video of our blessing that followed several couples through the matching and blessing process, along with footage of the wedding dresses being made. She was so excited! She hoped that somehow funding would be available to provide for a video in the exhibition itself. I gave her the video of the 1982 event and she became even more enthusiastic. This led to another person being genuinely interested in the event. Phyllis passed our video on to her when she was commissioned to produce the exhibitionís own video which followed four couples through their own weddings in New York. This young woman, in turn, was completely enthusiastic, and asked so many deep questions. In our years of dealing with the public and the press, we have become so used to pointed questions, to being looked at as sincere but a little odd! At each stage of inclusion in the exhibition, however, they would call us and say "We would like to say this with your dress -- this with your program -- this with your photo -- is that correct? Is that OK" etc., so we felt that we had complete control over everything they wanted to use. They were so careful to respect our own wishes and feelings, while also portraying an accurate historical account of the event.
When "New York Gets Married: Dressing for a Special Day, 1765-1997" opened on May 21, 1997, our jaws dropped. There, in the video were True Parents, arms outstretched, praying over our 2,000 couples, and then three manseis. In all, some five minutes of footage from our video was used, and we stood transfixed, along with everyone else watching! We could only imagine how many people watched that video, which ran continuously, from the time the exhibition opened until it closed on September 21. We felt that this really was True Parentsí symbolic blessing of all of New York, and all who came and stood there, in some way joined in our blessing of 15 years before.


Download entire page and pages related to it in ZIP format


Table of Contents


Information


Tparents Home