Building a Heartisitic World
Hans Moyer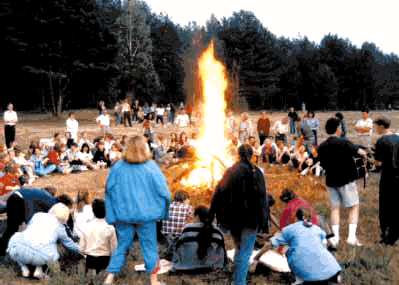 I met and joined the True Parentsí teaching on my birthday in 1977. One month later, True Parents proclaimed the year one of the Kingdom of Heaven on Earth, Feb. 23, 1977. So somehow, due to the merit of the age, I was invited to live in the Kingdom. Having had no religious upbringing whatsoever, I was like a fish out of water in the new world I had entered. This soon became apparent to those who had been entrusted by God to give me this introduction. I imagine a decision to send me off to "boot camp" via the MFT was in my best interest.
The few belongings I had had, never made it onto the Greyhound bus I boarded in San Francisco for Minnesota, my new home for the next three years. When I arrived, the first thing my MFT captain, Doug Culbertson III, did was to buy me an extra-long sleeping bag and a pair of sneakers. I think he picked me up during one of the runs that he was doing with the other members of our team. I was of course encouraged to go out with a partner, I think it was Pat Erlingson?, to test the waters on the local Target Store parking lot for donations.
Thus began my five-year initiation into the Unification Church. I worked for two years in the Midwestern states before being transferred to the Carolinas for one year. In 1980, on the occasion of my matching, I was to meet our True Parents personally for the first time. My first impression of True Father was that here was a man who knew how to farm. I had been raised mostly in the city and suburbs, yet my family originates in the northeast of Germany, where farming is a big thing. So, I can only imagine that it was my ancestors who were speaking to me at this memorable occasion of first meeting True Parents face to face. It was a reassuring experience for me.
After the wedding in Madison Square Garden and a few days together with my new wife, I was off to the Washington, D.C., area to work with MFT again. We worked as a team to begin a home delivery service. After a year the call came to join IOWC in the U.S. IOWC was a chance to really see the States. We traveled in the motor homes, gave rallies and did lots of fundraising. At the end of the campaign, I found myself in New Hampshire. Here I worked for the first time in a witnessing center. My physical mother became my spiritual child at this time.
During Fatherís incarceration in Danbury, I was working in Danbury with a small team as the City Leader. We had a motor home in which we lived and did witnessing activities. We tried to meet many ministers, but their response was not so positive. Eventually, I opened a CAUSA office in downtown Danbury where we gave lectures. It was also in Danbury where my wife (Felicitas) and I began our family life. Our first daughter, Tasnah Young Sun, was conceived here and born in 1988 in White Plains, NY.
With the advent of the family came a new dimension of church life. We moved to Philadelphia which is near my hometown in the U.S. Here we experienced center life with family. Many new challenges arose and opportunities for spiritual growth were abundant. Our second daughter, Kyra In Sun, was born in Philadelphia. During this time, at the behest of our Center director, Mrs. Eu, I was able to complete my studies for a Bachelors Degree. On this foundation I attended UTS from 1991 to 1993. Our graduating class was the first one to do so in the "Completed Testament Era." We were all invited to participate in the traditional 40-day workshop with Rev. Ahn in Kodiak, Alaska by our True Parents. We had many lectures, but mostly we went fishing and spent time with True Parents. What a wonderful bonding time for me. At the end of the 40 days, True Father asked all the graduates to go to Russia and help the movement there. So in the spring of 1994 we packed up the family and went to pioneer in Irkutsk, Siberia.
The two years in Russia opened our eyes to the suffering of people under the former communist system. All the CAUSA lectures took on form as we encountered the infamous KGB system and the oppression of the wonderful people of Russia. Living in Siberia awoke in me the compassion for my fellow men and women. We had a chance to visit Mongolia through a teachersí seminar and that magical land left a permanent impression. Our third child, our son Nikoli Hyo Young, was born in Irkutsk in 1994.
On our return to the States in 1995, we stopped to visit our relatives in Germany, renewing bonds and recuperating from the deprivation of Russia. While in the States, we suddenly found ourselves on our own. We had moved into the Philadelphia area again but the active center life was no longer for us. We longed for a Unificationist community in which to realize our lifelong ideas for building a heartistic world.
When the Chung Pyung Lake providence began and the call for National Messiahs was made, we didnít really feel prepared to take on such a responsibility. Yet, the need for volunteers for this project was such that we asked to be placed on a reserve list. In the fall of 1996 Felicitas went to the 40-day workshop and through the lottery picked El Salvador as our nation. I went to the 40-day workshop in the winter of that same year. For the next year we prepared as much as possible both internally and externally for the move to our new home. After a few exploratory trips, we finally packed up the truck (literally) and drove to El Salvador. We arrived here in August of 1998 and have been busy trying to assimilate the culture and mission.
On reflection, these 21 years have certainly been filled with many experiences that only God could make happen. Our life has and continues to be filled with challenges, yet I would never exchange this life with our True Parents for any other. Thank you, Heavenly Father.


Download entire page and pages related to it in ZIP format


Table of Contents


Information


Tparents Home