Blessing 30,000
Bill Selig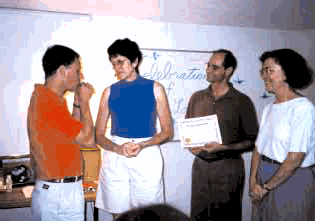 Bill and Donna Selig (right) give holy wine to Margaret Herberís sister and her husband in Rockville, MD.
Weíve had an interesting time Blessing with the holy candy. Iíve been going out with my wife, Donna, and daughter, Hannah for two-hour periods to local events including RFK (DC United) Stadium, Camden (Orioles) Yards, a 4H fair, county fairs in Prince William, Montgomery, and Howard Counties, an Indian Ethnic Fair, and the beach in Rehobeth, DE and Ocean City, MD. We went two hours a day for about two weeks and we finished our 30,000 with a day at the beach. We decided to do an extra three thousand to cover dupes because there were times at RFK or Camden Yards when other members had already blessed many people, or sometimes, kids would quickly grab a handful of candy.
From the beginning, Rev. Lee, the regional director, had said to follow our conscience, so we decided: 1) to go beyond 30,000 and to avoid dupes, and 2) to give a copy of the pledge with each candy, as much as possible. In mass gatherings we tried to oblige everyone, so sometimes we got dizzy walking in circles trying to catch people coming and going.
We had no problem uniting with Fatherís direction. If anything weíre getting off lucky. If the providence is such that all it takes is a piece of candy to open the door to heaven, then I say, "hallelujah, thank you True Parents!"
Itís really nice to go as a family. Most people take the Blessing as candy, but about a third capture the value of the pledge and give us positive feedback. Some ask why Iím doing it. I explain I have a 11-year-old daughter and I want her to grow up with pure love. No one can argue with this and when I point out that my wife and daughter are here with me doing this, then they are greatly impressed and grateful.
In a sense, Blessing is just like fundraising. Be faithful and believe God is with us. On the last day, my sign kept blowing away. I was locked into a concept that people wouldnít take candy from a stranger. (Is there a maxim more pounded into our heads than, "donít take candy from a stranger?") Anyway the sign kept blowing away so I said, "what the heck," and went for it. In the end, it really didnít matter. People responded whether they saw the sign for free candy or not. Iím not promoting candy, Iím giving the Blessing.
You canít discriminate. Once you start choosing to give the candy to certain "easy" types, such as people of color, Latinos, overweight people, or children, then Satan wins. The Blessing is for everyone.


Download entire page and pages related to it in ZIP format


Table of Contents


Information


Tparents Home