A Bridge of Love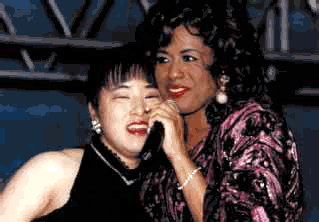 Jennifer and Hiromi
Jennifer Holliday, acclaimed Broadway star of Your Arms Too Short to Box with God and Dreamgirls, was scheduled to perform at the conference in Washington, D.C. Ms. Holliday heard about a special 23- year-old Japanese singer. Unbeknownst to Ms. Holliday or WFWP, a fast-food chain in Japan had sponsored an essay contest in which the winner would be the one who best described her feelings about Ms. Holliday and her music. Hiromi Okasaki, blind since birth, won the first prize -- an all-expense-paid round trip to America. Wishing to fulfill her one dream to have a voice lesson with Jennifer Holliday, Hiromi located Ms. Holliday through an organization whose purpose is to unite those separated between Japan and America. "I didnít know anything about the contest. I didnít even know they knew me in Japan," Ms. Holliday exclaimed. "I certainly have never performed there, although I knew that a road show version of Dreamgirls toured there years ago."
Excited by the coincidence of this sequence of events, Ms. Holliday invited her Japanese protégé to join her in Washington several days prior to the eighth sisterhood event. Their first union was a tearful one for Hiromi, who had been waiting for this moment for a long time.
"I always wanted to sing like Ms. Holliday, but was advised not to because I could ruin my voice," reflected Hiromi. "But I didnít care; I did it anyway." Impressed by her potential, Ms. Holliday invited Hiromi to perform with her on stage. She also wanted to go through the bridge ceremony with Hiromi, where Japanese and American women cross a bridge to meet each other and symbolically become sisters. This development was beyond Hiromiís wildest expectations.
On the day of the event, Hiromi and Jennifer were the stars of the bridge ceremony. The last ones to cross the bridge, they stood for several minutes in an embrace that brought tears to everyoneís eyes. Elayne Bennett, the keynote speaker, needed several minutes to recover her emotions before she could begin her speech. The sound and light production men backstage were also overcome with tears, even though they had been witness to seven previous bridge ceremonies.
That evening as Jennifer performed, Hiromi was sitting in the audience with her mother. Suddenly, Jennifer was by her side, guiding her to the stage and, through a translator, she testified to Hiromiís strength, her talent and sweet personality. Hiromi, standing alone on stage, sang "Climb Every Mountain" in perfect English. Then Ms. Holliday joined her in a powerful duet.
The image of the two women, singing in a language of courage and hope, which transcended every national boundary, moved the audience to tears. It was one of the deepest moments of all the conferences and one that the guests who were there will never forget.


Download entire page and pages related to it in ZIP format


Table of Contents


Information


Tparents Home