Coming Home -- Linna Mae Rapkins
Dan Fefferman
This testimony of Linna's Seung Hwa is from Hometown magazine.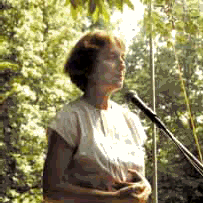 As a little girl, Linna Rapkins used to ride her bike down the country lane on her parents' farm. This year she came home to stay with her mom and dad and say good-bye to her old friends. The young maple trees she and her dad had planted down by the lane so many years ago had grown tall. Spring was passing into summer.
Linna Mae Rapkins was one of the first elder American members to make her Seung Hwa. She faced her own death with tremendous grace and courage. After a heroic struggle, her body lost the battle against cancer. But she had enough time left to prepare herself, her family and friends for what was to come.
A steady stream of loved ones made the pilgrimage to her parents' beautiful Shenandoah Valley farm last spring and early summer. Her husband and two children were often by her side. Linna spoke of her hopes for them, her successes and things undone, and how she wanted to be remembered. With her closest friends, sheplanned the program for her Seung Hwa ceremony. "Just to be there with Linna in those final days is one of my most precious memories," said her long-time friend and colleague, Betsy Jones. "I felt God wanted me there to teach me something about the invisible world." Mrs. Jones remembers Linna lying in bed asking, "Can you hear the music?"
"What music?" Mrs. Jones replied.
"I can hear beautiful music," said Linna. "I can feel that there are many people here, gathering to help me make this transition. I can hear them whispering."
"Linna felt she had something to do," Mrs. Jones explained, "that she was needed for something on the other side. This faith allowed her to bravely face the circumstances of leaving her beloved husband, Carl, and her children, T. and Kim."
Linna Mae Miller Rapkins was born in Flint, Michigan in 1938 and grew up in a strong Church of the Brethren community in the little farming town of Meyers Cave, Virginia. The Church of the Brethren is an offshoot of the German Anabaptist movement whose members number about a quarter million in the United States. Known as the "Peace Church," the Brethren stress religious community, simplicity and piety.
After graduating from Manchester College in Indiana in 1959, Linna served as a Brethren Volunteer Service worker in Germany for two years. She then began her career in education, teaching the elementary grades in the Virginia school system. Linna joined the Unification Church in 1967, hearing the Principle together with her cousin Marie in Washington, D.C. Philip Burley, who served as President of the U.S. Church at the time, recalled Linna as a new member with a "self-effacing" yet "courageous" character.
"I remember so well the first sermon Linna gave after she joined," Mr. Burley said. "She spoke on the differences between a hard, crunchy apple and a soft, sweet marshmallow. Being a school teacher and accustomed to show-and-tell, she used a real apple and a real marshmallow to illustrate her point. The sermon was simple but profound. She summed up the differences between a character of strength and a character lacking in strength. It was obvious which one she wanted to be. "She was also a very devout person," Mr. Burley continued, "not in the outer trappings of religious life, but rather in her efforts to live the Principles to which she had committed her life."
According to Marie (now Mrs. Marie Ang), she and Linna soon received a request from Dr. Young Oon Kim that they pioneer the first Unification Church center in Canada. "During that hot summer of 1968," Mrs. Ang recalled, "we were able to share the Divine Principle with several Canadians, three of whom joined. So Linna quit her regular teaching job back in Virginia and stayed on to lead the Toronto center."
Linna and Carl were married during the international blessing of 43 couples in 1969, making them one of the elect group of the first 13 American couples to be blessed by the True Parents. Carl and Linna worked together to lead the fledgling Canadian church. They were then called to Denver to take over the leadership of the regional church center, which blossomed during their service. It was in Colorado that their two children, T. and Kim, were born.
In 1975, the Rapkins moved to Berkeley, where Carl enrolled in San Fransisco Theological Seminary to complete his education and Linna helped to organize a Sunday School for Bay Area Unificationist children. After Carl got his degree, the family moved to Westchester County, New York. Linna, together with Rebecca Salonen, started a kindergarten for blessed children at Gracemere. She also organized a preschool program and kindergarten at Jacob House under the guidance of Mrs. Mal Sook Lee, whose emphasis on Shim Jung education deeply influenced Linna's own reflections. Shim Jung (Heart) Education is the practical teaching tradition emerging from Unification thought and tradition. During this time, Linna was also instrumental in the effort to begin a summer camp program, Camp Sunrise, in the New York area.
Despite her busy schedule as a wife, mother, educator and administrator, Linna was determined to develop her own educational credentials and received her Master's degree in education in 1987.
It was also in 1987 that Linna learned she had cancer. During her ordeal with surgery and chemotherapy, she worked in the Blessed Family Department of the Church's national headquarters in New York City. She organized the Children's Education Department under the direction of Dr. James Baughman and oversaw the exchange program to Korea for middle school students. She also developed a Sunday School manual and helped to set up Unificationist Sunday Schools throughout the United States. She conducted workshops and wrote pioneering documents on the development of Shim JungEducation philosophy.
Even as it became clear that she would lose the physical battle against cancer, Linna became more determined to leave a legacy that others could inherit. Completing her radiation therapy and moving to the Washington, D.C. area, where Carl had transferred to work for the World and I, Linna continued her writing and reflections on educational subjects until shortly before her death.
Speaking at her Seung Hwa, New Hope Academy founder and principal Mrs. Joy Morrow had this to say about Linna's contribution: "Mrs. Rapkin's document on the theory of Shim Jung or 'heart' education was adopted recently by the members of the National Association of Shim Jung Schools at our conference in California. We consider her writings on the theory of Shim Jung education to be the most complete and significant exploration and development of this new system of education."
Linna's contributions as a Shim Jung educator were by no means limited to the theoretical field. Her work at Gracemere, Jacob House and the church headquarters left a lasting influence on hundreds of children whose lives were richly touched by her work.
Learning she was ill, one of her students, now 17, wrote: "Thank you for all the things you have done for us. Thanks for all the care you gave me, for being the one who taught me things -- like how to put on a jacket, to tie my shoes, to read, write and spell, and for listening. I never thought the day would come when I would have to let someone go.... I have so many memories from things at Jacob House and Gracemere, and when you interviewed us before going to Korea, and how you prepared us. But most of all how you knew each of us personally. You are such an incredible teacher."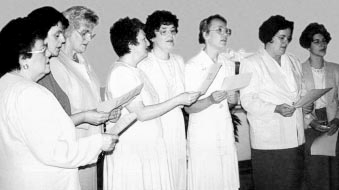 Singing at Linna's Seung Hwa: (from left) Nora Spurgin, Sandra Shuhart, Pauline Verheyen, Rebecca Salonen, Marie Ang, Vivien Burley, Betsy Jones and Diane Fernsler.
According to her friends, Linna's heart was full at the end of her life, having left a lasting legacy and feeling that she had additional important projects waiting for her to accomplish in the spirit world. Even in death, it seemed she continued her tradition of being a pioneer. Said Mrs. Betsy Jones, "In the spirit of the founding fathers of this country, Linna suffered in many ways, economically, emotional and spiritually, in order to stay at the heart of things. Her dress and circumstances were simple, yet she wore the dignity of being God's daughter.
"I can only thank God for this precious sister, who kept going to bravely face and lead others through their circumstances by looking behind and saying with a smile, 'It's not so bad.' This was always her attitude, even in the most difficult circumstances."
It has been hard for the people whose lives she touched so deeply to let Linna go. Yet their faith in the reality of spirit world gives them confidence that she has gone on, still pioneering, to something better. Rev. Kevin McCarthy, speaking at Linna's Seung Hwa service, compared the ceremony to a wedding. "On the wedding day," said the D.C. area pastor, "the Father says good-bye to the daughter who for all her life was only his. In one moment, joy and sorrow encounter each other in one heart. Today, we give Linna away to the ultimate of bridegrooms... Let our sorrow be washed away by faith that in freely giving her, Linna will, one day, be returned to us in unimaginable splendor, when we join her there."


Download entire page and pages related to it in ZIP format


Table of Contents


Information


Tparents Home