Interdemoninational Conferences for Clergy
Jim Stephens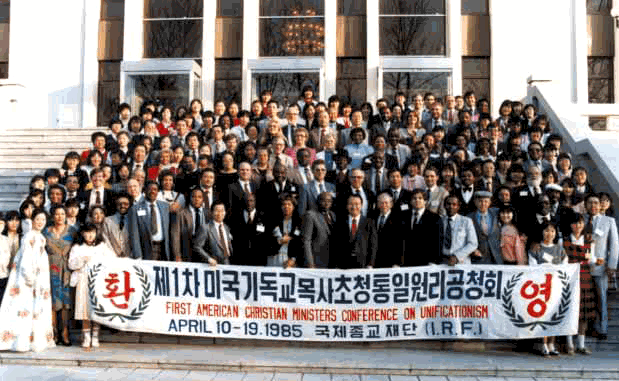 First ICC at the Little Angels Perfoming Arts Center, Seoul
The Interdenominational Conferences for Clergy (I.C.C.) were a set of conferences conceived by Rev. Moon while he was in Danbury Prison. It followed on the heels of two other huge sacrifices for the sake of America.
One truly amazing quality of Rev. Moon is his ability to give even more than before when he is persecuted. In 1984 America put him in jail in one of the biggest travesties of justice this century. But he decided to give even more to America than he had been giving. He funded an organization that bought hundreds of huge trucks and donated them for use by churches with social action programs and to charities working across the nation. Then he sent sets of videotapes of the Divine Principle teaching to 300,000 ministers in America.
Then he started the I.C.C. conferences with a goal to bring 7,000 American ministers to Korea and Japan to attend a seven- to ten-day conference, with nearly all their expenses paid. He said the project was inspired by the Biblical account of Elijah in 1 Kings 19:9-18 where Elijah is hiding in a cave to save his life and the Lord tells him that He has still 7,000 faithful believers.
At the time the I.C.C. was started, I was working in Washington, D.C. in the building called Capital Gardens. It would later become the home of the International Ballet Company. I was working on a program called Common Suffering Fellowship with Rev. Levy Daugherty. American ministers were flying in from around the country to symbolically "go to jail with Rev. Moon" for religious freedom. Our seminars lasted about a week and included lectures and a demonstration at the White House for religious freedom.
I was asked to coordinate the first I.C.C. under Dr. Tyler Hendricks and Rev. Chung Hwan Kwak as a program of the International Religious Foundation. The first conference was held April 10-19, 1985 and was attended by 63 ministers and spouses. The second and third conferences were held in July and August with 56 and 30 participants respectively. The fourth was held in May 1986, with 151 people and then about every month after that for a year, averaging 100-200 participants. In June 1987 we started holding them almost twice a month until July 1988. A final conference (#39) was held in October 1989, and included ministers from Europe.
At the first conference I was the point man and an easy target for everyone's criticisms for what they thought went wrong. When I got back home, I remember it was impossible for me to sit down at my desk for about two weeks without feeling so much pain that I had to get up and leave the office.
But we all settled down and gradually worked out all the problems one by one. Rev. Levy Daugherty was a tremendous support for me and through it all we developed the deepest friendship I have ever had in my life. I hope that everyone can have at least one such relationship in their life.
The basic staff for the conferences consisted of Rev. David Hose, Rev. Kevin McCarthy, Rev. Daugherty and myself. Others joined us temporarily as lecturers or other staff including Dr. Kathy Winings and Peter Spoto. Rev. McCarthy did a great job teaching the hardest lectures (primarily The Fall of Man and The Second Coming of Christ) using the Bible itself to prove his points. We all respected the incredible effort he made to study. During each conference, members were sent from each region along with their local ministers to be group leaders.
These brothers and sisters did a fantastic job stepping in and really helped convey the Divine Principle and heart of True Parents to the participants. We could never have done it without them. From Korea and Japan local church leaders worked incredibly long and hard to make the conferences a success, sacrificing far more than we could understand. I would also like to thank Mrs. Sun Kyung Lee, our travel agent, and her wonderful staff for unbelievable "service with a smile" for many years.
At the high point when conferences were being held every other week, we hosted between 400 and 500 participants each time. The basic schedule was alternating days of Divine Principle lectures and field trips. We would visit the DMZ so they could experience the threat that was posed by North Korea and they could walk down 100 feet into the ground to see the invasion tunnels that had been built. We even flew them down to Pusan to visit the Rock of Tears and the museum on the site of the "first church" made of mud and U.S. Army ration boxes.
The two greatest accomplishments that I see resulting from the I.C.C. were, firstly, that it significantly changed our relationship with Christian ministers for thebetter. Once the Christian ministers could meet us in person and thoroughly discuss what we believed, then the spiritual fears were broken down and we could develop deep and sincere relationships as brothers and sisters. The "evil cult" image and the "brainwashing" charges were broken and they had to give us a lot of credit and respect for having a viable and Biblical theology.
Secondly, it helped make the historical foundation for True Parents. These conferences came 40 years after True Father began his public ministry and he had encountered rejection and persecution in Korea. So it was a restoration of a Christian foundation for True Father to stand on. It helped a great deal to bring a spirit of unity among the Christian participants of all denominations who attended. Nearly all of them remarked that they seldom interacted with other denominations and at our conference they truly felt harmony and the love of Jesus Christ.
I also think that the I.C.C. was a profound introduction for many of our American members to our Korean traditions and roots and to spiritual phenomena. Many spiritual experiences were given by God to the ministers and our members during the conferences, especially at the Rock of Tears. Without fail, revelations and healings took place every time we took a group there. Notably on the 10th I.C.C., in Feb., 1987, many of the staff began experiencing spiritual communications from Jesus Christ and Heung Jin Moon. Genuine breakthroughs occurred for many members all across America after that time.
We produced two videos about the I.C.C. The first was "Answer To A Prayer" which is probably the single most watched video in our movement because members showed it day in and day out to ministers all across America. The second was called "Walking Together" and highlighted experiences of Christian unity and personal growth that the ministers gained from the conferences.


Download entire page and pages related to it in ZIP format


Table of Contents


Information


Tparents Home