Richard L. Lewis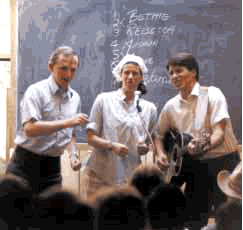 Richard Lewis, Beth Morrison and Joshua Cotter lead the singing before lecture at Camp K, California.
I was the seven-day lecturer at "Camp K" near the Napa Valley in California. It was a Thursday in the summer of 1979 and we had about 400 people in the 7-day program. I was lecturing on the Old Testament and had just gotten to the part of the lecture where "by faith, Joseph went from the lowest dungeon to heights of the Pharaoh's palace." Suddenly, the back door to the lecture hall burst open and three burly men led by a tiny woman carrying a huge cross made of 2 x 4s rushed into the hall. The three men were stopped by staff members, but the tiny woman dodged them and came running up to the front of the hall.
Brandishing the cross in my face as I stood frozen on the podium, she shrieked hysterically, "Mike, Mike, get away from them." A burly Canadian from the front row hesitantly stood and moved towards her saying, "Mom...??" as her voice went supersonic as she collapsed on the floor.
Pulling myself together, I calmly said into the microphone, "Mike, your mother seems a little upset. Why don't you take her into the kitchen for a cup of tea!" He effortlessly picked up her crumpled frame and lumbered off with her in his arms.
The whole scene had taken only a few moments and, while the audience was getting over their shock, I finished up the lecture in about 15 seconds and announced we would be having a picnic lunch way up in the hills.
It turned out that the men were Mike's brothers and that they had just met with "anti-cultists" who had freaked them out with tales of brainwashing and had assured them that the cross would "break the spell" and that Mike would be free to leave. It took a lot to calm them all down (days actually), but eventually they were reconciled and left Mike to pursue his studies.
I was the assistant director of the Camp K seven-day workshop site in the Napa Valley. It was the late seventies when we were having a lot of trouble with parents who had heard all sorts of nasty stories about us. That morning, we were expecting a visit from "Kathy's" parents early that day.
A worried-looking sister burst into the staff room and said, "Kathy's parents are here but we can't wake Kathy up!" I told her to put the parents in the best room and serve them coffee -- I would go and get Kathy.
There Kathy was in the sister's cabin, fast asleep with a few worried friends trying to wake her. I confidently took charge and started trying to wake her. We tried everything: cold water, yelling, slapping, singing Holy Songs, praying. To no avail. Reports kept arriving that the parents were getting frantic and suspecting that we were spiriting their daughter away while they were being "entertained."
I was at my wits end. What else to try. We had been trying to rouse her for almost an hour and I was exhausted, so asked one of my helpers to get me a cup of coffee, to help me think better.
I was sitting next to Kathy's body, thinking desperately what else to try, when the coffee arrived. Kathy's body twitched and suddenly she was there, back in her body.
She explained that she had been out of her body, stuck up on the ceiling of the cabin, watching what we were doing but not knowing how to get down. It was the smell of the coffee that had done the trick -- she had smelt it and was immediately back in her body.
I thankfully hurried her off down the hill to have breakfast with her worried parents.
Another problem faced by the church was the banning of fundraising by innumerable local municipalities and cities throughout the nation. In some cases, local governments re-wrote solicitation and licensing statutes to bar church members. Other times, local police jailed and fined church fundraisers.
The church took a two-fold approach to this problem. First, it issued strict "Fundraising Guidelines" to its mobile fundraising teams (MFTs), emphasizing adherence to local solicitation laws and municipal regulations, truth-telling about the work done by the church, and time-limits for solicitation in residential areas. Over-aggressiveness, rudeness or the use of high-pressure tactics were strictly forbidden, members were instructed to display official church identification cards, and lists of activities their efforts went to support were circulated.
Second, the MFT made efforts to restore its solicitation rights. It began in the upper Mississippi Valley where Omaha, Nebraska was the only city that permitted fundraising. Minneapolis, Des Moines, Kansas City, St. Louis, and Sioux City all had denied requests for solicitation permits. Members began telephoning the ninety municipalities surrounding St. Louis for fundraising permission and out of the forty municipalities requiring advance letters, one responded affirmatively and the rest were denials, including many that warned if members "so much as set one foot within their city...[they] would be arrested." However, MFT members gained the breakthrough they had been seeking when the city of St. Louis gave them a permit which read,
...as a religious organization you are, of course, aware that your activities are protected under the First Amendment from any restriction against proselytizing or fundraising activities designed to further your religious expansion.
Previously, according to one church account, "administrative clerks and secretaries who knew little of First Amendment freedoms had refused permission requests." Now, armed with the St. Louis notice, Ron Troyer, who served as the MFT Field Coordinator for Legal Affairs, went directly to the city attorneys and began traveling to other problem cities.
The next stop was Des Moines where, after four city council meetings and "many letters detailing our rights," Troyer noted, "the City Council of Des Moines reluctantly gave up its ban and allowed fundraising to begin." Minneapolis followed, where the city attorney admitted, "our eight-month-old ban on your organization has probably been illegal." Soon Troyer became an itinerary worker, visiting all regions and helping public relations members apply the methods he had developed in the Midwest. By late summer 1977, "every city that was willing to rescind their bans without a court battle had done so." Still, as millions of people were "still inaccessible to the church due to municipal censorships," the church served notice that its "policy of tolerance has terminated." Troyer wrote that "to capriciously deny...[the] right to solicit is equivalent to denying...[us] the right to exist." The first case was filed against the City of Phoenix on September 5, 1977. Forty-five minutes before the trial, the city capitulated, indicating that it could not withstand the challenge, and settled out of court. Having witnessed the power of action taken in federal court, Troyer concluded,
[T]his municipal opposition against our church was not founded on the law, but rather founded on bigotry, prejudice, and an unwarranted abuse of power. These cities know the law, but it took something as drastic as court intervention before they would relinquish their prohibition.
According to a November 10, 1978 report, the church filed sixty-two lawsuits in Federal courts across the country from September 1977 through October 1978. Of these, fifty-two were resolved in the church's favor and ten were still pending.
The church went on to win hundreds of solicitation cases in succeeding years. One of these cases transcended the local level and established important legal protections against unequal government treatment of controversial religious groups. As discussed in a primer on church-state law, Minnesota amended its charitable solicitation law in 1978. Prior to that time, the 1961 law required organizations soliciting funds in the state to submit forms, showing that not more than thirty percent of their income was spent on administrative costs. However, religious groups were exempted from this requirement. The 1978 amendment "stated that a religious group that raised more than fifty percent of its revenue from its membership would continue to be exempt from the solicitation law." But if more than fifty percent came from nonmembers, "the organization would have to file with the state, file financial disclosure forms, and be subject to state scrutiny." Shortly after the change, state officials notified the Unification Church that it was required to register according to the new provision. The notice also threatened legal action against the church should it fail to comply. The church countered with a lawsuit, and in Larson v. Valenti (1982), the U.S. Supreme Court found in the church's favor, stating that the "fifty percent rule" created "precisely the sort of official denominational preference forbidden by the First Amendment of the United States Constitution." As one commentator noted,
the law targeted for stricter state scrutiny those religious groups which solicited funds in airports, parks, or shopping centers, as opposed to those which received most of their funds from Sunday morning collection plates... The larger lesson...[was] that governments may not pass laws that enable them to inflict greater surveillance and regulation on controversial religious groups.
Apart from extending constitutional protections to its members, the church won a five-year legal battle against the New York City Tax Commission that had denied its request for a tax exemption in 1977 on the grounds that the church's theology was "threaded with political motives." On May 6, 1982, the New York State Court of Appeals handed down a unanimous decision that the Unification Church was a legitimate religious organization entitled to tax exemption privileges granted to all religious groups. It also described the Tax Commission's determination as "arbitrary and capricious and affected by error of law." Unlike the Minnesota solicitation ruling, this case generated interest in mainstream religious circles as their leaders recognized that the Tax Commission denied the tax exemption on grounds that could be applied to them. Therefore, among the organizations filing friend of the court briefs in support of the Unification Church were the American Jewish Congress, The Catholic League for Religion and Civil Rights, The National Association of Evangelicals, and the National Council of Churches. The court recognized this in stating, "traditional theology has always mandated religious action in social, political and economic matters. Virtually all of the recognized religions and denominations in America today address political and economic issues within their basic theology."
Finally, after several years of what it regarded as "unfair treatment" by the United States Immigration and Naturalization Service, the church was vindicated by Unification Church, Nikkuni, et al. v. INS (1982) in which the United States District Court for the District of Columbia recognized the rights of the church's foreign members to enter the country as missionaries on the same basis as members of other churches. The court also recognized the church's authenticity in holding that "The Unification Church, by any historical analogy, philosophical analysis, or judicial criteria...must be regarded as a bona fide religion." Since only a few years earlier, members were subject to state-sanctioned seizures and jailing, these words were especially sweet. Clearly, the church had vindicated most of its claims in the eyes of the law.


Download entire page and pages related to it in ZIP format


Table of Contents


Information


Tparents Home