Reflections on the Tiger
Henry Schauffler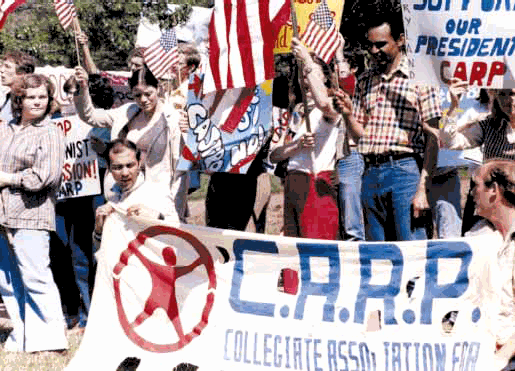 CARP members hold a rally on a campus
No one who worked with Chong Goo "Tiger" Park in America will forget his passion for Godís Will and his deep love for America and Americans. He had a powerful vision for how to create a youth movement that was deeply rooted in the orthodoxy of True Parentsí vision, but relevant to American Youth. During the 3+ years he worked with us, he transformed our lives and the CARP movement forever.
I first met him at UTS in January of 1979, when he came to do a 7-day workshop with all of the CARP members. When I shook his hand, it was not particularly strong, and he seemed humble. He had two large duffel bags with him, one quite overstuffed. Mike Smith told him that we had a room for him up in the Professors wing. He said, "Please show me the lecture room." We took him there; he prayed and said, "Iíll sleep here for the first three nights to prepare the atmosphere for the lecturer, then Iíll go to that room...." Seeing as I was to be the lecturer, I was quite moved.
That night, he gave us a talk about Fatherís heart, and his course pioneering in Korea, and how he learned about the deep passion Father has for saving mankind. He was very animated and powerful; most of us cried. As we left the room, he asked who the lecturer was. I introduced myself and he shook my hand quietly. He asked which lectures I would give the next day. As I began to leave the room, he was rolling out his sleeping bag. My last sight of him was in prayer, no doubt for me and my lectures.
I was the first to arrive for 7:00 am prayer. Rev. Park was in prayer when I arrived, his sleeping bag rolled neatly in the corner. Thatís how our workshop started. That seven days were among the most memorable moments of education for all of us. He connected us deeply to True Parentsí heart and conviction to save America with youth. When we finished the workshop, we had a new vision for CARP and ourselves as children of True Parents.
Many times over the time I worked with him, he traveled with sleeping bag in hand. Most times when he came to workshop sites for new members, even though we would prepare the customary nice room, he would go with his sleeping bag to the dorm where the guests were and stay with them.
Once at Camp Mazumdar, I went to the dorm at around midnight to see if the lights were out and everything was quiet. There he was in the menís dorm, with all the young men gathered around in rapt attention as he told stories of the early days with True Parents. He was a 36 couple, but in his heart, he was just a brother who had a wealth of experience to share. He was totally unpretentious and unaware of position. At least he knew that Americans needed this atmosphere to connect with someone.
While many remember his fighting spirit and literal willingness to die fighting Communism, I remember most his passionate heart and love for God and brothers and sisters. For me, living with him was a peek at what it must have been like to live with True Father in the early days. He laughed, cried and loved through more than three powerful years with us. I count it a true blessing and honor to have been able to work with him.


Download entire page and pages related to it in ZIP format


Table of Contents


Information


Tparents Home