John R. Williams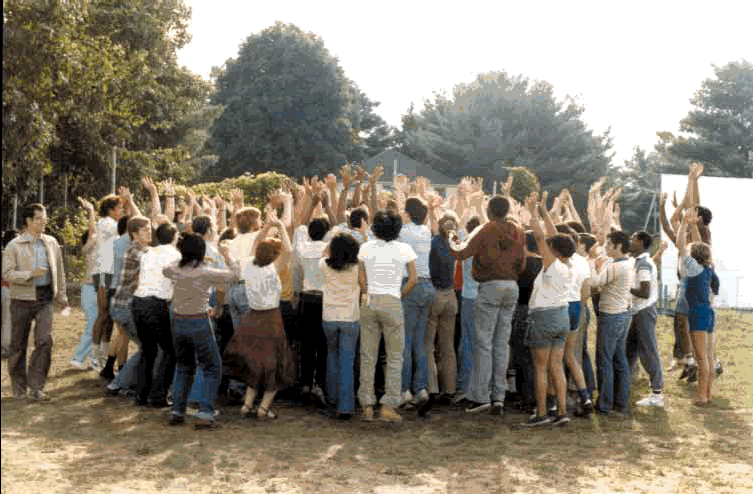 Workshop at the camp in New York. John is on the left.
One of the happiest memories was being with Sheri Rueter and Joshua Cotter as workshop staff at "Camp Happy Lake" in Accord, New York in 1980-82. In those days we had several hundred guests and members each weekend. On Saturday night of the weekend introductory program, all the groups of staff and guests would hold an entertainment evening consisting of skits and songs they had written, usually with themes related to the Divine Principle. As the lecturer, with the long day of lectures behind me, a late-night staff meeting ahead of me, this was a window to relax and enjoy the fun.
Everyone would gather after dinner in the big barn. One Saturday, as usual, the preliminary singing had gotten us all warmed up and several skits had already gone up. Sheri's group was next. Among the staff this was a highly anticipated event; she was notorious for her outrageous skits. The group was called to assemble and sing their song.
We waited for a few moments, wondering what wild costume or entrance or other gimmick they would use this time (I can still remember the time Sheri entered on a surfboard carried by her group as they sang some silly Disney song). It soon became clear the gimmick was that they were going to do it on roller skates they had found in a box in the barn.
The problem was that these were not skilled skaters; once they successfully got on their feet in their skates, they could not control where they were rolling. They drifted helplessly all over the platform facing different directions, trying in vain to maneuver themselves to get together in a line. The audience was all in stitches. Sheri stood in the middle laughing so hysterically she could not even announce what they were trying to do. I was laughing so hard myself I could barely breathe and I recall wetting my pants. Even to this day, the memory makes me crack up.
An unforgettable moment with God for me was a Saturday morning at our New York workshop site in the country. I was the workshop lecturer, having finished a quiet 5-day program the night before and now facing an influx of hundreds of guests for a new 2-day workshop. The pressure was on to be fresh and deliver inspiration, enthusiasm and wisdom yet again, and I was expected at 9 am. I was tired, irritable and depressed. I slipped away from the crowds and walked alone in the woods trying to cope with my feelings and find God.
It was a vivid, moist, autumn day. I walked the leaf-strewn path, talking out loud to God, praying for my task ahead and venting my heart, crying and emptying myself. I reached a numb, blank, desperate state of heightened receptivity. Rainfall from the night before had left all the tree bark and ground a dark, dramatic foil to the vibrantly colored leaves. I gazed at an exquisite yellow leaf, thinking about the simple truths that I would be teaching about soon: "God is heart, focused entirely on matters of love. We are Father and children. God made this out of love for our joy and pleasure. God made this for me."
Suddenly what I was saying hit me with profound poignancy. The realization of boundless love washed over me. I went down on my knees, was pushed down onto my back, groaning, tears pouring from my eyes with the overwhelming sensation of being accepted, cared about, important to the most important One. My entire being tingled in a kind of rapture. I felt His presence within and around me, in a deeply satisfying communion.
After many moments, I was aware of words: "Someday we will be like this always. We have an appointed rendezvous in the future. Until then, farewell...." He was telling me this was a taste of perfection. He knows this is my destiny and He is patient, willing to wait until I mature enough. He is always aware of me in a personal way, always has been and always will be. My future is being guided by Someone who loves me.
My heart was full. I returned to the camp empowered and inspired, ready to share the Principle and the God that I knew wanted to connect with everyone there.


Download entire page and pages related to it in ZIP format


Table of Contents


Information


Tparents Home