The Oakland Family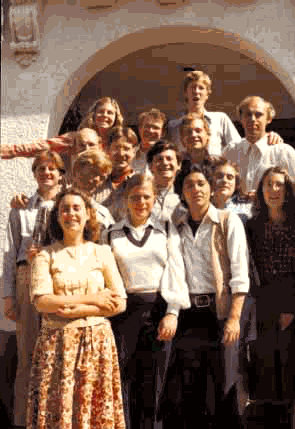 Members in the Bay Area, 1977
In addition to widespread negativity and the lack of a stable and consistently followed witnessing method, East-West tensions were a third reason why the church did not reach its membership goals. There were two separate issues here. The first was a tension between the mainstream church and its Northern California wing; the second was a gap between Oriental and Western culture.
The tension within the American movement was a continuation of the 1960sí conflict between Miss Kimís Unified Family and Mr. Choiís San Francisco based Re-Education Foundation. Originally a mission outpost of Mr. Choiís group, the Oakland Familyís membership totals skyrocketed from a handful of members to several hundred during the early 1970s. While existing San Francisco Bay Area centers were depleted by the demands of the Day of Hope era, the Oakland Family thrived, inheriting what remained of Miss Kimís Berkeley Center and Mr. Choiís Re-Education Foundation by the end of 1974.
During the late 1970s, the Oakland Family emerged alongside the national movement as a minority tradition with a distinct ideology and lifestyle. Ideologically, the Oakland Family took Mr. Choiís less theological, character-educational approach a step further by utilizing concepts from humanistic psychology. Organizationally, the Oakland Family departed from the mainstream by incorporating such entities as New Education Development Systems, Inc. (NEDs) and the Creative Community Project (CCP) with a less-than-clear articulation of their connection to the national movement. This provoked controversy both within and outside the movement.
The church would have moved sooner to incorporate the Oakland Family within its national structure were it not for the groupís exceptional witnessing results. In late 1976, Mr. Sudo recruited Matthew Morrison, a longtime Oakland member, to be coordinator of Barrytown Training workshops, "incorporating some of the spirit and ideas which had helped the Bay Area bring scores of members." In September 1977, Bo Hi Pak reported Oakland recruiting results to assembled state leaders, stating that "90 percent of the work of our movement is done by one center." The following month, Rev. Moon asked Oakland Center Director, Dr. Mose Durst, to give a report on their activities and suggested that a key to their success was the unity between Dr. Durst and his wife, Soo Lim "Onni" Durst. "People," he said, "are attracted by their parental love and warmth. Furthermore, everybody does his share to make guests and new members comfortable, to feel at home and to be intoxicated in heavenly love."
There clearly were other reasons for Oaklandís success. Obviously, the San Francisco Bay Area was a magnet for youth, and the Oakland Family recruited actively at train and bus stations, especially targeting anyone wearing a backpack. However, equally important was the stability of its witnessing program. The Oakland Family never varied its schedule of nightly evening programs, two-day weekend workshops every weekend for as many as 300 members and guests, seven-day workshops for those who wanted to learn more, and "actionizer" programs for those who decided to move in. Moreover, while Oakland might send any number of new recruits to the church, it always kept its staff intact. Therefore, there was not the constant rotation of leadership that characterized the movement as a whole. Oakland also departed from the "on-your-own" pioneer philosophy that typified the Barrytown Training Program. All members participated in a "trinity system" which functioned as a family within the Family to provide internal support. Finally, Oakland emphasized only the positive and refused to have give-and-take with negativity. Unlike the Barrytown Training program, it refused to be drawn into speculation about failure. Enthusiasm and joy were in. Doom and gloom were out.


Download entire page and pages related to it in ZIP format


Table of Contents


Information


Tparents Home