Washington Monument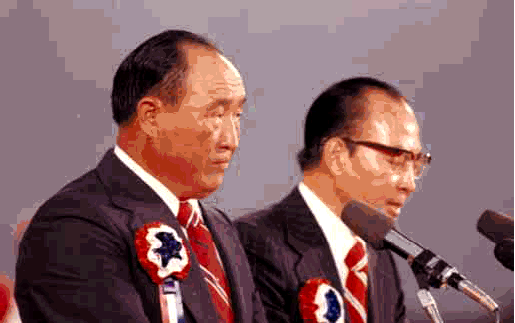 Rev. Moon and Col. Bo Hi Pak on the stage at Washington Monument
Rev. Moon's message at Yankee Stadium, "God's Hope for America," broke new ground. Rather than alluding to theology as had his speech on "The New Future of Christianity" at Madison Square Garden, Rev. Moon dealt primarily with civic themes. Rather than as a prophet for Christianity, he cast himself as a "doctor" or a "fire fighter" from the outside who has come to help America meet its third great "test" as a nation, that of "God-denying" communism.
He also proclaimed that the Unification Church Movement and its "absolutely God-centered ideology" had the "power to awaken America, and ... raise up the model of the ideal nation upon this land." For many, these claims suggested that Rev. Moon and his movement had not only religious but political ambitions. So long as the church confined itself to the religious sphere, it might be vigorously opposed by rival religionists and families of converts, but there would be little chance of overt governmental repression. However, once its rhetoric, perceived aims and activities intruded upon the public square, the possibility of governmental agencies opening official investigations was greatly increased.
The first serious investigations of the church were still more than a year away and did not interfere with preparations for the Washington Monument campaign which began immediately. The movement had much less time to prepare, only about 100 days as opposed to the 18 months it spend getting ready for Yankee Stadium. However, everything went much more smoothly. There were several reasons for this. First, the movement already was in a state of readiness, and there was little chance of a let down due to the less-than-ideal result at Yankee Stadium. If anything, members were more determined. Conversely, the movement's opposition slacked off. Ted Patrick lost an appeal on an earlier conviction and went to jail in July. The opposition of negative parents also dissipated and was not a significant factor in the campaign. The hot summer months in Washington undoubtedly played a role. However, while its opponents may have gone on vacation, the movement maintained its focus.
A change of orientation and approach also had a significant effect. The atmosphere surrounding the Yankee Stadium campaign was strained and the Church was rather isolated. The movement adopted a less embattled posture in Washington. This was partly due to the more relaxed quality of the city and the momentary fading of opposition. However, it also was a conscious decision on the part of the church. Rather than press for converts, several hundred members, including students on summer break from Unification Theological Seminary, offered various service projects, sponsored block parties, and participated in a variety of programs during the first month of the campaign. Rev. Moon also elected to use the church's "most outstanding leaders" in strategic locations rather than rely on untested pioneers as had been the case for much of the campaign at Yankee Stadium. Finally, whereas Yankee Stadium had the character of a rally, Washington Monument had an intentionally festive quality.
In addition to changing its orientation, the movement took a more professional approach in marketing the festival. There was a certain do-it-yourself quality to the Yankee Stadium campaign and most arrangements were made in-house. In Washington, the church enlisted professional help. Col. Bo Hi Pak, who had been in the U.S. for a longer time than Mr. Kamiyama and who had extensive contacts with advertising firms as a result of his work with The Little Angels, was made "Campaign Controller and Coordinator." This led to a professional and compelling full-page ad campaign which ran in the Washington Post and Washington Star for thirteen days from September 5th until September 18th, the day of the festival. The effort was to accentuate the human qualities of Rev. Moon, allow the members to speak for themselves, and encourage Washingtonians to make up their own minds. Apart from this, the movement contracted with California Fireworks, creators of displays for Disneyland and Disney World, to put together "The World's Greatest International Fireworks" for the festival's finale.
Col. Pak was confident that the fireworks display alone could attract up to a million viewers. However, he expressed concern that "there would be the mobilization of at least 100,000 people" who would be "seriously interested" in Rev. Moon's message. This was the basis of the church's "busing strategy." Chartered buses transported participants from other cities to Yankee Stadium, but in an uncoordinated and limited way. In Washington, the basic strategy was to bring people by bus. The Church chartered over 1,500 buses to transport guests within a 300-mile radius of Washington, D.C. As round-trip transportation was free and food was available for a nominal fee, members working in surrounding states had little trouble confirming guests. Meanwhile, God Bless America Festival planners spent hours meticulously organizing bus routes and parking. On the day of the festival, some 850 buses from Virginia, Maryland, Philadelphia, Delaware and New York brought approximately 40,000 guests. Six hundred circulating buses in Washington, D.C. brought an additional 30,000. The total amount coming on their own from the Washington area, according to church estimates, was between 160,000–260,000. The number of those in attendance was in dispute as the U.S. Park Police estimated between 50,000–100,000. Church spokespersons initially estimated 200,000 and later 300,000. Regardless of the estimates, photographs in published accounts testified to a mass of humanity on the mall grounds.
Unlike Yankee Stadium, there were very few incidents. A Park Service spokeswoman said, "It was an incredibly orderly crowd ... family-type groups." The movement also received praise from a National Capital Parks spokesman who said, "It was the first time any group of demonstrators had followed through on a promise to clean up its own trash."


Download entire page and pages related to it in ZIP format


Table of Contents


Information


Tparents Home