On the Road
Joseph Kinney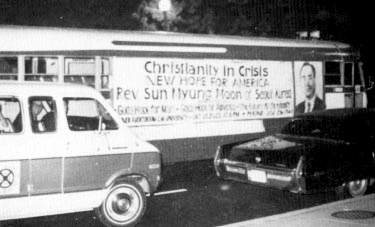 The Day of Hope Tour bus, 1973
I was the bus driver for Perry Cordillís team during the Day of Hope 21-city and 32-city tours, 1973Ė74. I did all sorts of mechanical things for the team like repair the vans as well as the big green bus that I drove. Believe it or not, later I was also the bandleader, but thatís another story. The worst city I remember was Des Moines, Iowa. There were the most negative media and demonstrators. I believe a grand total of six people showed up for Fatherís speech.
I was assigned to pick up a rental Lincoln for Father -- the only suitable car available in town. On the way back from the rent-a-car place, the master cylinder went out. Fatherís plane was due in two hours. Bought a master cylinder, put it in and bled the brakes in time to have the car ready. Typical of the crazy rushes during the tours. As far as I know, the very first kidnapping or deprogramming happened in Des Moines, Iowa around the time of Fatherís speech. Since only a few people on the team of about 70 members spoke English, sometimes I taught Divine Principle. I taught from Chapter One to Conclusion to a young man named Steven Foster. I remember his name because it is the same as the songwriter who wrote "Old Susanna." Steven and his girl friend heard the lectures together. Steven was quite enthusiastic, but his girlfriend was lukewarm or negative. She contacted Stevenís parents and they became extremely worried. Her parents arrived at the location where the team was staying and invited me to their home. Once they had me inside they barred the door, took my car keys and started waving hammers around my head. The point was that if I didnít produce their son, bad things would happen to me.
I didnít think I had a right to keep parents away from their own son, so I brought them to him. Steveís parents proceeded to bring him to a hospital and called a psychiatrist uncle in California who had him committed by a phone call. His parents told me they planned to confine him to a mental hospital until he recanted his belief in True Parents. Steve was drugged up and confined to a hospital bed the last time I saw him. As far as I know this was the first kidnapping/deprogramming in the U.S.


Download entire page and pages related to it in ZIP format


Table of Contents


Information


Tparents Home