You Will Meet Omma Under A Full Moon By The Bay
Poppy Richie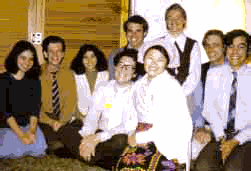 Mrs. Onni Durst with a group of early members, mid-70s, San Francisco
In 1972, a rigorous search evolved on my part, to 1) find out what is the truth about spirituality and consequently, what is my purpose in life; 2) find those with whom I could develop true friendship; and 3) work together with others to build an ideal society. At the time, even though I was a college graduate and came from a fairly affluent background, I was profoundly lonely and disappointed because of the realization that my life was unfulfilled and meaningless, and I lacked role models to guide me in a new direction. Relationships with others were unsatisfactory and painful.
I worshipped nature, for nature was always so beautiful and complete, compared to the wretchedness of humanity. Yet, a relationship with nature was not enough. Age-old questions, such as, why is there suffering, where can one find true love, what is the purpose of history, where did I come from, is there life after death? haunted me day and night and sent me on a pilgrimage to find answers.
In my travels, I had a profound spiritual experience. I was in Mexico and I had ingested some poisonous food that left me unconscious on a rural hillside near a little village in the mountains of eastern Mexico. When I regained consciousness I could see nothing around me. I thought I had died and gone to the spirit world. I realized that there were no people around me because I had lived such a selfish life. I was doomed to an eternity of living alone in my afterlife. In a few minutes, I heard voices and began to see shadowy figures walking past me.
The blanket of thick fog which had obscured my view was beginning to dissipate and I was shocked to realize that I had not died after all! With painful gratitude, I hiked down to the beach and fell on my knees and wept with repentance for the self-centered life I had led. Shortly after, in a conversation with a local spiritualist who had mediumistic powers, I was told that my deceased mother had a message for me. She said, "You will meet Omma under a full moon by the bay."
Furthermore, when I consulted the I-Ching, I learned that I should go north where I would meet my true friends. A month later, in Berkeley (by the San Francisco Bay), I met my Korean spiritual mother, my Omma, Mrs. Durst, who introduced me to Rev. Moon, Our True Parents!
I met Mrs. Durst on the University of Berkeley campus on Sept. 13, 1972. She was radiant! She and her husband became the most important people in my life because through them I came to meet, follow and understand the heart of God and True Parents. The Divine Principle answered the religious and philosophical questions that had initiated my search, and the brothers and sisters who lived on Dana St. in our little church center, showed me the true friendship that had been missing in my life. I was finally on the path to God, and I was sorely needed by Our Heavenly Father, to witness. I sat at a table on Berkeley campus from 9 a.m. to 5 p.m. every single day, Mon.-Fri., rain or shine, through warm and cold seasons, for three years. My mission as a witnesser continued in various places, mainly in California. Mrs. Durst led our members to work long and hard, and to do many conditions of fasting and praying...Joyfully! She was always joyful and she also taught us how to work effectively as a team. Many church members know me by my reputation as an effective witnesser, having brought many spiritual children (at one time I had 100 spiritual children as full-time members). This victory was due to the teamwork of the evening program staff and workshop staff, and the fasting and praying of all our loyal, faithful brothers and sisters.


Download entire page and pages related to it in ZIP format


Table of Contents


Information


Tparents Home