Acts Of Faith
Martin Porter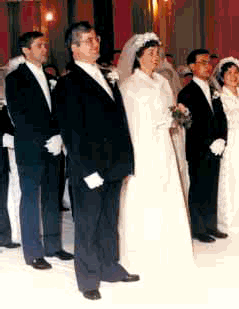 Martin and Marion Porter at their Blessing
In January 1973, 120 members from Europe chartered a flight from London to the U.S. to support Fatherís speaking tour. We arrived in the U.S. on about January 15, and spent some 15 days with Father, living at Belvedere, while he taught us in a most personal way. Every meal, three times a day, we would be there together with him. This was such a great time to learn and understand his vision. I went back and forth between Europe and the U.S. five times that year to confer with Father. He did everything to please and entertain us, buying us suits, ties, shoes like any parent might for their child. We could ask him freely about all sorts of things. Of those 120 European members, 20 came from Italy.
Membership in Italy flourished, and I returned in September with an additional 30 new members. This time Father asked me to stay and support his speaking tour, which started with Carnegie Hall in New York on September 18.
Father had organized the One World Crusade in February 1972, at the outset of his seven-city speaking tour. This first tour included primarily members from the U.S. Following this victory he wanted to bring a message of Godís hope to America, and further to embrace the whole world. He then invited representatives of the whole world to come to this country to help restore man back to the position of Godís children through further speaking tours -- 21 cities, 32 cities and a final eight-city tour by 1974.
During the 21-city tour, there were only three IOWC teams, led by Paul Werner, Reiner Vincenz and Perry Cordill. My role was to be the liaison between Father and the teams. This meant that almost on a daily basis I would fly off to the next city, examine the whole situation, check on the hall where Father would speak, the banquet facilities, numbers of confirmed guests to both, Fatherís accommodation, problem areas, media, etc., and return to Father with a report. I knew that many leaders would give only positive reports, but I thought that this was a disservice to Father, and so I gave him a report of everything I thought he should know. I watched each time I spoke how he reacted to the reports. It became clear to me that Father is very different from other people. He was expecting to find difficulties and knew that there was a solution, and so he was challenged to find the way that God would work in each situation. He never took the position that Satan was out there trying to create problems. This was such an important lesson for me, even though I had not been able to live up to this level.
In October and November that year I took more than 44 flights! If you were wondering how I did it, I think it is better to wonder how True Parents did it; how serene, supporting and uplifting they were every day.
While in New York I lived in the garage apartment at East Garden, and prepared to make a 35mm movie for the Korean Government at the UN General Assembly Little Angels performance on December 27, 1973.
After the speech in Tulsa, Oklahoma, we took a flight back to New York. I remember it so clearly; True Parents were up front and there were about 20 of us scattered throughout the plane. The doors were late in closing and it was clear that we were waiting for someone.
Then I saw out of the window an elderly Oriental woman trying to hurry across the tarmac to the plane, burdened by plastic bags in each hand and an overnight bag. Soon she was on the plane and we were all happy to leave. But were we? This lady (Lady Dr. Kim) obviously had a broken kimchi bottle in one of her bags, and now that she was on board and the doors were closed, the full effect was wafting through the air conditioning system!
After working for a year as a liaison between Father and the IOWC teams, I was in Washington, D.C. on January 31, to welcome him back at the end of the 21- city tour at Dulles Airport, and then later at the Convention Center at the Sheraton-Lanham Motor Hotel in Silver Springs, MD. There Father would form the new IOWC teams, bringing the number to seven. The teams were to spearhead the way for the upcoming 32-city tour. Father personally selected these teams and gave inspiration and guidance.
My team was the 5th team and was originally comprised of 20 Japanese, 10 Italians, 22 French, 15 Americans and one German; it was quite a challenge to establish unity, convey directions and accomplish the strategy of the campaign. I usually spoke in English and then in Italian, while the two other interpreters translated into French and Japanese! This was a great testimony to True Parents, as no other motive than to fulfill their vision and Godís Will could have brought us all to work together. This was confirmed again and again as our international team shared their deep spiritual experiences at the end of each dayís activities.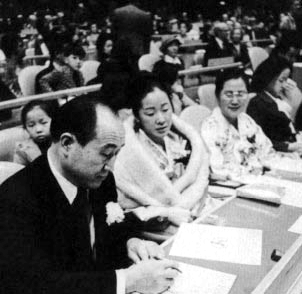 True Parents with Mrs. Choi at the United Nations, NY, December 27, 1973
Though I was greatly challenged, I knew we had to be successful. There was no question of can we get people to the banquet and speech, or how can we get the appropriate facilities; we just had to. There was no margin for doubt! For the 32-city tour, the U.S. was divided up and each state was assigned an IOWC team. Our team was responsible for New Haven, Connecticut, February 23 and 24th; Birmingham, Alabama, March 9 and 10; Jackson, Mississippi, March 23 and 24; and Fargo, North Dakota, April 6 and 7.
These cities were very far apart and we were in the middle of the gas crisis. At that time, one could only purchase $2 worth of gas at one visit to the pump!
Can you imagine moving with 9 vehicles, traveling such distances and only being allowed to get $2 worth of gas? During the first campaign, we lived in New Haven, and only commuted one hourís drive, or about 60 miles one way to Hartford. Thus, in the early morning our vehicles were lined up at the gas station before they opened, and we were lined up again before we reached our destination. In any case, Hartford was the first campaign stop. I introduced Father at the banquet, and 500 people came to the speech.
We left New Haven on February 25, arriving in Birmingham late that evening. Then we had to regroup and have a banquet prepared and people to the speech 12 days later. Over 400 people came to the speech and we paid off all the debts of the campaign. Both Governor George Wallace and George G. Seibels, the Mayor of the city, made a proclamation, declaring the "Year of Hope and Unification."
The Jackson, Mississippi campaign was unique. I think the city had never seen so many foreigners and certainly no Orientals! One day my secretary answered the phone, only to hear that some members had been arrested. She was Japanese and would always pretend she had misunderstood what people said so that she could say whatever she wanted them to hear; how we loved God and humanity, etc., but this time the policeman was very upset, so I took the call, and said I would come down to the station right away. When I arrived I heard singing coming from the building. On entering, I met the police chief, who said, "Get them out of here!" I went in to the main room, only to find that Kimiko Tsukamito, who had a voice like a bird, had all the policemen in a line, singing songs. The arresting officer would not hear of me taking them away, but insisted that he return them, along with their boxes of product, to the same street corners where he had arrested them!
The city officials had put on a reception for us on the top floor of the Heidelberg Hotel, where we were staying.
I went up to the reception and found ladies in ante-bellum dresses and the men in period costumes too -- I thought I must have been in the wrong place and went back down to the reception desk to inquire where the reception was. But this was, indeed, a southern-style reception. It was great! More than 200 people attended the banquet in Fatherís honor. Father was made an honorary colonel by Governor Bill Wallerís representative, and was given a gold key to the city by the representative of the mayorís office.
The most scenic drive was that from Jackson, which we left in spring weather, to Fargo, North Dakota, which was still in the grip of winter ice and snow. We drove non-stop overnight, arriving in only 24 hours on the morning of March 25. Father would arrive on April 6. We lived in Moorhead in four town-house apartments, and worked in the twin city of Fargo, both cities named after kings of the railroad. The people were responsive and we created great controversy, so much so that I kept a TV running in my car so as to hear the talk shows and news programs so I could get equal time if I thought it was desirable.
The fundraisers had quite a hard time due to the lack of area, so I obtained permits for them to go to Winnipeg, Manitoba. For them it went very well until it was time to come home. At the U.S. border many, being foreigners, had problems entering and by the time I was called I suggested trying again 100 miles up the border, which they did, only to find the same immigration man there waiting for them. We then had to make a special plea to President Nixon through contacts in Washington and they returned to Fargo in time for Fatherís speech. True Parents stayed at the small center where James Gavin lived on 1317 8th Ave. North, Fargo. I gave the introduction to Father at the Great Hall of the Fargo Holiday Inn. The hall was packed, with 50 or so people standing. The atmosphere was charged due to all the media hype. I had such a hard time giving an introduction; in fact, I had to hold onto the podium to keep my balance. I could see the evil forces coming at me like arrows. I was so spiritually attacked that I could not see clearly anymore. Many people were antagonistic because of the wrong information they had heard. Then True Father gave an extraordinary speech which touched their hearts and many were in tears -- no one left. Such good people: when they heard the truth they were convinced and changed. Then after the campaign we went to Chicago to help there and finally to fundraise in Detroit before taking up residence in the South-East Region.
In spite of the frustration of the gas crisis, we possessed a powerful determination. And through all difficulties we felt charged with motivation, which, we were aware, was not being generated from ourselves alone. For many of us, it was the first experience of cooperation with those in spirit world. Only this could explain the miracles that transpired to help us accomplish our mission.
One constant example was that in spite of the gas shortage, gas attendants at crucial times were moved to fill up our tanks anyway. Doors opened to meet city officials and leaders who were normally inaccessible.
Our faith was constantly put to the test, and then deeply rewarded through the unforeseen events that helped us achieve our goals. Once when we were traveling, the truck carrying all our luggage, among other things, opened up in the back and a substantial part of our luggage fell out on the road. When this was discovered, it was too late to turn back, and, being in the middle of nowhere, we would not have had enough gas to turn around anyway. I turned back alone, retracing our steps for over 10 miles, with the members in my van scanning the other lane, but we found nothing, so we continued. To our surprise, when we arrived at our next campaign city, Birmingham, Alabama, we received a phone call from a member in Washington, D.C. who had been traveling the same road. He had found a whole lot of suitcases on the road and when he investigated, he recognized many of the names on the luggage as church members. He called our campaign center to see if they belonged to our team. He had picked them all up!
After the 32-city tour, we continued to participate in the Celebration of Life campaign. We had a extraordinary time in Miami. By this time, almost half the team, 35 people, were in our brass band, led by Michael Keily.
They paraded in the streets in their green uniforms. A music professor had joined us in South Carolina and taught them to play decently in a short time. We lived in the newly decorated YMCA building downtown, and we rented the Gusman Philharmonic Hall for Dr. Pakís speeches on June 19-21. The hall is famous for its Venetian Courtyard decoration: the ceiling is painted dark blue with stars shining down, and a cloud machine makes clouds pass overhead. In the three nights we had some 7,000 people attend, followed by 200 people at the workshops that continued afterwards. This was followed by a seven-day workshop. I will never forget Marion standing up there under the spotlight on the left side of the stage, giving the "Dr. Pak" version of her life testimony. It sounded so wonderful; it wasnít untrue, but it did leave out some of the more difficult and trying experiences! This program, developed by Dr. Pak, was a winning formula, and my only regret was that it did not continue to all 50 states.
Then came the 8-city tour, beginning with Madison Square Garden, on September 18, 1974. On entering New York City, I fell in love with it. The atmosphere was so different from the last time when I had been there for the Carnegie Hall campaign. I just knew we were going to succeed. One must remember that until that time we had never brought more than 1,400 people to any of Fatherís speeches, and to fill the 25,000-seat Madison Square Garden was a sheer act of faith.


Download entire page and pages related to it in ZIP format


Table of Contents


Information


Tparents Home