Coming From Japan
Hisako Watanabe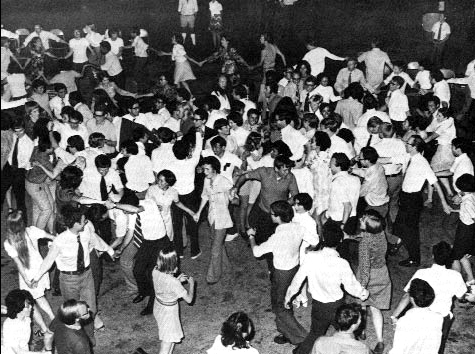 I was a traditional Japanese person. I believed that if I was good, then people would respond with goodness. Now I know I have to express myself, not just to members. I know that I must express what I feel. This is very different. In Japan, talking too much is very bad. We donít need to speak so much; we thought it is better to do than to speak. But in America, the old traditional training doesnít work. I was a quiet, traditional person, but now I speak so much. People in this country donít believe that I was quiet. People donít understand me unless I explain. I am a strange Japanese, not traditional anymore.
When I first came to the USA, in 1973, I was full of hope, but I was scared. Another Japanese sister, Sanae Tully and I were chosen. Not because we could speak English; we couldnít then. First the 12 Japanese were chosen to come here, then another 40 were chosen from Happy World, who were used to fundraising. Then another group came. The first groups didnít have a good testimony because they couldnít speak English well. After that they tried to choose those who spoke English well, or went to university, except for me and Sanae Tully. We were under Mr. Furuta then. I did not like English. I did not know how to speak English then. There were 50 Japanese from the 777 couples there. I am from the 777- couple blessing too. Father invited us in the autumn of 1973.
When I arrived at Belvedere, the first person I met was Phyllis Kim. She smiled at me and said, "Welcome to America." I was stuck and could not speak. She was smiling. I was depressed. I could not talk for four months. Father divided us into six groups in the New York area. I was in Hempstead, Long Island, with Dale Garrett. We started witnessing with a three-day prayer and witnessing condition. I was inspired by spiritual world, and I witnessed to Peter Schepmoes. He worked at UTS later. He had a long beard and long hair; he looked like a guru from India. I saw a light around him, even though I could only see his eyes. I said to him, "Do you believe in God?" He responded very well and gave me his address and telephone number. I visited him later and he had given me the right phone number and address. I brought him the green DP textbook. He was moved to tears. I wanted to invite him to the church. I had an appointment with him at 71st St. one night to hear a lecture, but the central figure said I had to go fundraising and I couldnít keep my appointment with him. Someone else gave him the lecture. I couldnít meet him. After that he left. He was training himself to become like a guru. He wanted to go to India. Then I couldnít meet him for six months, but I tried to contact his mother. Then he sent me a gift. I made friends with his mother and I would talk to her on the phone. So his mother and I had a good foundation before we met again.
Then we went fundraising for one month in Buffalo and upstate New York. Sometimes 6 or 10 sisters fundraised, staying in a motel room. We were fundraising for the New York activities. I thought I left fundraising behind me in Japan, but now it was happening again here.
Then I made food, PBJís, for everyone. I was a kind of team mother. Sometimes I was making sandwiches late at night. Once we had a 3-day witnessing campaign before MSG for all of New York. They wanted three people from each center. I volunteered for the witnessing competition. The first day I saw my spiritual son, Peter, again. He just happened to come to Manhattan that day.
He lived in White Plains. He had been to Belvedere once looking for me. I hadnít seen him for six months. I said, "What are you doing?" He said he was planning to go to India, but it was the rainy season, and the travel company said it was not a good time. He was going to buy a ticket but decided not to. Then I asked him to go to a workshop and so he agreed. He might not have understood the Principle so well, but he was moved because I was fasting for him. He went to Barrytown and someone told him that I was fasting for him. He was so moved and he cried for me. I thought he was moved to see True Parents, but he said no, he was crying for me. He had fasted for himself many, many days in the mountain for training, but never had done it for others. Later he did a 40-day fast at Barrytown. I met him the end of October, 1973, then again on May 22 in New York. He went to a 21-day workshop.
He finally joined on June 18, 1974. I was witnessing in Manhattan. It was hard for him to witness to other people. I had to go with him to witness. I was frustrated because he never spoke to anyone. We went to the park behind the library. We met Chad Hoover. I said, "Do you believe in God?" He said, "Yes, I am a Christian." I spoke very strongly, "I donít think you know about Christianity." I was witnessing not only for Chad but also to Peter. One day before the workshop I asked him, "Are you sure you are going to the workshop?" Many times people gave me the wrong number and address. But he was very pure and he gave me right number. He attended the workshop. He felt something but he didnít understand. On July 4th, 1974, Father had a big celebration with fireworks. Even neighbors came. Workshop members from Barrytown came that day and Chad was there. His ancestor was President Hoover. He said that July 4th, 1974 was his spiritual birthday.
So then I had two boys, Peter and Chad. Individually they worked but they didnít get along very well. This was before MSG. I was very busy as the team captain. I realized I needed a girl spiritual child. It was easy for me to speak to men, because they liked to talk about righteous things. I determined to get a girl, a spiritual daughter. I determined to speak only to girls for three days. Then on the third day, I met Kathy Ahern Ferrabolli. She is from Ireland and has 16 brothers and sisters; she was number 13. She was sitting there at St. Patrickís cathedral. I couldnít tell at first if she was a boy or a girl because I was so tired. I brought her to the 42nd St. witnessing office. She heard a small introduction about the workshop and she promised to go to the workshop. After she came back, usually people are so tired, so I said, "Kathy, are you tired?" She said, "No, I want to go witnessing." We went together.
Then her brother and relatives came to bring her back. She had three or four brothers and sisters in the U.S. One day before she was going to California to become a nurse, she met me. Her family was very worried and upset about her. They came to the Hempstead church to get her. We escaped by bicycle and then went to a friendís house. Then we went to New York and Joe Tully helped us.
Each of these spiritual children mean so much to me. We all worked for Madison Square Garden at Hempstead, and I was the captain. The three of them were at the UN demonstration in 1974. North Korea held some Japanese ladies. Mrs. Arikawa led this campaign. All of us stayed outside for seven days, fasting. All four of us were there, day and night. It was very cold. Peter and Chad were driving in a car and they were strong, but I was worried about Kathy. They were all blessed at 2075 in MSG. Within 40 days they all joined, June 18, July 4, July 30. With a high spirit I could get result. I knew then that we had to unite with True Fatherís spirit in order to witness.
My husbandís mission was working in New York at the News World with Mr. Kobayashi and Mr. Orme. We also were involved at the beginning of the Washington Times.
When I was an IW I hadnít had too many experiences with True Parents before coming to the United States. When he met our group of Japanese IWís, he looked at us and said we are very strong, like men! He asked each of us what we did. Father said to me, "What is your husbandís name?" Father said he knew my husband. He said, "I know him very well." We felt very close and very happy. After that when we were eating, suddenly Father said, "Watanabe!" I said, "Yes, Father?" He said, "You and your husband look like brother and sister." I realized that while we were eating at the table, he was thinking about who my husband was. I was impressed. I felt so close. Mother took us shopping and she chose an overcoat, some pants and shirts that I still have.
It is hard for Father to do things individually for us like he used to. That was around 1976 to 1979. I had a good experience visiting each state, even though I didnít speak very good English. I had a very good experience with Kevin McCarthy in Raleigh, NC. I was impressed with Kevinís faith towards True Parents. It was very deep. He is a very good lecturer, and he understood the heart of the guests. I always told Rev. Kwak that his lecture and his faith were very deep but that he had a weak point -- he couldnít clean his room! One day he said the stove was broken and the water doesnít work. I said, "This is a symbol of your heart." I spoke very strongly. He was crying downstairs and he said, "I am so sorry." I was pregnant with my second child. I always cleaned his room for him. He would say, "Look! Itís clean." But then his closet had Fatherís picture and his socks together. I took care of him; I felt he had very good points. After that he became a 40-day workshop lecturer. He had a very deep and good heart. I always reported that. I was pregnant and I liked watermelon. One day, he had cut so much watermelon, and he opened the refrigerator and said, "Tada! This is for you. Maybe your baby will be born with a watermelon seed in his hand." I said, "Wow! Youíre kidding."
There are so many kinds of leaders, Japanese, Korean and American. Many people are complaining now. But we have to make up for all these things. I wanted to help America. We were supposed to bring many spiritual children. I am not proud of anything. I canít accuse anything. Everything that is hard now is because of things I didnít do. Donít you think itís true?
I am not really Japanese now. I can see the weak points and the good points of my country. I went to Peru and there are 120 Japanese sisters in Peru. When I talked with them, they realized I am not Japanese anymore. I am more open. Instead of being quiet, I can speak out. I can negotiate. I can speak my opinion. I can fight if I need to. German, English, Korean, Japanese...some countries cannot communicate but we could speak English. I can understand everyone better now. Some countries have trouble because they cannot communicate.
I donít have absolute faith, love and obedience yet. But somehow I know what Father is talking about. I am not one viewpoint. I can see Godís providence behind the situations. He is really the messiah. I think of all the suffering he went through, even in his family. He is really the messiah to save everyone. Not by words, but everything. He is showing us that he is really the messiah because he is saving everybody.


Download entire page and pages related to it in ZIP format


Table of Contents


Information


Tparents Home