"The Time Bomb Is Ticking"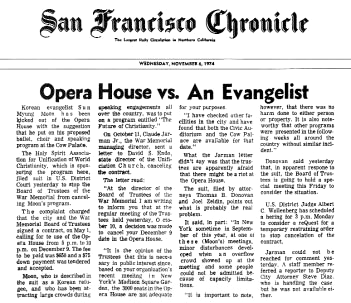 The Unification Church attained a great deal of public visibility by the end of 1974. Overflow crowds which attended its concluding eight-city Day of Hope tour were not only the result of campaign preparations but also the result of interest generated through widespread media coverage. At the same time, now that the movement had emerged, it was a visible target. As Rev. Moon put it during an otherwise exuberant celebration at Belvedere following his Madison Square Garden speech, "The time bomb is ticking. We must do our job before the time bomb explodes."
Opposition toward the movement was evident on all fronts, but especially apparent in controversies over evangelization. The Bay Area was an early locale of controversy. There, during Rev. Moon's twenty-one city Day of Hope tour stop in Berkeley, the Christian Student Coalition of the University of California formally disavowed "any spiritual kinship with the Unification Church and its founder, Sun Myung Moon," purchased a full-page advertisement in the Daily Californian to that effect, and distributed leaflets outside Zellerbach Auditorium. Although there had been sporadic protests and picketing previously, this was the first joint effort. As a result of increased visibility following his meeting with Richard Nixon, Rev. Moon faced mounting opposition during his thirty-two-city Day of Hope tour. "Nix-on Moon" placards denounced Rev. Moon as a fascist backed by KCIA money. More common were disruptions during speeches by fundamentalist Christians exhorting audiences and calling Rev. Moon a false prophet. A widely reprinted February 15, 1974, Laurence Stern and William R. MacKaye article in the Washington Post quoted the General Secretary of the Korean National Council of Churches, who labeled the movement "a cult...a new sect which has been undermining the established church." Equally significant was a widely circulated document originating in Louisville, Kentucky, entitled, "The Satanic Beliefs of Rev. Moon." Purporting to be from a group of inter-denominational ministers and laymen known as the "Concerned Christians," the return address was the Southern Baptist Theological Seminary. However, the public relations director for the seminary stated publicly that the Concerned Christians' post office box had been obtained "under false pretenses."
Opposition, often more militant, continued during the eight-city tour. At the New York "Day of Hope" banquet in the Waldorf Astoria Hotel, five members of the International Workers Party (two of whom leaped onto chairs) attempted to disrupt the affair. The following night, at Madison Square Garden, Rev. Moon invited those who opposed him to stand up and speak. Outside, more than a dozen groups ranging from Trotskyite and Marxist militants to "God's Umbrella" of Baptist, Methodist and Nazarene groups demonstrated and passed out leaflets to the thousands who couldn't get in. Opposition tactics were rougher in Philadelphia. Phone lines were cut and the telephone company cut off service for the phone number listed on campaign posters after receiving an order to cancel it; gas service to the Philadelphia center was cut off after the gas company received a phone call alerting them to a bogus gas leak in the building; and an unordered termite exterminator arrived at the center all equipped to fumigate. In Washington, D.C., bricks were tossed through plate glass windows at campaign headquarters and van tires were slashed.
In San Francisco, the church's contract for use of the San Francisco Opera House was canceled in October by the Board of Trustees who were fearful of crowd turmoil. Threatened with a civil suit, the board relented but set down a stringent set of conditions. Among them were a $1 million insurance policy against personal injury or property damage; an agreement by the movement to reserve the Civic Auditorium for the same night and to provide a closed circuit TV hookup so the overflow crowd, if any, could hear the lecture; the provision of a security force; and the designation of a staff of 350 persons for ushering and crowd control. Although a full contingent of protestors including "street Christians," Amnesty International (which produced a flyer urging readers to ask South Korea's President Park about jailed religious leaders), the Christian World Liberation Front, and the International Workers' Party gathered outside the Opera House, they were either drowned out by the movement's marching band or at odds among themselves. According to one report, "The Christians were arguing against each other, calling each other Satan."
More serious than specific incidents were mounting forms of institutional resistance. Problems with the U.S. Immigration and Naturalization Service surfaced during the thirty-two-city tour. Initially having obtained six-month tourist visas for missionaries, the church's petition to have these visas modified was denied. In Salt Lake City, forty German IOWC members were apprehended by agents of the U.S. Immigration and Naturalization Service, charged with over-extension of their visas and given thirty days to leave the United States. By late 1974, 583 foreign members of the Unification Church were subject to deportation proceedings.
A second source of institutional resistance was the secular media. Here a combination of Rev. Moon's inaccessibility (no personal interviews were granted during tours) and the media's tendency to highlight the movement's financial expenditures raised suspicions. The press reported substantial budget allotments for the twenty-one-city tour ($400,000), thirty-two-city tour ($200,000) and the coming eight-city tour ($1,000,000). It also reported on the amounts spent on real estate acquisitions. In addition to Belvedere, the nearby Exquisite Acres (renamed East Garden) was purchased on October 10, 1973, for $625,000. The former St. Joseph's Seminary, located on 250 acres some sixty miles to the north in Barrytown, New York, was purchased on January 21, 1974, at a cost of $1.5 million. Also, by 1974, the movement had purchased nearly 300 acres of greenbelt land in Tarrytown, New York. American HSA-UWC President Neil Salonen estimated 1974 church income in the United States to be $8 million, up from $100,000 in 1971.
Contributions, according to Mr. Salonen, came almost entirely from street sales of peanuts, candles, flowers, and dry-flower arrangements. Additional monies came in from overseas, particularly Japan, where since 1972 the Japanese Church had fielded 120 seven-day-a-week flower-selling teams. However, this was not generally known. The church's business holdings in Korea were better known. Rev. Moon's calling card listed him as chairman of the board of five companies: Tongil Industrial Company, Ltd., a manufacturer of machine parts; Il Hwa Pharmaceutical Company, which produced ginseng tea; the Ilshin Handicraft Company which produced stone vases (marketed in Japan); and two titanium companies, producers of paints and coating materials. This led to depictions of him as a Korean industrialist in the secular press. The most potentially serious source of resistance to the movement were families of converts. In Omaha, Nebraska, a sixteen-year-old member was subject to "deprogramming" and committed (without official record) by her mother to a local hospital for three weeks in late 1973. In Des Moines, Iowa, a college student, after attending a weekend workshop, was committed by his parents to the psychiatric ward of a local hospital in early 1974.
The church responded to opposition in several ways. It sponsored public Fourth of July fireworks at Belvedere in both 1973 and 1974, attracting as many as 10,000 people. It utilized movement spokesmen, PR teams, advertisements and letters to counter opposition. By May 1974, these initiatives coalesced into a church public relations department. However, for the most part, the movement was not overly concerned with criticism. Not only was there a lack of coordination among its critics, but there was a lack of any underlying consensus that could unify a broad base of opposition. Left alone, fundamentalist Christians or Marxist protesters outside rallies generally ended up arguing against each other or among themselves.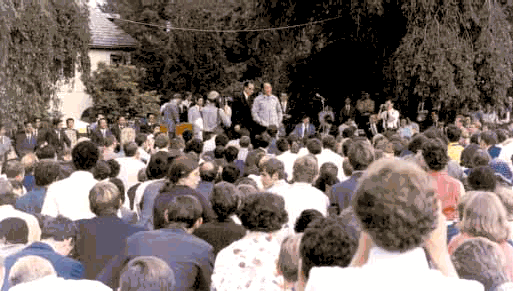 Despite rising opposition, late 1974 was a harvest of sorts for the newly emergent national movement. Summarizing advances made during the previous three-year period, American HSA-UWC President Neil Salonen, in a December, 1974 speech to members, noted,
Three years ago, when...[Rev. Moon] called us together into a Director's Conference, we had only a handful of members -- less than 300! Since that time, we have seen what mighty things can be accomplished. Our movement has multiplied ten times, reaching almost three thousand by the end of this month. We have been catapulted from relative obscurity to national prominence, putting on projects worthy of groups many times our size. Now at last we can think in realistic terms of expanding to an international level.
Based on the tour's success in America, Rev. Moon, on Thanksgiving Day, announced plans for an international Day of Hope tour to begin in Japan, January 11, 1975. Earlier he announced his intention of sending missionaries to 120 nations in the spring of 1975. Plans were made for expanded training programs and a future university. Consistent with the international thrust was the formation of a thirty-member United Nations PR team. These initiatives, as well as membership goals and projected rallies at Yankee Stadium and the Washington Monument, were discussed at a director's conference in Los Angeles on December 21, 1974. Most of these objectives were achieved. However, they were achieved in an environment of increasing adversity and increased cost after 1974.


Download entire page and pages related to it in ZIP format


Table of Contents


Information


Tparents Home