Madison Square Garden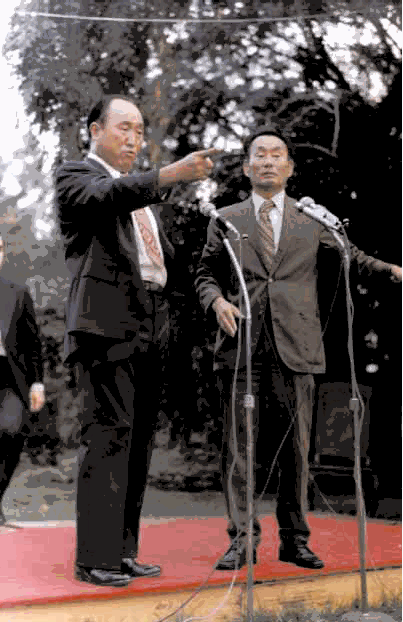 Rev. Moon speaking at Belvedere, with Mr. David S.C. Kim translating.
The culmination of the movement's evangelistic activities during this period was its concluding eight-city Day of Hope tour, which opened at New York's Madison Square Garden on September 18, 1974. Building on all that had gone before, the tour was, in certain respects, a triumphant march through many of the same cities in the movement's original, anonymous, seven-city tour of 1972. Taking as its theme, "The New Future of Christianity," the itinerary included New York City, Washington, D.C., Atlanta, Chicago, Seattle, San Francisco and Los Angeles. However, the key to its success was Madison Square Garden.
Filling Madison Square Garden was the Church's most ambitious undertaking to date, but it had several months to prepare. In addition, there had been "a tremendous influx of members." In New York City, members had been assigned, since July, one hundred and twenty houses each for door-to-door contact. Ten thousand pocket-sized editions of Divine Principle and an equal number of Rev. Moon's "Christianity in Crisis" talks were made ready for distribution. The arrival of seven hundred IOWC members in mid-August greatly augmented campaign preparations in New York City. Lodged at the Paris Hotel on Manhattan's West Side, ten seventy-member IOWC teams followed rigorous street canvassing schedules in assigned sections of Manhattan and Queens. Representatives from each of the forty nations where the Unification Church maintained missions and the remaining American church members -- in all, about 2,000 -- converged on New York City for a final week-long blitz prior to September 18th.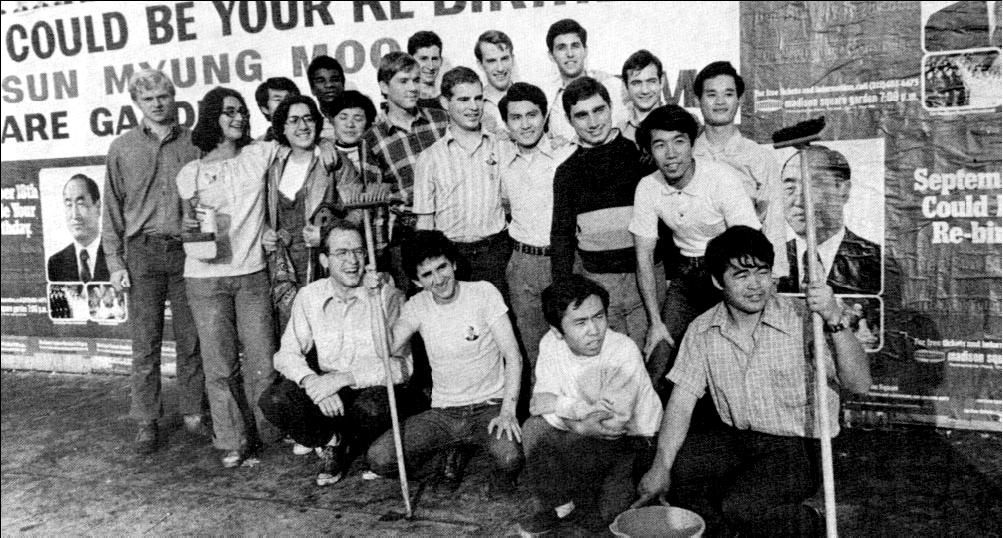 The 21-member postering team transformed New York City into what team leader David Byer called "a blue kingdom of heaven."
Tickets for the event were free, and five hundred buses were chartered to transport outlying residents to the Garden. There were numerous TV and radio "shorts," full-page ads in the New York Times, and a massive poster campaign. Advertising that "September 18 Could Be Your Re-Birthday," eighty thousand two-by-three-foot posters with a portrait of Rev. Moon as well as insets of the New Hope Singers International and the Korean Folk Ballet "wallpapered" Manhattan. Maintaining 150-200 locations, a twenty-one member postering team put up two thousand posters in forays from midnight until 10:00 a.m., beginning forty days before the rally. As reported in the New York Times, "His face is everywhere, it seems."
As the Church was able to bring only 350-450 people to Alice Tully Hall in the Lincoln Center for its initial Day of Hope tour just thirty-two months earlier, the turnout at Madison Square Garden was astounding. The movement feted 1,600 prominent New Yorkers at a kick-off banquet in the Waldorf Astoria on September 17, 1974. The following night, an estimated ten to thirty- five thousand ticket holders were turned away from an already filled-to-capacity Madison Square Garden. With nearly two hundred press people in attendance, widespread publicity helped insure success in other cities. The pattern of overflow crowds and continued publicity was repeated throughout the tour. In San Francisco, a December 7th kick-off banquet, held at the Fairmont Hotel, brought out 1,160 San Franciscans. A letter of welcome from California Governor Ronald Reagan was read, and proclamations were announced from San Francisco, Berkeley, Oakland, San Leandro, Concord, Burlingame, San Mateo, Stockton, Menlo Park and Hayward. The city of Oakland proclaimed December 9th as Sun Myung Moon Day and presented him with a tie tack and cuff links in the shape of an oak tree. The December 9, 1974, talk brought 5,000 people to the 3,200-seat San Francisco Opera House, with the overflow directed to the Municipal Auditorium a block away.


Download entire page and pages related to it in ZIP format


Table of Contents


Information


Tparents Home