Day of Hope and Celebration of Life Tours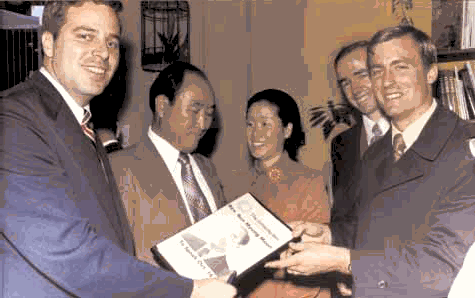 Neil Salonen, Rev. Moon, Mrs. Moon, unknown and Marc Lee discuss advertising for the Washington, D.C. speech.
The Church conducted four separate public speaking tours in 1973-74: a twenty-one city Day of Hope tour, a thirty-two city Day of Hope tour, a ten-city "Celebration of Life" tour and a culminating eight-city Day of Hope tour. These tours were much larger than the original seven-city tour of 1972 and far more sophisticated. In addition, the focus of the tours was less on the building of internal solidarity than it was on the attainment of public visibility. Following completion of the twenty-one city and thirty-two city tours, Rev. Moon had spoken publicly in all fifty states. Well before the Celebration of Life tour and the culminating eight-city tour, the Unification Church had attained national exposure.
Twenty-One City tour.
The twenty-one city tour, which began on October 1, 1973, took as its theme, "Christianity in Crisis: New Hope." Each three-night stop featured speeches by Rev. Moon on "God's Hope for Man," "God's Hope for America," and "The Future of Christianity." In mid-July, as a result of a further influx of missionaries from Japan and Europe, two forty-member IOWC teams were formed to travel the twenty-one city itinerary, preparing the way for Rev. Moon's lecture series the following fall and winter. By the end of August, more than four hundred members gathered to prepare for the Day of Hope talks scheduled to begin at Carnegie Hall on October 1st. A five-member Day of Hope planning staff consisting of a campaign coordinator, PR director, media director, technical director, and logistics coordinator helped generate public visibility. Newspaper and magazine ads, bus and commuter train posters, and mass leafleting introduced the series to the people of each city. The staff also sent professionally made tapes to 540 radio stations for public service announcements. According to campaign coordinator Mike Leone, the purpose of the staff's work was two-fold: first, "to bring to the public eye Rev. Moon of South Korea, a dynamic and inspiring spiritual leader of thousands of people," and second, "to fill every hall, every night."
Civic proclamations also enhanced the Church's public visibility. The previous February 14, 1973, as a result of the intercessory efforts of Benjamin Swig, a prominent San Francisco hotel owner and friend of Mr. Choi, Rev. Moon was awarded the key to the city of San Francisco. During the twenty-one-city tour, campaign workers secured a multitude of proclamations of honorary citizenship, and days, or weeks, of "Hope and Unification." Many of these proclamations were read at Day of Hope banquets. Held prior to opening night talks during the tour, the banquets featured entertainment, introductions and greetings from Rev. Moon to civic and religious leaders, educators and businessmen.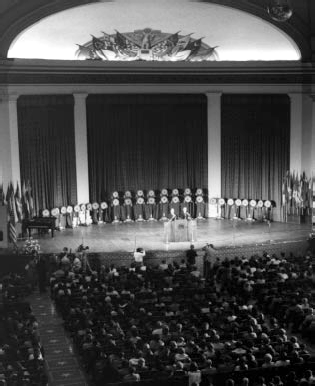 Rev. Moon speaking at Constitution Hall, Washington, D.C.
The results of the twenty-one-city tour were remarkable. In New York, where four hundred members worked a month prior to the Carnegie Hall opening, the movement attracted widespread media coverage. The September 22, 1973, New York Daily News carried a large photo and article on a Day of Hope rally on the steps of Federal Hall on Wall Street. Time, Newsweek and Christianity Today all carried stories on the campaign, and Associated Press religion writer George W. Cornell's generally positive feature story appeared in seventy-nine newspapers throughout the U.S. Two hundred and fifty prominent New Yorkers attended the inaugural Day of Hope banquet at the Waldorf Astoria Hotel. Telegrams of congratulations were read from New York mayor, John V. Lindsay and columnist William F. Buckley, Jr., as well as from several U.S. congressmen. In Baltimore, Cardinal Sheehan sent his blessing to the banquet. In Washington, D.C., where the movement also concentrated its efforts, almost four hundred citizens turned out for the banquet, and more than three thousand people for the three nights of talks at Lisner Auditorium. In Atlanta, Georgia Governor Jimmy Carter proclaimed November 7, 1973, a "Day of Hope and Unification." The January 17, 1974, San Francisco Day of Hope banquet attracted more than 500 guests to Benjamin Swig's Fairmont Hotel. In Berkeley, where Rev. Moon spoke at Zellerbach Auditorium on the University of California campus, The Daily Californian reported, "Rev. Moon's followers have waged one of the neatest and best-run publicity campaigns seen here in years." In San Jose, January 17-24, 1974, was proclaimed "Hope and Unification Week," while in Oakland, Mayor John H. Reading proclaimed the period from January 21-24, 1974, as "Day of Hope Days." Single days of "Hope and Unification" were proclaimed in Berkeley and Hayward, and on January 21, 1974, Rev. Moon was awarded the key to the city of Berkeley by Mayor Warren Widener.


Download entire page and pages related to it in ZIP format


Table of Contents


Information


Tparents Home