Mobile Fundraising Teams (MFT)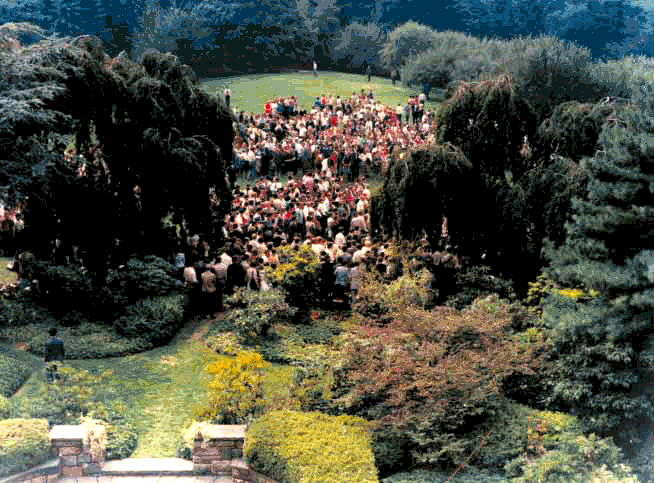 Miss Kim said of the newly acquired Belvedere property: "How can you describe a miracle... Now you have seen pictures of Belvedere. Is it better than your dreams?"
If the One World Crusade was the foundation of the movement's evangelistic activities from 1972-74, door-to-door and street-corner solicitation or "fundraising," initially with candles, were its means of economic support. Because of the urgent need for existing centers to help support OWC mobile units and pioneer centers in the field, as well as their own activities, aggressive fundraising campaigns came to be favored over either businesses or outside employment.
Existing centers, pioneers and OWC evangelical bus units all undertook fundraising campaigns, but they became especially identified with a new institution, the mobile fundraising team or MFT. Consisting of eight or nine fulltime sellers, MFTs first formed in late August 1972. The original two teams on each coast merged into one permanent team of fourteen members in October, 1972, and expanded to three teams and thirty-six sellers by the following September. In October, 1973, a fourth team was added and by the following May, there were eight teams and eighty members. Their selling efforts not only supported evangelistic activities of the OWC but also helped the movement to purchase properties and conduct its later speaking tours.
There were several important parallels between the OWC and MFT. Both were aggressive and mobile. Both consolidated otherwise scattered local efforts. And both originally were born of necessity in response to the demands of a specific campaign. For the OWC, this was the seven-city tour. For the MFT, it was the "Belvedere Project," a movement-wide, late summer and early autumn 1972 campaign to raise the funds necessary to purchase Belvedere, a Tarrytown, New York estate, as the movement's international training center. Economic support had been a continuous and frequently divisive problem for the movement prior to the Belvedere Project. Outside employment hindered full-time evangelism, and businesses were no less time consuming and often distracting. With centers dabbling in a variety of economic ventures, members were forced to admit during 1971 they had yet "to come up with something that all the centers can do."
Following Rev. Moon's arrival and seven-city tour, the need for funds became acute. Ironically, one breakthrough came as a result of the breakdown of the seven-city tour's missionary bus in Frederick, Maryland, when members found that they could garner donations. This realization, combined with the increased financial demands of national mobilization, led to more sustained fundraising efforts. In April 1972, the Washington, D.C., center surpassed a goal of $4,000 profit through door-to-door sales of candles produced in the basement of the College Park, Maryland center. Also supplied with College Park candles, the New York Center netted $1,600 in nine days toward a three-month goal of $21,000. In Philadelphia, the center set aside one night a week for regular candle selling. Candle selling proliferated rapidly among the existing centers. They had, finally, "come up with something that all the centers could do." Still, there was a lack of coordination. In his OWC reports, David Kim spoke of financial burdens and the lack of funds from headquarters. As a consequence, OWC mobile units and pioneer centers began fundraising for expenses. Thus, although fundraising became the movement's predominant economic means, there was no center or focus.
Rev. Moon solved the problem of coordinating fundraising activity in 1972, when he directed the American movement "to find a large property in New York suitable for use as...(an) international training center." The assignment was given to New York center director Philip Burley, who found Belvedere three days after it had been put on the market. Situated on the Hudson River thirty miles north of New York City in Tarrytown, the twenty-two acre, $850,000 estate was described in a brochure sent to Rev. Moon in Korea, and he said to buy it. At that point, Miss Kim left her bus team to negotiate for the property. Succeeding both in committing the seller to her and in extending the stipulated thirty days payment allowance to ninety days, she faced the major problem of raising a $294,000 down payment.
From mid-July through mid-August, 1972, Miss Kim traveled throughout the country securing personal loans. By late August, her efforts needed to be supplemented by efforts of the American movement. Because the Maryland center had success selling its own manufactured candles, it was decided to try that as a national effort to raise money for the large down payment. With forty-seven days to go until the payment was due, the Belvedere Project was launched in earnest. Miss Kim noted, "For seven weeks nearly every member in our Family, in every state, abandoned all other activities to sell candles." There was a total mobilization. State representatives, pioneer centers, OWC teams and existing centers all pledged themselves to specific goals in order to meet the overall goal of $36,000 profit per week. Pioneer's Progress, initially instituted as an evangelistic bulletin, became instead a report of the latest developments on Belvedere.
The feeling was exhilaration. One project coordinator exclaimed, "Never has there been a project like this in the whole American movement!" HSA-UWC President Farley Jones enthused, "This is the greatest thing we've ever done because it is our first national project for a unitary goal." Similar sentiments were voiced by a candle-seller who asserted, "When it's over, we'll know that every American has paid for Belvedere. . .and we'll know that we've paid for it with everything we've got."
The Belvedere Project prompted several innovations. One of these was the development of candle "factories." With Anchor Hocking six-ounce Brandy Snifters and Amoco paraffin "piled floor to ceiling," the College Park, Maryland factory relocated to the six-room basement of a recently purchased farm in Upper Marlboro. By the second week of the project, production had gone "from eight hundred to twelve hundred dozen a week," and was expected to reach "peak production of 1,700 dozen a week, or about 250 dozen (3,000 candles) a day." A similar factory with a rotating crew was set up in the Denver center garage, and a third factory was operated by the Berkeley Center out of a warehouse in Concord, twenty miles away. "Still-warm" candles were delivered by another Belvedere innovation, "express candle vans." In the East, vans were dispatched to Chicago, New York and Atlanta, among other cities. However, the most important innovation of the Belvedere Project was the formation, for the first time, of mobile fundraising teams. As reported in Pioneers' Progress,
Since the end of August, 29 members from across the nation have been traveling on two mobile teams -- one on each coast -- and selling candles full time.
The sixteen-member West Coast team included two members from Los Angeles, three from Denver, two from Kansas City, and nine from the Berkeley Center.
As a result of total mobilization and these innovations, the Belvedere Project ended in victory. Miss Kim wrote, "By the deadline, through loans I had secured, through efforts of our international family, but primarily through candle sales in America, we made the down payment." At 1:00 p.m., October 10, 1972, the caretaker of Belvedere received a call from the seller saying that, from that moment, "Belvedere is in new hands." Later that day, members arrived to explore the house and grounds. The feeling was best summarized in Miss Kim's questions to the "new owners": "How can you describe a miracle?... Now you have seen pictures of Belvedere. Is it better than your dreams?"
After Belvedere, the movement took steps to institute fundraising on a permanent basis. Belvedere Project Assistant Keith Cooperrider noted, "We found that people, cut off from normal center activities and given the sole responsibility of selling, could do phenomenally well." Thus, on October 19, 1972, after a week of "rest and recuperation," fourteen members of the newly formed permanent MFT arrived in Philadelphia to begin four months of candle selling. This team, composed largely of members of the former Belvedere Project mobile teams (including five from the Berkeley Center), was to sell candles for eight hours a day, five days a week, to achieve its goal of earning $18,500 each month.
Although monetary goals were important, the MFT "spirit" also took hold. As one member noted, "Every conversation was laced with candle-selling stories, for everyone had a special experience." It was this dynamic between material needs and the spiritual dimension, not the movement's material needs alone, that led to the MFTs expansion. Farley Jones summarized the development well in his "send-off" speech to the new MFT members:
At this moment, we are building a new structure in the dispensation ... I know it will evolve and become a greater part of our movement. In a new way you are pioneering.


Download entire page and pages related to it in ZIP format


Table of Contents


Information


Tparents Home