Farley Jones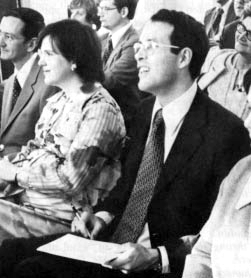 Betsy and Farley Jones, 1975
What was very special about the period of time when I joined was the spiritual life in the center. I joined in Washington, D.C. in 1967. I heard the Divine Principle in New York City and came to the center in Washington during the summer of 1967 so I could investigate it further. The center was led by Young Oon Kim. She was a source of spiritual light and warmth. She really created a very loving community under her influence. It was very spiritually magnetic.
After I joined and spent some time there in Washington, D.C., Dr. Kim (Young Oon Kim) on one occasion traveled across the country visiting the outlying centers. She wrote me a letter from Berkeley, California. The center had only one person at that time, Edwin Ang. He was a full time Ph.D. student, and he needed help. She asked me if I could join him. It was a few months after I joined. I drove to California in November of 1967.
Later Dr. Ang and I worked as two males, very arduously without much success. We felt we needed a female to join us. We wrote to Miss Kim and said we needed a sister to balance things out. We were doing things like eating rice and sardines as a standard fare. We taught a lot of people. Berkeley then was a very avante garde place, with a lot going on. After I joined, Betsy joined. She was between school years, the summer of í68. She was available. The three of us moved to a larger place. Together we were a very dynamic trio. People started joining and moving in. In two years, we got 21 members. Betsy stayed for the summer of í68. She was replaced by Helen Ireland who is now blessed and living in France. She helped attract sisters and brothers. We grew and we expanded from one physical center. We bought a house and rented a couple of others. It was a great time -- my "church honeymoon" you might say.
Then I got another letter from Young Oon Kim and she wanted me to consider taking the position of the church president. I declined, but then it transformed from a request to a command. I was told to pack and come back to Washington, D.C. in December of í69. So if the first two years was my honeymoon, I donít know how to describe the next three except that it was the opposite. I was 26 years old and too young to serve in such a role, with neither enough life experience or spiritual experience, or spiritual growth.
The great benefit of that time from 1969 to 1972 was that Father came during that time. So I had the special opportunity to represent the American church to Father. I traveled with him on his Seven City Speaking Tour. When he came at the end of 1971, I had been president for two years then and I was really in the pits. Father gave me a lot of love and encouragement, which was deeply renewing for me. By the time he left I was inspired.
It was very powerful, I was very inspired and uplifted. He would look at me as representing the whole church or the whole nation. It wasnít personal attention to me but to reach larger levels. That was true of how he treated all leaders in the church. At that point we were unknown and the persecution was minor. A journalist came and stayed with us for a few days who seemed friendly and interested. He wrote an article that was somewhat sensational but it was just the one article.
When Betsy and I were matched, we let the Washington Post know about it, and the unusual marriage arrangement. They wrote a very nice article about us and two other couples. We were all going to Korea together, so it was a point of interest.
Once I went to Upshur House to visit Father. I felt very inadequate for the job, so I made an appointment to see him through Mrs. Choi. His room was on the second floor. Father was on the bed, Mother was on the other bed and Mrs. Choi said that Betsy and I should sit on the floor. Then he got up and sat down on the floor with us. I was very touched by that. He was such a a great man to do something so humble and extend the human touch. He extended himself and encouraged me. I asked him if I should resign, and he said no, no, donít resign. He gave me some strategies. I had a long history of affection and love with Young Oon Kim, but at that time it was very difficult. That was part of the overall difficulty I was having as church president. He suggested ways to heal the relationship.
I was a fallen-away Catholic before I joined. There was a whole process of preparation for me. My own parents had divorced, and my father had moved out. I had had girlfriends during college, for various lengths of time and various kinds of seriousness, but they never lasted. The fear that I was conscious of was that I didnít want to put my children through what I had experienced as a child with a parent leaving the home...which was very painful for me. Having gone through several girlfriends and not having any of the pieces fall into place, I was starting to doubt my ability. I fell away from Catholicism. I thought thatís what happened to people when they went away to college. I even became a confident atheist in my senior year. I felt I knew something that others did not know, that God did not exist.
I went to law school for a year after college, and then I went on a trip to California. I was on a spiritual quest, and then I had several experiences that challenged my atheistic premises. Then I got a letter from Hilly Edwards. I met her in the summer between my first and second years of law school. She was engaged but her engagement fell through and she was witnessed to by Becky Salonen. She had a conversion experience and wrote me a letter and said this is something I ought to look into. She said if I ever went to New York City thereís a branch there. I had dropped out of law school and was going to New York to pick up another field of study. There I met and first studied the Principle with Barbara ten Wolde and Diane Fernsler. What first struck me was the first chapter, the conception of the man-woman relationship and the husband and wife relationship, reflecting the male and female attributes in Godís nature. I thought this might be a solution for me, for the definite search I had with reference to establishing a stable family and avoiding the problem of my own parents. I was attracted to the spirit, the very loving family.
It was a scary time when things began getting negative. I was aware of all the kidnappings and deprogrammings. That was at the height. One time there was a major, nationwide NBC news program on the church. That broke open the flood tide of persecution. I helped rescue some of the people whoíd been kidnapped and deprogrammed. The members would call having been kidnapped and needed help escaping. We would get secret phone calls. Mike Runyon and I went to New Jersey one night. We were outside a house, and we were waiting for someone to break out of a bathroom window. That person did escape but not where we were waiting. Even though there were no indications from my own family that they would do such a thing, I was apprehensive that I could be grabbed somewhere.
In 1972 Father inaugurated two bus teams. He sent out 40 missionaries to 40 states, which did not have centers. To support those centers, David Kim and Young Oon Kim led bus teams traveling around the country. They would spend time at each of these centers witnessing and teaching to bring membership to the centers. Then he held the first Science Conference at the Waldorf Astoria in 1972. He decided to change the number of teams from two bus teams to 10 traveling in vans. He sent me out as the leader of one of these vans. After the presidency, I was in no condition to lead a group of people. We were in Richmond then, and I took a leave of absence. I resolved certain things, kind of stepping back for a while and then I returned to the church center working under Neil Salonen. During the Washington Monument campaign, our part was being conducted in New York City -- I was involved in the publications part of it, media outreach, and generating newspaper and TV advertising. I decided to go to the seminary. Even though I entered the seminary in 1976, right after the Washington Monument campaign, and had left the presidency in 1972, there were questions and confusion that I was still carrying with me. Some brothers and sisters go to the seminary full of faith and leave with questions, but I had the opposite experience: I came with questions and left with faith.


Download entire page and pages related to it in ZIP format


Table of Contents


Information


Tparents Home