HSA-UWC, Arlington, Virginia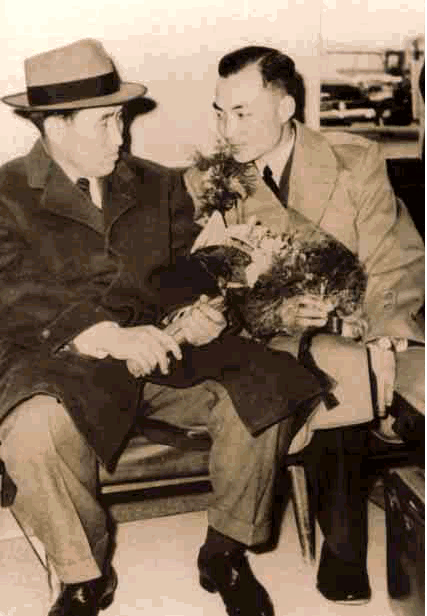 Rev. Moon bidding farewell to Bo Hi Pak on his departure from Korea to the United States, March 1961
Col. Bo Hi Pak was the third Unification Church missionary to the United States, arriving on March 14, 1961. Unlike Miss Kim and Mr. David S.C. Kim, both of whom had come on student visas, Col. Pak came as a diplomat, serving as assistant military attaché at the Korean Embassy in Washington, D.C. However, like them, he also began witnessing and held Bible study sessions in his home. In early 1963, Col. Pak incorporated the Holy Spirit Association for the Unification of World Christianity (HSA-UWC) in Arlington, Virginia and was granted a federal tax exemption. The following year he published a translation of the Principle, Outline of Study: The Divine Principles (c. 1964). However, during this same period, Col. Pak began to move in a new direction. In 1962, Rev. Moon conceived the idea of forming a Korean children's dance troupe "as a means of promoting world peace and sharing the Korean culture throughout the world." He asked Col. Pak to take responsibility for assembling the group. Col. Pak agreed, and in addition to his diplomatic and missionary responsibilities, he traveled back and forth to Korea in developing a dance troupe, which was named the Little Angels.
In the mid-1960s, Col. Pak moved decisively in this new direction. In March 1964, he was the "moving force" behind the creation of the Korean Cultural and Freedom Foundation (KCFF) which sponsored the Little Angels' performances in the United States, beginning in 1965. In late 1964, he resigned from the Korean army and his diplomatic post to engage in this activity full-time. The following year he persuaded Miss Kim to relocate from San Francisco to Washington, D.C., allowing her to take primary responsibility for church activities. Then, in 1966, he played a central role in establishing Radio of Free Asia (ROFA) as a second major project sponsored by KCFF. In effect, Col. Pak became a free-lance ambassador of goodwill, foundation director, and an activist in the struggle against atheistic communism.
During Rev. Moon's first visit to the United States in 1965 -- from left: Mrs. Bo Hi Pak, Pauline Verheyen, Miss Choi, Jhoon Rhee, Rev. Moon, Mrs. Won Pok Choi and Dr. Bo Hi Pak in Washington, D.C.
During the Korean War, Col. Pak was saved from certain death by U.S. led forces. He later noted that the motivation for his subsequent actions came from "an inner desire to serve God, humanity, and my two beloved countries of Korea and America." Many prominent Americans and Koreans supported his projects and through them Col. Pak interacted with top leaders in both countries. Arleigh Burke, former U.S. Chief of Naval Operations, was KCFF's first president; and Yang You Chan, former ROK Ambassador to the U.S., was its first vice-president. In addition, both Presidents Eisenhower and Truman authorized KCFF to list them as honorary presidents. Although the Little Angels inaugural tour of the U.S. was difficult and in many cases "the performers outnumbered the audience," Col. Pak enlisted the aide of Lila Acheson Wallace, founder and co-chairman of Reader's Digest, who provided financial support to the dance troupe for many years. The Little Angels' tours were increasingly successful and by 1971 they had performed on national television, at the Mexico Olympics, and before numerous heads of state including President Nixon and President Park of Korea, as well as in a Royal Command Performance before Queen Elizabeth II who broke with protocol by receiving the performers and greeting each of them, escorted by Col. Pak. ROFA afforded similar opportunities. President Eisenhower gave the organization its slogan, "bridge of truth," and many U.S. senators, congressmen, government and civic leaders and families voiced their outrage about the plight of U.S. POWs/MIAs over ROFA air waves. During this period, an estimated 60,000 Americans contributed funds to KCFF and its causes.
KCFF's rapid advance, its flamboyant style, its involvement with sensitive matters such as the POW/MIA issue, and its fundraising raised suspicions, especially among U.S. government officials. The FBI conducted an investigation of KCFF between 1964-66 over allegations of KCIA involvement in a plan to raise funds for the Asian Peoples Anti-Communist League Freedom Center (APACL-FC) but closed the case when the fundraising never took place. In 1966, the U.S. State Department and the U.S. Embassy in Seoul raised similar concerns about ROFA and induced its first international chairman to resign. Between 1966-68, several U.S. government agencies were reporting on ROFA's activities. In late 1969, a ROFA fundraising appeal addressed to a number of prominent Americans and a subsequent letter of thanks which was signed by President Chung Hee Park of Korea and mailed to thousands of Americans raised the ire of J. William Fullbright, a powerful U.S. senator. He pressed the State Department to investigate whether ROFA should be required to register under the Foreign Agents Registration Act (FARA). This led to a full-scale investigation of ROFA and its tax-exempt status by the U.S. Justice Department and the IRS in 1971. Ultimately, both ROFA and the KCFF were vindicated. After reviewing its activities and financial records, the IRS notified Col. Pak that KCFF's tax-exempt status would continue. Later, Acting Attorney General Richard Kleindienst wrote that on "information made available by the CIA, the Department of State and the FBI...the evidence is insufficient to constitute Radio of Free Asia as an agent of a foreign principal...[or] to establish a violation of the statutes on fraud or the mails or any other federal law which I am chosen to enforce."
The Little Angels, the Korean Cultural and Freedom Foundation (KCFF), and Radio of Free Asia (ROFA) were all either initiated or led by Colonel Bo Hi Pak during the 1960s. Together, they helped establish the pattern for the Church's subsequent inter-cultural and anti-communist work as well as its efforts to promote good will between the United States and Korea. However, as would be the case for the Unification movement during the 1970s and 1980s, Col. Pak's motivation and methods were viewed with suspicion by public officials. This led to investigations and efforts to destroy his work.


Download entire page and pages related to it in ZIP format


Table of Contents


Information


Tparents Home