| | |
| --- | --- |
| | The Words of the Soon-Ae Hong (mother of Hak Ja Han [Dae Mo Nim]) |
Sunghwa Ceremonies for Soon Ae Hong (Hong Halmonim)
November 3, 1989
Translated from Tongil Segye by Tim Elder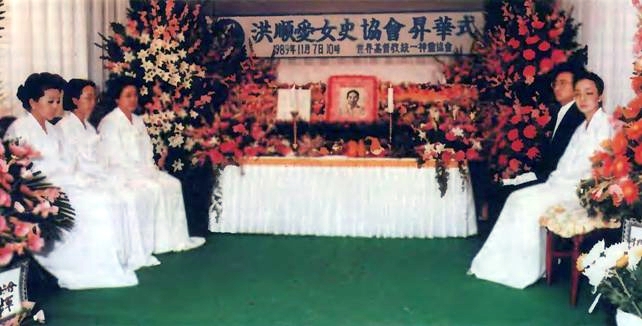 Sunghwa Ceremony for Hong Halmonim. From left to right: In Jin Nim, Ye Jin Nim, Mother, Jin Sung Nim and Hoon Sook Nim
"Soon Ae Hong Halmonim walked the path of complete dedication to Heaven and the Will. She bore every manner of cross in order that Mother could appear. She became a model of someone who adapts herself to God's Will. She fulfilled all of her responsibility by means of a devotion that volunteered to bear all burdens herself. All of you should inherit her heart."
Sun Myung Moon
November 7, 1989
Soon Ae Hong Halmonim achieved her Seunghwa at 9:53 p.m., November 3, as True Mother prayed for her. She was 75 years of age. She was posthumously awarded the title of "Dae Mo" or "Great Mother."
Sunghwa Ceremonies were held on November 7 from 10 a.m. at the Shinmun-ro official residence. Attending were Mother, Ye Jin Nim and Jin Whi Nim, In Jin Nim and Jin Sung Nim, Hoon Sook Nim and several other True Children. Unification Church officials, leaders of organizations connected with the Unification Movement, Unification Church ministers from all of Korea and 1,500 Unification Church members were also present at the ceremony which was held as an official church function.
With Dr. Bo Hi Pak serving as Master of Ceremonies, the congregation began by singing Song of the Garden followed with a prayer offered by Rev. Chung Hwan Kwak, president of the Segye Times. Mother, the True Children and representatives of the family then offered incense and flowers. Mrs. Won Pok Choi gave a brief history of Mrs. Hong's life.
In his eulogy, President Young Whi Kim said, "Mrs. Soon Ae Hong walked the way of complete dedication to the will of God throughout her life. But even more than that, she received the True Parents and attended them here on earth. She lived together with the True Parents and shared their joys and sorrows. She offered her life up so that there might be an absolute foundation of devotion on which the True Parents could fulfill their providential mission. She fought fierce spiritual battles in order to protect the True Family and our Church. Now she has victoriously achieved her Sunghwa; let us send her on her journey of joy in the spiritual world."
A farewell poem was offered by Mr. Kwang Yul Yoo, Chairman of the Church Historical Committee, and a farewell address was given by Dr. Bo Hi Pak. Dr. Pak said: "During the early part of her life, Hong Halmonim immersed herself in sincere preparations for receiving the Lord. After joining the Unification Church, she attended Father and devoted all her efforts to raising her daughter as a daughter of heaven. She prayed with the determination that all the forces of darkness that would normally be directed against True Parents and their family be directed against her instead. From beginning to end, she lived a life of total devotion and sacrifice for Heaven and True Parents. Hers was a life that moved the heart of heaven."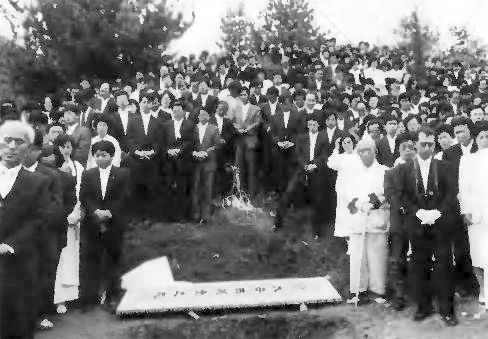 Prayer by the congregation.
Following Dr. Pak's address, Miss Mi Ran Kim sang Korean Holy Song number 37. Representative members of the congregation then offered incense and flowers, and everyone sang Song of the Victors. The ceremony ended with President Young Whi Kim giving the benediction.
The Ipjun Ceremony was held from 1:40 p.m. at the Paju Won Jeon. Attending were Father and Mother, Unification Church leaders and more than 1,200 church members. Reverend Keun Sik Song, director of the Seoul East Region, began the ceremonies by offering a prayer. Everyone sang a Holy Song while Mother and the True Children offered incense. Father then offered a prayer.
The Won Jeon Ceremony was then held with Rev. Keun Sik Song serving as the Master of Ceremonies. Rev. Su Won Chung offered a prayer and Rev. Yo Han Lee gave a sermon. Reverend Lee testified to Hong Halmonim, saying, "Following the fall of Adam and Eve, many women were called by God in order to further the Providence of Restoration, but none of them completely succeeded. In contrast, Hong Halmonim, after the liberation of Korea, went victoriously through the course of the Songju Kyo and the Pokjung Kyo (The Inside Belly Church) in order to receive the Lord."
Father and Mother then offered flowers. They were followed by the True Children and representative members of the congregation. This was followed by a moment of silent meditation for the purpose of saying a joyous farewell to Hong Halmonim and of making the determination to inherit her victorious course on earth. Then, at Mother's lead, everyone shouted: "Go in peace, Hong Halmonim!" Purification and the offering of earth was then performed by Father and Mother, Ye Jin Nim and Jin Whi Nim, In Jin Nim and Jin Sung Nim, and Hoon Sook Nim. President Young Whi Kim then led the congregation in three shouts of "Mansei."
Mother gave a testimony. She said, "I am very grateful to all of you for coming, not only from Korea but from around the world as well. Soon Ae Hong Halmonim lived a life that was only concerned with the will of God. She lived a life of total devotion for the purpose of meeting the Lord, and a life of wanting to give everything. I would like for all of you to try to achieve the same attitude toward God's Will that Hong Halmonim demonstrated during her life. If you do that, then you will be able to live a beautiful life in His will."
Father spoke on the mission of women in history and explained how the Lord also needs the assistance of women: "Soon Ae Hong Halmonim walked the path of complete dedication to Heaven and the will. She bore every manner of cross in order that Mother could appear. She became a model of someone who adapts herself to God's will. She achieved Sunghwa after having fulfilled all her responsibility by means of a devotion that volunteered to bear all burdens herself. All of you should inherit her heart."
Father posthumously presented Soon Ae Hong Halmonim with a personal calligraphy message that reads: "Chung-shim Pong-shin" or "Loyalty of Mind, Dedication of Body".