| | |
| --- | --- |
| | The Words of the Sun Myung Moon from 2007 |
It is not easy going the cosmic way
Sun Myung Moon
July 12, 2007
Hoon Dok Hae
Cheon Jeong Gung
Opening of the Peace Cup Tournament
FFWPU International
Translation of unofficial notes taken by the Unification Church History Compilation Committee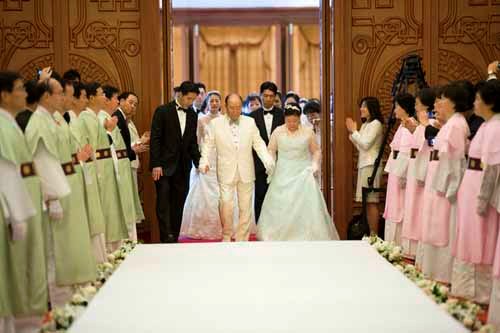 Sun Myung Moon and Hak Ja Han January 23, 2012
Summary of Father's words:
It is not easy going on the path of the cosmic way whether you go on it barefoot or wearing shoes. Do animals where shoes? If people had not worn clothes or shoes they would not have become bad people.
Summary of Rev. Young-seok Song's report:
During breakfast on June 17 True Father told me to help Rev. Dow-soon Lim, the chairman of the Unification Movement in Japan. The next day I went to Japan. As I was going I prayed about the significance of my going to Japan. I received a response: If Rev. Lim is the doctor of obstetrics and gynecology in building God's homeland, I was the nurse. Father sent me to Japan with the purpose that I help Rev. Lim but the members in Japan welcomed me with open arms thinking me as True Parents' representative. On the first day I met and greeted the sixteen district leaders of Japan and hardened my resolve. The next day I took part in a briefing session with 180 key leaders in Japan on the meaning of the 5-day Special Providence (to end in July).
When I was first told to go to Japan in 1998 True Parents bought us clothes and shoes and took us out to a delicious lunch telling us to be careful of two things in Japan. The first was money and the second was women. I still remember those words wherever I go.
If you go to a building in the Yoyogi Park in Tokyo you will see the photo of the 125 emperors of Japan on display. There I talked, spiritually, with each of the past emperors. I told them that I was sent by True Parents, the king of all kings. I explained that he had the mission of restoring this world through our members in Japan. I asked them to cooperate with our movement.
Currently I am going to each church district and speaking to the members. I speak to them in the morning, afternoon and evening. After the evening meetings we then go on a prayer vigil and do Hoon Dok Hae in the early hours of the morning. I asked the district leaders to prepare my tour schedule. If there was anywhere I could go to help I was ready to go anytime with a grateful heart.
Father:
If your heart is young, your feelings become young and you become different. A person who can worry about today rather than tomorrow can develop. How can a person develop tomorrow if he can't today?
Summary of Rev. Heung-tae Kim's report:
The third Peace Cup Tournament begins today. The fourth tournament in 2009 will be held outside of Korea. Once it was known that the next Peace Cup was going to be held in another country, the football circles in Europe and America were blown away. Ten days ago FIFA officially recognized the Peace Cup Tournament. The Toyota Cup which is an inter-continental champion's tournament is still waiting FIFA recognition. A couple of days ago Rev. Kwak was appointed as a member of the Strategic Advisory Council to FIFA. The Asia Football Association had recommended Rev. Kwak. This gesture can be construed that the Asia Football Association is willing to work with Peace Cup.