| | |
| --- | --- |
| | The Words of the Sun Myung Moon from 2007 |
You must find that place where you can be eternally aware of God's ideal
Sun Myung Moon and Hirokasu Ota
May 9, 2007
Hoon Dok Hae at Cheon Jeong Gung
FFWPU International
Translation of unofficial notes taken by the Unification Church History Compilation Committee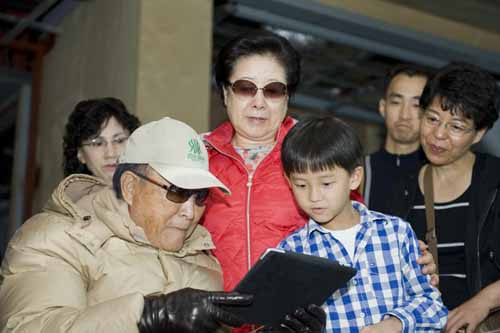 Sun Myung Moon and Hak Ja Han November 5, 2011
Summary of Father's words:
From a position of the owner of love who stands in the original state before God; from a position where one can attend Heaven; from a position of having become the root of the first love of one's body; you must seek and find that place where you can be eternally aware of God's ideal. The words from that book (referring to Cheon Seong Gyeong) are not something that will fade away. It has already become the marrow of the bones in your body. That's why you have to deny the way of your current life.
Your children should create from your family a nation of the filial child and land of patriots on behalf of Adam's family, and sing praise to God who longs to see descendants whom He can love a thousand times more than you. If in this situation God is unable to feel liberated then the problem is deep. You would not be in a liberated position when you go to the other world. It is connected to the fact that you are capable of going through the path of your own restoration. This does not have to do with your ancestors. It is an issue that is linked to your root stretching thousands of generation.
Since I was 16 I have lived my life with that kind of intense heart. Even now. I am going on this path the same way that I have done till now.
I look at my aging body and yet can see the life in my old bones. That's how I have lived until now. I can freely go anywhere I want because I know that I have fulfilled my responsibility on a global level. I should stop in my path. If I stand still heaven will come to me and urge me to go a little bit more. A person cannot on his own enter the deepest crevices of God's heart of sorrow. He must be guided by God. If you can go into that crevice and come back out again, God can work through you as His representative. When I think about that I dread that kind of life. It isn't a wonderful life. It is fearful. How can you say that you're going to rest or establish yourselves when there are still many hills that must be passed? This is a serious problem.
I was born with the tendency to toy with the world. I would try to go to the tallest mountain that I could see from the hill in my backyard. If there was a deep gorge I would go to the rivers. If there was a vast plain (I would go there). The ocean is the most vast body of water.
Cheon Seong Gyeong was not supposed to be made public. It should have been hidden and disclosed to the earth after it was brought to the heavenly nation and taught there. You may think that there isn't any difference between your lives with the lives of the outside people. You may think you are just one step higher than them. But the difference is like worlds apart. Indemnity starts from the farthest end of the universe and reaches to the other end; the way of God's Will is connected to infinity. As you go towards infinity you should cross each hill with joy. You should be happy to cross the water and mountains. The years of our youth are spent in suffering. But the opposite awaits you. Those who joyful embrace difficulties will be brought together in the heavenly nation. I'm telling you to unite your mind and body. You need a partner.
Mr. Ota, tell us about your recent experience. I already know the details but what did you realize during this experience? Talk about the differences between Japan and South America. Tell us what you were trying to do and your feelings about it. You have to make a new beginning now.
Summary of Mr. Hirokasu Ota's testimony:
(Mr. Ota is the Japanese national messiah to Paraguay)
Unworthy as I am, I would like to thank True Parents for giving me this opportunity to speak before you.
On April 1, 3:20 p.m. I was kidnapped along with a one of our missionaries on my way back home from church service at Ciudad del Este (a major city in Paraguay.) The culprits were two men wearing bullet-proof vests with guns. They looked like the police. Later on I heard that there were two major kidnapping organizations in Paraguay. One would kidnap and kill their victims. The other organization would kidnap people and demanded money but did not kill their victims. The people who kidnapped me were from the group that demanded money.
The boss of that organization was from Brazil and was famous for his brutality. Even before my case, he had kidnapped the son of a ranch owner and ransomed him for 150,000 dollars. When I was kidnapped a police officer nearby, who was suspicious about the uniforms of those two men, reported to his station. The men were afraid that their identity would be revealed and kidnapped the officer along with me. So, me, the Japanese missionary, the police officer and a female teacher were kidnapped in this single incident.
In Paraguay, oriental people (Koreans, Japanese, Chinese) are thought to be rich and are usually targeted by criminals. These criminals already knew everything about me. It was a thoroughly planned crime. They demanded 150,000 dollars in ransom money for me. Negotiations did not proceed smoothly.
On April 5, the police discovered the culprits' hideout and began to tighten the noose. The culprits, who were feeling the heat, said to our faces "Let's kill them!" But the boss convinced them not to kill us. Negotiations didn't turn out well on April 14th. They threatened to cut off my ear. We were living in fear each day.
While I was held captive I dreamed many dreams. In one dream Father appeared and told me to do exercise. In another, the emperor of Japan invited me to a luxurious restaurant and personally drove me there. Rev. Pyung Rae Moon (Korean national messiah to Paraguay) appeared twice in my dream and helped me to carry on and encouraged me not to give up. During the time I spent with my captors I felt sorry for them. With a heart of loving one's enemy I gave them massages. They too were exhausted with this entire ordeal. On April 19 one of the culprits told me "Ota, today you will be able to take a shower in your home."
In the end I believe all of this was a part of God and True Parents' grace to me. I would really like to convey my appreciation to all the members who prayed for me during this time. Until now, the media in Japan deliberately broadcast negative stories about our church. Yet, this time, all the Japanese people sincerely expressed their concern for me. When I arrived at Narita Airport after being released there was a crowd of journalists waiting for me. My kidnapping was the center of attention in Japan.
Summary of Mrs. Hirokasu Ota's testimony:
(Mrs. Ota spoke in Japanese.)
On April 1 I heard that my husband was kidnapped. I went to the daughter of former prime minister Fukuda to discuss about my husband. She conveyed this to her husband Mr. Ochi Michio (75 years old, retired from politics but still wields great influence) who then went to Chief Cabinet Secretary Yasuhisa Shiozaki and strongly stated that "A Japanese citizen has been kidnapped in Paraguay. Do you know about this? If this is mishandled it will have terrible consequences."
Mr. Shiozaki confirmed the kidnapping with the minister of foreign affairs and immediately created a special task force placing the vice-minister of foreign affairs in charge of this team. The next day, prime minister Abe spoke before the journalist at his official residence saying "We are doing all that we can do in collecting information and in handling Mr. Ota's kidnapping. As this case involves the life of an individual I will refrain from making any further comments."
The special task force at the Ministry of Foreign Affairs was in operation 24 hours a day. It sent a seven person team consisting of diplomats, police officials, and other executives to the Japanese embassy in Paraguay. The Japanese embassy in Paraguay which had until then been lukewarm on this issue were surprised at the interest from the mainland and began to put pressure on the Paraguay government.
The Paraguay government were in no position to ignore the pressure coming from Japan as they had received much support from Japan. The president of Paraguay held a press conference and declared that if Mr. Ota is not freed within the next couple of days he will strongly reprimand the Paraguay minister of internal affairs and police officials. Later our Church also formed a negotiating team and fortunately for all of us the negotiations went well and my husband has returned to us in good health.
Father: "This woman is quite famous. When Kishi was prime minister of Japan she and two others made connections and became friends with Nakasone. She helped thwart the Japanese government's interference with our movement. She is a liaison professional."
Summary of Rev. Pyung Rae Moon's report on the kidnapping:
This was really a Cain-Abel incident. The era before heaven has passed ushering in the era after the coming of heaven. The world now knows that we are indispensable. The Paraguay government pressured the culprits in many ways but in the end I believed that this must be resolved in a providential way. Rev. Chung Hwan Kwak told me that Father was concerned about how this would be resolved.
I hardly ate during the time Mr. Ota was held captive. Whenever I sat down to eat, the sight of Mr. Ota, blindfolded, and tied up would come to mind making it difficult for me to eat. The negotiating team from the Paraguay government worked hard but to no avail. It was because the culprits felt threatened by the government's negotiating team. In the end, we, (our church in Paraguay) opened a press conference demanding the culprits to come back to the negotiation table. In the night of April 19, we formed a team of our own which I dispatched to meet the culprits.
I stayed and went to the room reserved for True Parents at our church and offered a thousand bows as a condition. As I was offering the bow I began to sweat. Soon I was drenched and had to take off a piece of my clothes one at a time. In the end I was offering bows in my underwear (I'm sorry True Parents.) It was a life or death battle that lasted for five hours and twenty minutes. After I completed the condition I picked up my clothes and began to dress myself. That was when the phone rang and a voice telling me that they found Mr. Ota.
The people of Paraguay, even those who were not our members, prayed for the release of Mr. Ota. After overcoming this difficult situation I was able to confirm that the world would not last without True Parents.