| | |
| --- | --- |
| | The Words of the Sun Myung Moon from 2007 |
Are you diligently doing Hoon Dok Hae?
Sun Myung Moon
April 1, 2007
Hoon Dok Hae at Cheon Jeong Gung
Pledge Service for the First Day of the Month
FFWPU International
Translation of unofficial notes taken by the Unification Church History Compilation Committee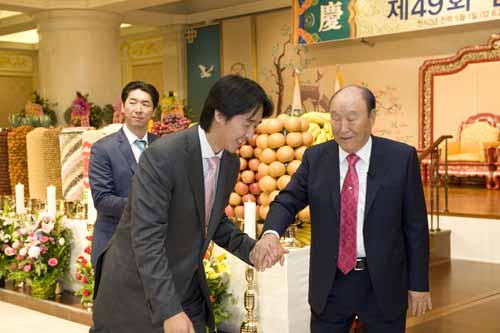 Sun Myung Moon, Hyung Jin Moon and Kook Jin Moon June 2, 2011
Summary of Father's Words
Are you all diligently doing Hoon Dok Hae? (Yes). You should do it more diligently than me. This booklet, the messages of peace, contains the essence or marrow of everything that I have said which has been recorded in thousands of volumes of books. The message is simple. I can summarize it in five minutes. Yet, because people have not reached this level, they have a hard time understanding what I say in those five minutes. It seems to be simple but the message is quite vast and profound. Not a single person can find himself within that vast and profound situation because they have nothing to be proud of. You have to understand that the course of life becomes more difficult as the sun begins to set and it becomes nightfall. You should clearly understand the relationship between God and humanity, and the final boundary line.
You may read my words but you do not follow the path I have taken. You have to study how you can follow me on that path. If you see that you are a wall you should know how to clear away that wall and pave the way. You should not be a bystander. There is only one person who can be the owner. How many can be representatives? There can be twelve disciples, 120, 1200, 12000 people. Times have changed so this number should be multiplied by ten.
What is the final conclusion of the messages of peace? It is absolute sex (absolute sexual ethics). God is deeply immersed in absolute sex. So too is Satan and humanity. God must be liberated first! God is trapped in that swamp of absolute sex. So is Satan and humanity. Who will take responsibility for this? Who should take responsibility for this? The first ancestors who fell, Adam and Eve, should take responsibility for this. How can they when God, Satan and themselves are trapped in this swamp? How can they get out of this swamp? They can do so by observing the kind of heartistic tribulations God goes through. They have to clear the path in areas which God detests. They have to discover a path that can overcome the areas which God is determined to overcome. Only then can they free themselves from this swamp.