| | |
| --- | --- |
| | The Words of the Sun Myung Moon from 2007 |
Absolute sex is important
Sun Myung Moon
March 7, 2007 (7th year of Cheon Il Guk)
Hoon Dok Hae
Cheon Jeong Peace Palace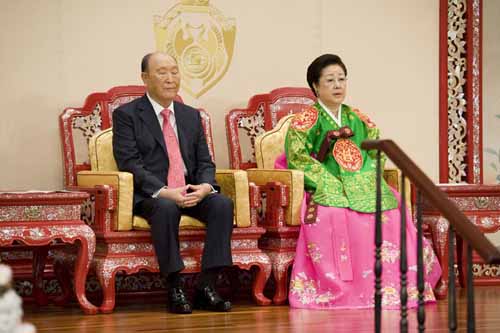 Sun Myung Moon and Hak Ja Han June 2, 2011
Yesterday True Parents' departure from the country was delayed due to technical difficulties with the plane. Therefore on March 7 Hoon Dok Hae was held in the small banquet hall of Cheon Jeong Peace Palace, starting from 5 a. m. Together with True Parents some 100 persons attended the meeting. These included Hyung-jin nim and Lee Yeon-ah nim, Rev. Chung-hwan Kwak, Rev. Sun-jo Hwang, Rev. Yeong-ho Ha, Mrs. Hyo-nam Kim (Hoon Mo nim), Mrs. Hyun-shil Kang, Mrs. Jeong-ok Lee, Pres. Jeong-noh Yoon, Pres. Jong-gwan Yu, Mr. Moon-do Hur (former cabinet minister), Rev. Man-woong Cho – regional director of Eastern Seoul – and core members from this region, as well as staff of Cheongshim Group.
Mrs. Won-ju Jeong (McDevitt) read reports of religious leaders about the seminar on the Unification Principle in the spirit world recorded in Dr. Sang-hun Lee's messages – two reports representing each religious denomination. She read messages of apostles Jude and Peter representing Christianity, Shu Sun-tong and Dong Zhong-shu representing Confucianism, Tan Luan and Zhan Ran representing Buddhism, bin Al-Zarah and Bin Ayana representing Islam, Ilya Erenburg and Fyodor Dostoyevsky representing communist realm.
After the reading finished True Father made few remarks saying that the spirit world is unified; until now there was no owner neither in government party nor in opposition party, so they did not know which way they should go, but now they must follow the new owner, this is the only way for them. He also mentioned, that the question is where in world all events evolving around UN are going to be settled, however people by themselves do not understand the origin of history.
Mrs. McDevitt started to read Peace Message 10, but in the process True Father said the following:
Absolute sex is important. What does that mean? People should have the feeling coming from the marrow of their bones that God for them is a Father of fathers; however they lived not knowing that He was suffering. Throughout historical ages they couldn't even imagine this. This is a mistake. So, how huge is our responsibility once we get to know this fact. Heaven and earth must unite; God should be able to play His role as Master and Father. Such a standard should be achieved.
This standard established by Heaven begins from the absolute sex. Isn't it our topic? You can simply say, "God's model for absoluteness, peace and the ideal is the family upholding absolute sexual morality." In the beginning there was only one God's family, not two. Family is centered on absolute sexual morality; if we don't go through the absolute sexual morality family will not come about. The word "absolute" implies that we unite everything, make overall settlement of accounts, and reach the highest peak. Even with this topic alone we can unify the world and solve its problems.
Absolute sexual morality advocated by God is only one and not two. Two persons should become absolutely one through pure love. No one can fulfill this by himself. Man and woman are two beings, so how can they become one absolute being? The basis for absolute family which is a model of absoluteness, peace and ideal is none else than sexual organs of man and woman. We cannot make a final solution to the fundamental issues of the universe without referring to sexual organs. That's how precious they are. You all – men and women – have them.
Things like free sex or homosexuality must be shattered into pieces, buried, extinguished in the world of heavenly law. People born in such a lineage are scary. But how do we return to the original state? Even God cannot return us to that state. God cannot do it, until the True Ancestor of humankind comes and returns people to the original state.
God's main attributes are absoluteness, uniqueness, eternity and immutability. There is nothing higher to aspire for than absolute spouses, peaceful spouses and ideal spouses.
The lineage was changed because of the Fall. It was the same as if some bandit kidnapped the bride right at the wedding ceremony and she later gave birth to his children.
Even God cannot change the lineage back to the original state.
You must always lead a vertical life. Vertical life is a life of a person who knows the Parents.
At 6:50 a. m. Mrs. McDevitt resumed reading. After she finished reading Message 10, Pres. Jeong-noh Yoon told the participants about "Joo Mong", historical TV drama popular in Korea, filming of which had just finished. He conveyed the contents of the interview which given to the Segye Times by Mr. Il-guk Song, actor starring in the drama. On February 21st Mr. Song visited True Parents to greet. He also has a plan to meet Hyung-jin nim.
Father said that when we read Peace Messages we should explain to people their structure of their, otherwise their contents may seem repetitive.
Rev. Sun-jo Hwang told Father that such a problem may indeed occur; therefore he is preparing a book with explanations of Father's words.
True Father went on to say, that reading and studying Peace Messages is quite helpful for our lives and that we should learn the contents of these speeches by heart and check what percentage of our lives are in accord with these words.
Father also said that every person should walk the path he or she is confident about.
After this Father asked Mr. Peter Kim instead of Shin-joon nim to give cookies to the participants and closed the meeting.
Hoon Dok Hae finished at 7:20 a. m.
During the day True Parents visited Seoul Central City (business and cultural center in Seoul).