| | |
| --- | --- |
| | The Words of the Sun Myung Moon from 2007 |
You should go beyond ideology
Sun Myung Moon
March 3, 2007
Hoon Dok Hae
Cheon Jeong Gung
130th Ahn Shi Il
FFWPU International
Translation of unofficial notes taken by the Unification Church History Compilation Committee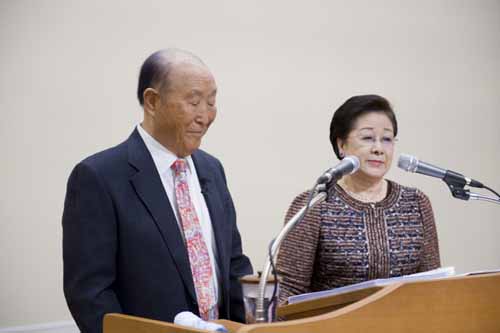 Sun Myung Moon and Hak Ja Han January 22, 2011
Summary of Father's Words
An ideology is like a stick to help you walk. You should not follow after an ideology but go beyond it.
The universe revolves. What would happen if it falls down?
You have to invest and make effort. The higher the goal, the more effort you have to make.
My mother, sisters, brothers and friends did not know what I was doing. I kept my silence until I was 30.
I was not able to educate my children in religion. Hyun-jin graduated from Colombia University and went to Harvard. He studied economics, social science and history. I made him study in preparation for the future. I did not have him study things about the present reality. The time has come for my children to understand what the True Parents have been doing.
My children were deeply moved by True Parents' global foundation they saw during the 120 nation world tour. They were transformed by this experience.
Mother and I would come back after midnight and leave again in the early morning. But we always prayed for our children.
[Father asks Dr. Christopher (Pyungwha) Kim, regional president of Asia, to sing. Dr. Kim talks about how a breakthrough was made between the Maoist group and Nepal government on the very day Father visited Nepal on December 12, 20005.]
If you understand the importance of the blood line you don't need to be educated in loyalty or filial piety. The true men and women of this world can be found in the Unification Church. Remember, though, that the mistakes of your descendants will directly affect you and your ancestors.