| | | | |
| --- | --- | --- | --- |
| | The Words of Dae Mo Nim (Mrs. Hyo Nam Kim -- Hoon Mo Nim) | | |

Holy Burning Ceremony: Repentance And Forgiveness
Dae Mo Nim
November 8, 2006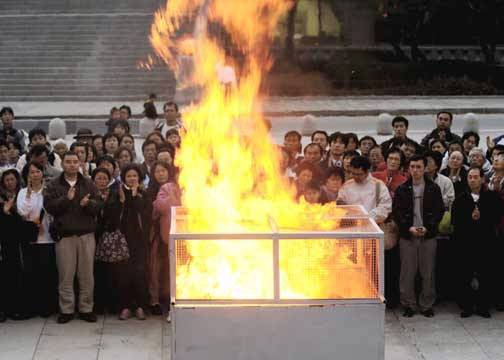 .Holy Burning Ceremony, held in front of the Tree of Love, November 8, 2006
2nd Day of 'Special Workshop for the New Beginning of Cheon Il Guk Blessed Families
On the 2nd Day of the 1st 'Special Workshop for the New Beginning of Cheon Il Guk Blessed Families', November 8, the Holy Burning Ceremony, to burn the repentance paper, was held. It was a time to repent on the past wrong doings and ask for forgiveness. Also through special lectures and Dae Mo Nim's words, members had a time to have a clear understanding of the importance of the Holy Wine Ceremony.
The Holy Burning Ceremony was conducted from 5 p.m. in front of the Tree of Love. When the platform, with many boxes filled with repentance papers, was lit with the Holy Fire members gave their earnest prayers with many tears.
Knowing that True Parents wishes us to be people of Cheon Il Guk with purity, members repented and asked for forgiveness. At the end, making a strong vow to walk the path of becoming True Children, there was the Eok-Manse.
'When True Parents saw all of the sins we had committed, they said, 'They should fast for 40 Days if they wish to be forgiven'. So originally, the fast was for 40 Days. Not for 1 Day. True Father also said that the workshop should be a 40 Day Workshop. However, it is difficult for everyone to do so. Yet, as we should set a certain standard that True Father referred to, that is why I offered 10,000 bows.
Until now we could not make a true mainly, lived on our fallen nature, lived immorally, went halfheartedly to church, spoke irresponsibly, but we will be straightened out through the holy wine.'
There was also a lecture by Yeong-jun Kim, President of FFWPU Family Department, talked about the Holy Blessing Ceremony of 4 pairs of True Parents' Grandchildren, the 3rd World Tour with True Mother, and the living standard of Blessed Families. Gyu-sam Lee, Director for General Affairs, lectured that we are in the era of changeover. Also there was a lecture titled, 'The Inheritance of Ideal Blessing and Completed Settlement', by In-chun Hwang, Section Manager for Department of 2nd Generations. This lecture was aimed for single 2nd Generations.
Rev. Jae-sun Choe, Director of Progress Department from Chung Pyung Heaven and Earth Training Center, gave a lecture titled, 'Ancestor Liberation and Blessing'.
For detailed information of the 'Special Workshop for the New Beginning of Cheon Il Guk Blessed Families', please contact your local church.

Download entire page and pages related to it in ZIP format


Table of Contents


Information


Tparents Home