| | | | |
| --- | --- | --- | --- |
| | The Words of Dae Mo Nim (Mrs. Hyo Nam Kim -- Hoon Mo Nim) | | |

The 1st Anniversary of the Inauguration of the Universal Peace Federation
Dae Mo Nim
September 12, 2006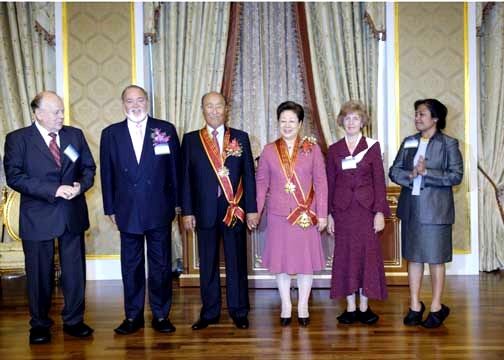 True Parents presented with a 'Grand Order of Cosmic Peace Award', by world leaders and Stanislav Stanislavovich Shushkyevich, former President of Belavus, Cheon Jeong Gung Museum, September 12, 2006
At 9:30 a.m., on September 12, 2006, the '1st Anniversary of the Inauguration of the Universal Peace Federation' was held prosperously at Cheon Jeong Gung Museum with True Parents. Around 400 world leaders, currently attending the Universal Peace Federation (UPF) 3rd General Meeting at Lotte Hotel, and around 1,000 pastors from Korea and Japan attended the ceremony at Cheon Jeong Gung Museum. There was also a live broadcast of the ceremony showed in the main hall of Cheonseong Wanglim Palace (Heavenly Palace), where around 200 Chung Pyung 40 Day Workshop trainees and around 2,000 Japanese members watched.
The UPF was inaugurated in New York, U.S.A., on September 12, 2005. It is a global alliance of religious, academic, political and civic leaders, and organizations joined together to promote peace, that is, a unified world in which all people live together in harmony, cooperate and co-prosperity.
The Anniversary Ceremony started with an opening remark by Dr. Thomas G. Walsh, Secretary General of the UPF, who also attended the MC. Then the Congratulatory Address was given by Former Seychelles President James R. Mancham and the President of Lee Seung-chul Peace Federation, followed by a Congratulatory Song, Chairman's Remarks (Rev. Chung-hwan Kwak, International President of UPF), and then a Video Presentation was presented.
After the Video Presentation, True Father was welcomed to the podium with a great applause. True Father gave a speech titled, 'God's Ideal Family and the Kingdom of Peaceful, Ideal World'. The speech reminded us of the Peace Message from the Inauguration of UPF, also telling us that we must become as one under God to create a family through peace activities.
'We are in an era to perfect the Blessing Providence through the 5 stages of Individual, Family, Tribal, and Nation, during the Age after the Coming of Heaven'. True Father also said it's the era of finding the true lineage that Adam lost through the Fall.
After giving a great applause to True Father's words, Stanislav Stanislavovich Shushkyevich, former President of Belavus and other world leaders presented True Father the Grand Order of Cosmic Peace Award.
After the Luncheon, there was a lecture given by True Mother. Under the title 'God's Model Ideal Family and Nation, and Peace Kingdom', told us to devote ourselves to True Parents so that we can establish God's Ideal Family and Ideal Kingdom. Also told us to that God's wish is to establish a family of 3 generations to be filial under God, grandfather, father, and son.
At last to honor True Father's achievements for the World Peace, Vice President of the University of Santa Maria gave the Honorary Cultural Anthropology Doctorate.

Download entire page and pages related to it in ZIP format


Table of Contents


Information


Tparents Home