| | | | |
| --- | --- | --- | --- |
| | The Words of Dae Mo Nim (Mrs. Hyo Nam Kim -- Hoon Mo Nim) | | |

16th Cheol-il Jeol Commemorative Pledge Ceremony
Dae Mo Nim
July 1, 2006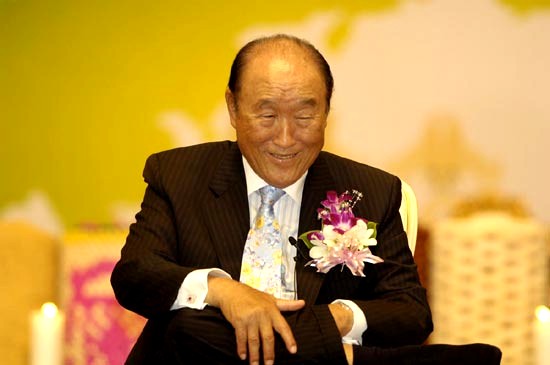 From 8 a.m. of July 1, 2006, the 16th Cheol-il Jeol Commemorative Pledge Ceremony was held in the Main Hall of Cheonseong Wanglim Palace (Heavenly Palace) with True Parents and True Children. Around 5,000 members from Japan, Korea and around the world gathered and celebrated this congratulatory day.
After the 'Declaration Day of God's Eternal Blessing' in Hannamdong, July 1, 1991, True Father told the members to celebrate this day as Cheol-il Jeol. From the providential perspective this day is to set a new standard for all blessed families to march, to begin their tribal messiahship.
After coming on to the stage True Father first lit the Holy Candles then gave a benediction then did the bowing.
Rev. Sun-jo Hwang, President of FFWPU Korea, as the emcee the ceremony was then continued by bowing from True Children and then representatives of each levels. After the Invocation by Mr. and Mrs. Hwang, there were the Cake Cutting and Partaking of the Holy Food by True Father.
Then Nan-yeong Moon, President of Women's Federation for World Peace, tearfully read speeches by True Parents from the 1st Cheol-il Jeol Commemorative Pledge Ceremony.
After the reading, there was a Flower Presentation by No-uk Park and Hyeon-suk Han, a blessed couple from Seongnan Family Church, South Gyeonggi, South Korea. After receiving the flower True Father then put it on True Mother's seat. At the moment, True Mother is on the World tour of 'Universal Peace Federation Rally for the Restoration of Homeland' and is scheduled for another tour during this month in Europe.
After the Flower Presentation there was a strong singing of 'To the Country of Hope' by Prof. Jae-hyeok Choe (Tenor) and Prof. Mi-ran Kim (Soprano).
Then True Father came up on the stand to give a speech, which went on for 2 and half hours. At the beginning of his speech he said that this day is the 18th day since June 13, and everything is coming to the end. True Father also repeated the question, 'Should I rest or not?' and told the members that it is time to center all works on the blessed families.
True Parents then continued emphasizing the importance of the 12 groups. Also True Father shared his great love to the members referring to Shin Jun Nim, who he is always together. Then True Father asked National Messiah Rev. Im-yeol Ra (72 Blessed Couple) to testify his 3 times of life and death situations.
The ceremony ended with 3 cheers of Eok-manse by Rev. Jong-gwan Yu, President of the Citizens Federation for the North-South Unification. The 16th Cheol-il Jeol Commemorative Pledge Ceremony ended with a huge applause as True Father left the stage at 11:26 a.m.

Download entire page and pages related to it in ZIP format


Table of Contents


Information


Tparents Home