| | | | |
| --- | --- | --- | --- |
| | The Words of Dae Mo Nim (Mrs. Hyo Nam Kim -- Hoon Mo Nim) | | |

Honorary Doctorate Conferment Ceremony
Dae Mo Nim
June 20, 2006
Chungshim Graduate School of Theology
Chung Pyung, Korea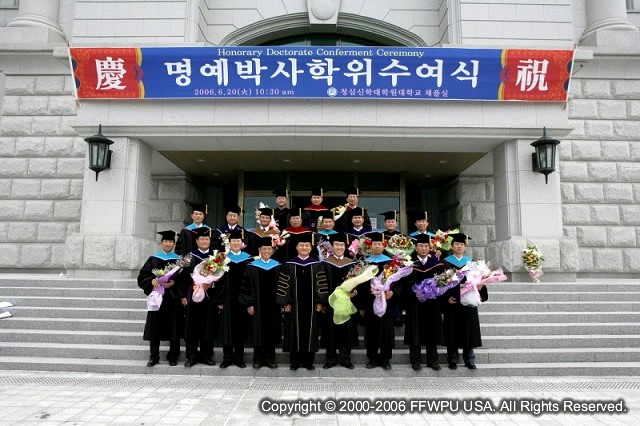 Based on True Parents' direction, on June 20, 2006, twenty-two regional directors from America including the continental director, Dr. Chang Shik Yang, received honorary doctoral degrees from Sun Moon University. This was to recognize their service to America for over ten years and because they will be working on the hometown providence in Korea.
It is significant that this was the second conferment of honorary doctoral degrees by True Parents in the history of the Unification Church.
The first conferment was to the most meritorious church elders and to top leaders of our movement.
There is great meaning in the fact that the recipients of this second conferment are neither church elders nor top leaders, but are young regional directors. True Parents' expectations for these recipients must be unlike their expectations for other people, since these were the first people to be invited to True Parents' dinner table after the opening of Cheon Jeong Goong. We are looking forward to hear about the hometown providence activities of these American regional directors in Korea.

Download entire page and pages related to it in ZIP format


Table of Contents


Information


Tparents Home