| | | | |
| --- | --- | --- | --- |
| | The Words of Dae Mo Nim (Mrs. Hyo Nam Kim -- Hoon Mo Nim) | | |

The Significance of the Orignal Palace Construction
Dae Mo Nim
February 15, 2006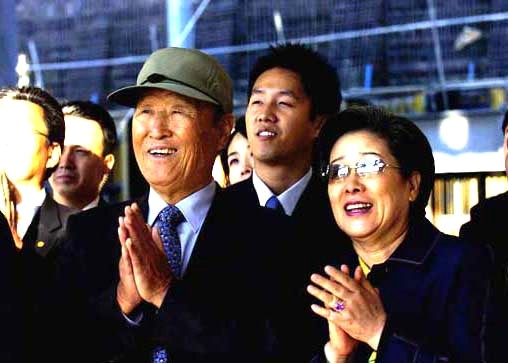 True Parents watching as the 12 pillars of the Original Palace is stood up, October 14th, 2004
The beautiful and grand Original Palace is being erected at Chung Pyung Holy Ground, which the Parents of Heaven, Earth, and Mankind found and established – shedding blood, sweat and tears – and for which they offered jeongseong [sincere devotion] since the 1960s.
True Father said, "After having come out into the world, Rev. Moon was to unite the world and build the king of king's original palace in Korea by the age of 40." (Nov. 8, 1999) The Original Palace was first to be made in 1960, when True Father turned 40 years old. However, the Original Palace providence could not be fulfilled due to the opposition of the Korean government and Christianity in the 60s. Only after the coming of the Cheon Il Guk era is the Original Palace that can receive God and True Parents finally, substantially being erected on the face of Cheonseong Mountain.
In addition, Dae Mo Nim is emphasizing the following about the necessity of the Original Palace.
True Parents came to this earth as king and queen and there has to be a place for them to live internally and externally. There needs to be an original palace to which anyone from any nation can be brought and be educated. We therefore held the dedication ceremony for the Original Palace on July 8, 2001. True Father keeps saying, "Build it as quickly as possible. I have an enormous amount of work to do.'" (Sept. 20, 2005)
With little time left before the construction completion date and with a heart filled with worry, Dae Mo Nim is making the following request for members to offer jeongseong together with them: "The original palace where God and True Parents can work together, the original palace that they could not erect throughout the history of humankind, is being built for the first time centering on the Messiah True Parents. We ask that all members in the world participate in this together and become members whose names can remain before history." (Sept. 24, 2005) All members please offer your jeongseong for the completion of the Original Palace, where God and True Parents can be together.

Download entire page and pages related to it in ZIP format


Table of Contents


Information


Tparents Home